Underbool Rural Fire Brigade Truck Roster
Oct 2019 Secretary Sonia McVicar
20/10 Mal Crothers & Ian Brown
27/10 Neil Jackson & Steven McVicar
Underbool CFA - note change of date
Training Day Monday 21st October @ 3 pm. At fire station.
Training will consist of:
Hazardous Tree identification, Burn over drill.
Our tanker will be there after having its upgrade of tyre inflation/deflation and the permanently connected suction hose & locker.
It would be great to have as many members there to get familiar with the Tankers new layout.
Col Lockett
MESSY CHURCH - "Colours of Life"
With special guest - Artist Lynton Allan
WHEN: Friday 18th October, 2019 4.00 to ~5.45pm.
WHERE: Underbool CFA Station / Cooperative Church building
WHAT's On: creative arts, Bible story,
A light meal and drink for all attending
Children to be accompanied by an adult*. Gold coin donation per child. Activities begin at the Underbool CFA Station at 4.00pm. RSVP appreciated by Wednesday 16th October
contact Nita Wandel 50946226 or Jo Morrison 0427217111,
*NB. The adult can be a parent, grandparent, aunty, uncle, willing neighbour etc., as arranged by the parent) as parents may be working or have other commitments on that day.
An after school activity event for children, hosted by members of Underbool churches, activities geared for school aged children but younger siblings also welcome to come with their parent.
Underbool Bowls Notes
Underbool Ladies Singles Club Championship has been won by Marie Cummings after a tight game with Colleen Gloster. There was some superb bowling from both ladies and after 29 ends Marie was the victor, 25 to 21. Congratulations Marie. Marie will now go on to play in the Champion of Champions Singles at Irymple on the 31st October and 1st of November. The Club wish her good bowling.
Saturday Pennant October 12th. Underbool played host to Euston and at lunch the score was rather positive for Underbool. However Euston came through to win 2 of the 3 rinks. Underbool 55/2 to Euston 64/10.
A special point of interest: It just so happened that three generations of the one family played on the same rink together on Saturday at Pennant. Ray Gloster, Robert Gloster and Cameron Gloster. A great effort.
Keep up the good bowling all.
Underbool Triples Star Day will be held next Sunday 20th October. There will be a great many visiting bowlers to the Underbool Bowls Club. Ladies are busily preparing food for the day, whilst other members are seeing to the green and surrounds.
Ouyen Community Gym Project
The Ouyen Community Gym Project in collaboration with the Mallee Garden Club are hosting an Open Garden Day in Ouyen on Sunday the 27th October. Six local gardens will be open on the day, featuring various displays, plant and craft stalls. Tickets are $25, with morning tea, lunch and afternoon tea provided. They can be purchased online at www.trybooking.com.au or locally from Lois Manley at May's On Oke, 20 Oke St Ouyen. Any enquirers can be directed to Fiona Latta on 0427141515. $4 donation
Squad Training / Swimming Lessons Underbool
Maureen and Joy will again be running squad training and swimming lessons this coming season these will be on Monday and Tuesday. Squad will be commencing the first week of November and junior lesson late November, at this stage.
If you are interested, please contact Sonia McVicar on 0403698377 with the name & age of your child/children and available day (Mon/Tue).
MTHCS
Di Thornton, Nurse Practitioner, is available
by appointment on her usual days – Tuesday in
Underbool and Wednesday in Murrayville.
Appointments can be made by calling 0885778065 or go to
Pathology – Please contact Glennis Barnes on 50921111 to discuss your needs should you have difficulties arranging a visit to a pathology collection outlet in Ouyen or Pinnaroo.
Royal Flying Doctor Dental Clinic
Appointments in Underbool during September and October. Call (03) 84120444.
MTHCS
Lyndal Munro, Director of Community Services, will come out to PAG next Wednesday, 23rd October at 10.00am. Everyone is welcome to come in for a cuppa and a chat about services provided by Mallee Track Health & Community Services.
Andrew Currie from Ambulance Victoria is hoping to come along with Lyndal to meet the community and hear about community needs.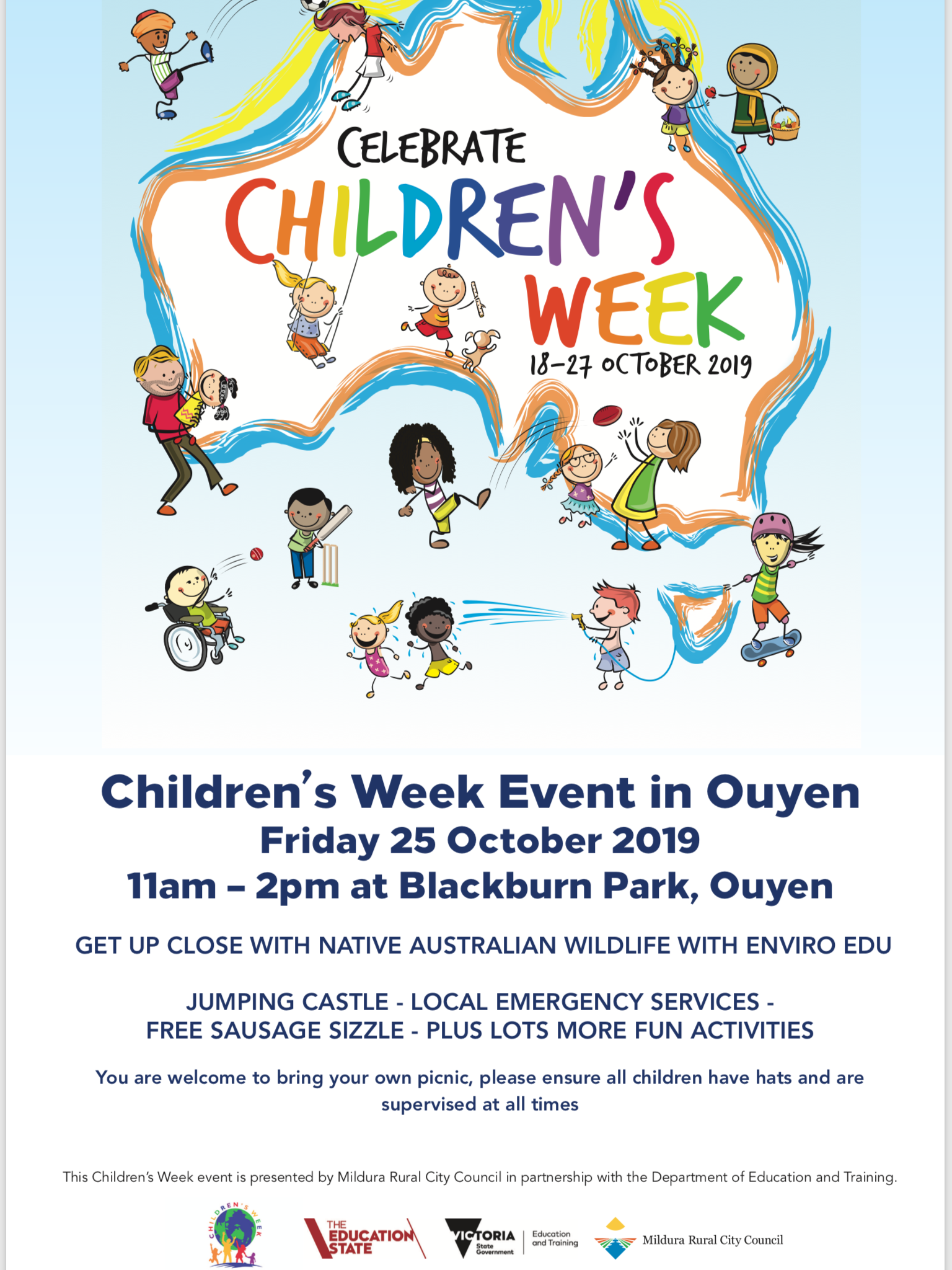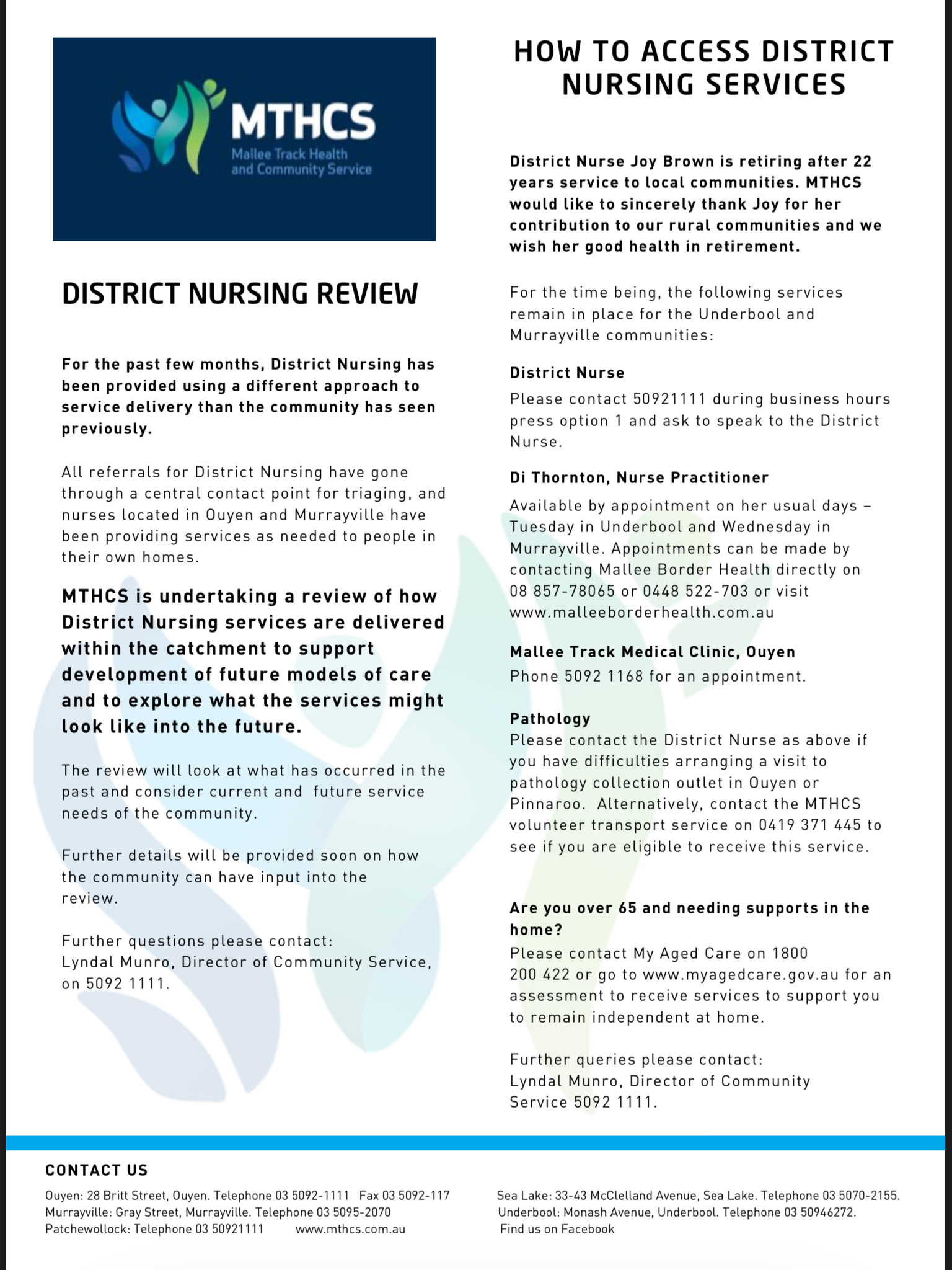 Next Press 23rd October – Kylie Aikman jonty1979@gmail.com