Mallee Border Health Centre
Di Thornton, Nurse Practitioner, is available by appointment on her usual day – Tuesday in Underbool.
Appointments can be made by calling 08 8577 8065 or mobile 0448522703 or at www.malleeborderhealth.com.au
Thank you all for your patience as we adapt to the new restrictions. We are working very hard to still cover all your needs as much as possible in this time. Following is our schedule for the next week. We will continue to do these weekly as well as one for the month (starting Sept) to help avoid confusion.
Please note: our Nurse Practitioners & GP's are also able to do most appointments via phone if you are unable to see them in person. We can also arrange some specialist appointments through Telehealth.
S.A. residents with Cross Border passes can also see Di in Murrayville. We are lucky enough to still have visiting clinicians helping with mental health, skin checks etc .
Please continue to call (08) 8577 8065 if you have any questions.
Mon 24/8 - M'ville NP Di Thornton
Tue 25/8 - U'bool NP Di Thornton
Wed 26/8 - M'ville NP Di Thornton Physio K.Daniel & Nurse A. Schroeder
Thur 27/8 - CLOSED (No phones will be attended)
Fri 28/8 - M'ville NP Di Thornton & Nurse A. Schroeder
NAB Ouyen is changing its opening hours.
From Monday 17 August, changes to our opening hours mean you can do your in branch banking from 9.30am – 12.30pm, Monday to Friday. Outside of these hours, your local bankers will continue to serve customers online and over the phone.
While branches will always be important, our customers have been coming into the branch less, and using digital and phone banking more. That's why we're making our bankers more available through these channels.
Australia Post
Please note - effective as of 12th August.
As Barb (mail delivery) cannot get through the S.A. border due to COVID restrictions, mail will not be going to S.A. from Underbool. It will however still go, but via Ouyen, Bendigo way. As mail will only be going as far as Murrayville, it will be returning earlier. Please make sure any "outgoing" mail is posted by 11 am.
Thank you.
Underbool Fire Truck Roster
In the current circumstances and to protect our volunteers we are only permitting one person to take the fire truck out for its weekly run. If you are available and would like to volunteer to do this, please contact Sonia McVicar on 0403698377. We greatly appreciate the following members who have agreed to do this.
Aug 2020
30/8 Sam Crow
Sept 2020
6/9 Matt Brown
13/9 Andrew Willsmore
20/9 Simon Brown
29/9 Doug Gloster
Oct 2020
4/10 Simon Morrison
Please remember to sign the attendance sheet at the station and to take your mobile phone with you.
MRCC
Our Mildura and Ouyen Service Centres continue to be closed until further notice. You can contact them during business hours
8am - 5pm, Monday to Friday by:
Phone: (03) 5018 8100
Email: mrcc@mildura.vic.gov.au
After Hours Emergencies: 1800 241 540
For details about changes to our other services and facilities go to www.mildura.vic.gov.au
Our Ouyen Service Centre remains closed to the public however we will be open by appointment for a limited number of VicRoads services on a Wednesday. If you need to re-register a vehicle, transfer a privately owned registration, or purchase a Work Diary please call us on 5018 8600 to book an appointment.
ATTENTION OUYEN & MALLEE TRACK RESIDENTS!
You can now drop library resources at the Ouyen Service Centre on Wednesdays from 9am to 4pm. If you have books or other materials to return, please place them in the crate near the front door.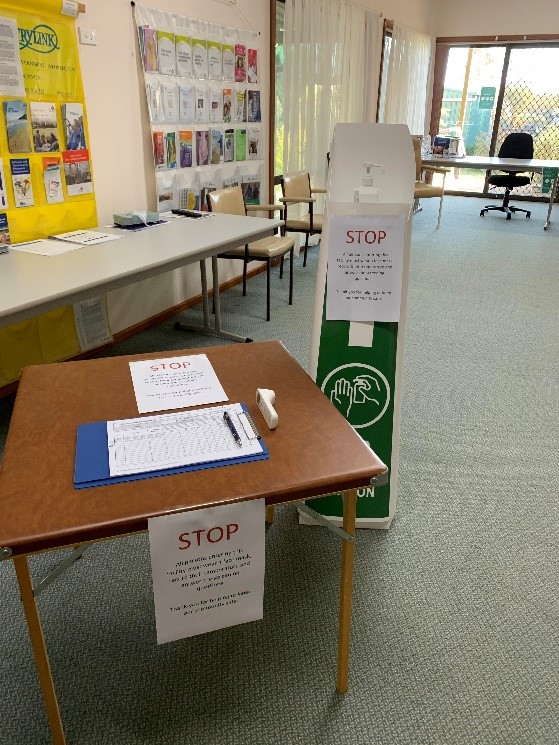 Mallee Track Health and Community Service - Underbool Bush Nursing centre
Please note, when you visit the centre we have a self-screening and temperature testing station, please ensure you follow the instructions. Your assistance is greatly appreciated.
Also, you can expect any staff you meet at Underbool or any of the MTHCS sites will be wearing a mask and possibly eye protection. Again, this is all part of keeping our community safe.
Do you need help with mental health?
The impacts of the COVID19 outbreak in Victoria and current restrictions can leave us feeling stressed and overwhelmed. There are a number of supports available to help manage any mental health issues you might find you are struggling with. A lot of these can be accessed from the safety and comfort of your own home.
You don't need to have a mental illness to access these supports, maybe you just need a little help with an issue that is challenging you or maybe you would just like to talk to someone.
There is a huge amount of information available if there is something specific you would like to find out please don't hesitate to contact me
Mallee Track staff are currently supporting the community with a number of newsletters sent out on a regular basis, they provide updates, activities and a bit of a distraction. If you would like to receive one, please contact Pennie or myself.
Ph. 0402 045 984
e. lwakefield@mthcs.vic.gov.au
For information regarding COVID19 in Victoria and current restrictions please see https://www.dhhs.vic.gov.au/coronavirus
Next typist - September 2nd: Helen Gloster - dhgloster@bigpond.com