Pioneer Memorial Wall
Erected and unveiled in 2002 the purpose of the wall is to honour those men, women and families who sought a new life in the Victorian Mallee District stretching from Torrita through to Boinka. Opened for selection in 1910, there was no shortage of applicants keen to gain one of the uncleared allotments with those successful ready to undertake the daunting challenge that lay ahead.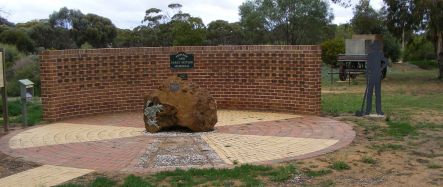 The years from 1911 through to 1929 were set by the Underbool Progress Group as the Pioneer settlement period. Life was indeed very difficult for those who undertook the early settlement; we who still reside in the area are indebted to these pioneers for their stoicism and dedication in laying the foundations to what has become a thriving district.
People were invited to purchase plaques to acknowledge pioneering family members, identifying their date of arrival to the district, parish or town allotment and in the case of non-farming pioneers, occupation.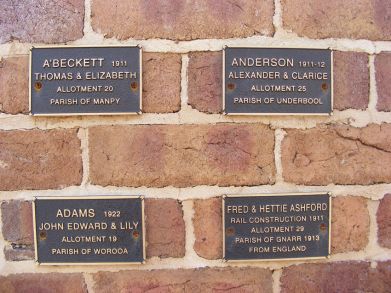 The Pioneer Memorial Wall situated on the Mallee Highway in the centre of Underbool, is an ongoing project with plaques still able to be purchased and attached. We invite any persons who have a connection to our early pioneers and wish to honour them to please contact us via the website "Contact Us" tab.