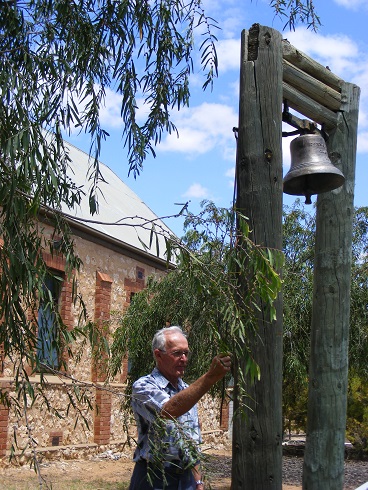 Ivor Minney ringing the bell in 2012. Blessing of the Bell
In 1925 Mrs. Margaret Ann 'Annie' Iddles presented the Odgers Bell to the Underbool Methodist Church.
The bell's story is as follows: The Methodist Church at Sebastopol, Victoria, had acquired a new bell for their church and their old one was lying idle. Annie Iddles made enquiries to see if the old bell could be procured for use at Underbool. The Sebastopol Church generously gifted the bell to the Trustees of the Underbool Church, stating it was given as a memento of appreciation for the work done by Mrs. Iddles and her family; especially mentioning her father, the late Mr. Odgers, and expressing the wish that the bell be known as the 'Odgers Bell'.
The bell was mounted in the grounds of the Methodist Church.
The bell was rung for many years by Mr Ted Crothers and he rang out the bell call - "Come to church, come to church".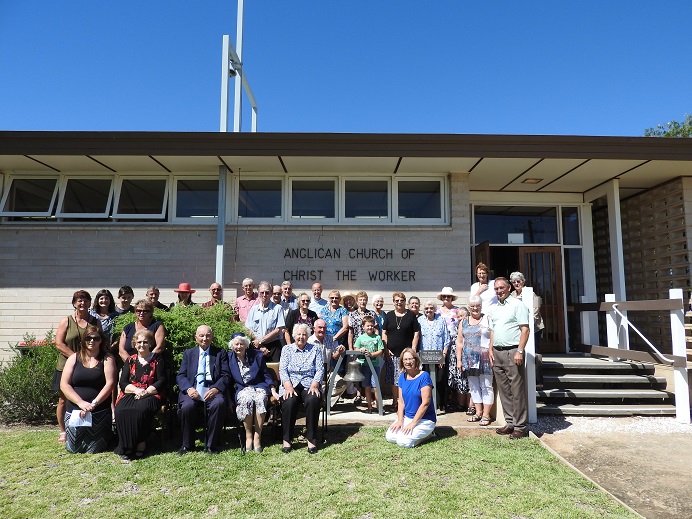 some of the attendees who witnessed the unveiling of 'Odger's Bell' in its new locationOn Sunday February 21st, 2016, the Co-operative Parish congregation held a 'Blessing of the Bell' service to unveil the bell in its new location in the grounds of the Anglican Church now that the former Uniting Church property has been sold.