A.J.Gloster & Sons
Details
Phone: 03 5094 6291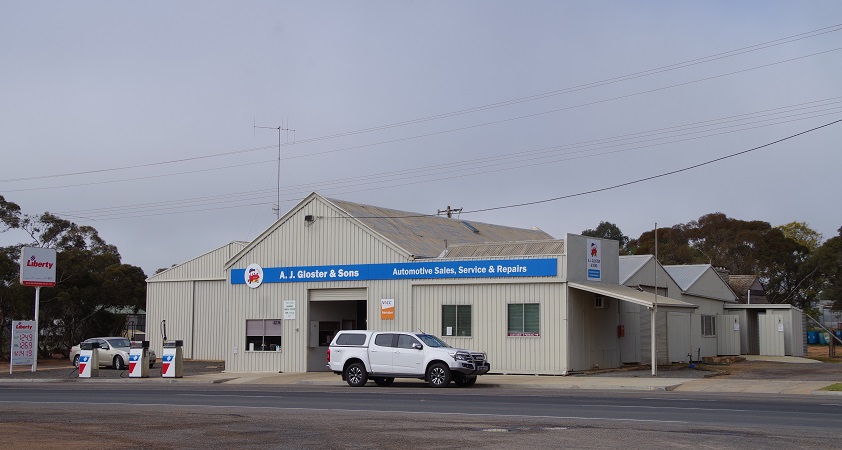 Address
55-57 Cotter St
Underbool Vic 3509
Description
Gloster's Garage Automotive Sales, Service & Repairs - a family business spanning four generations.
Business Hours:
8am - 6pm Monday-Friday
8.45am - 11am Saturday
History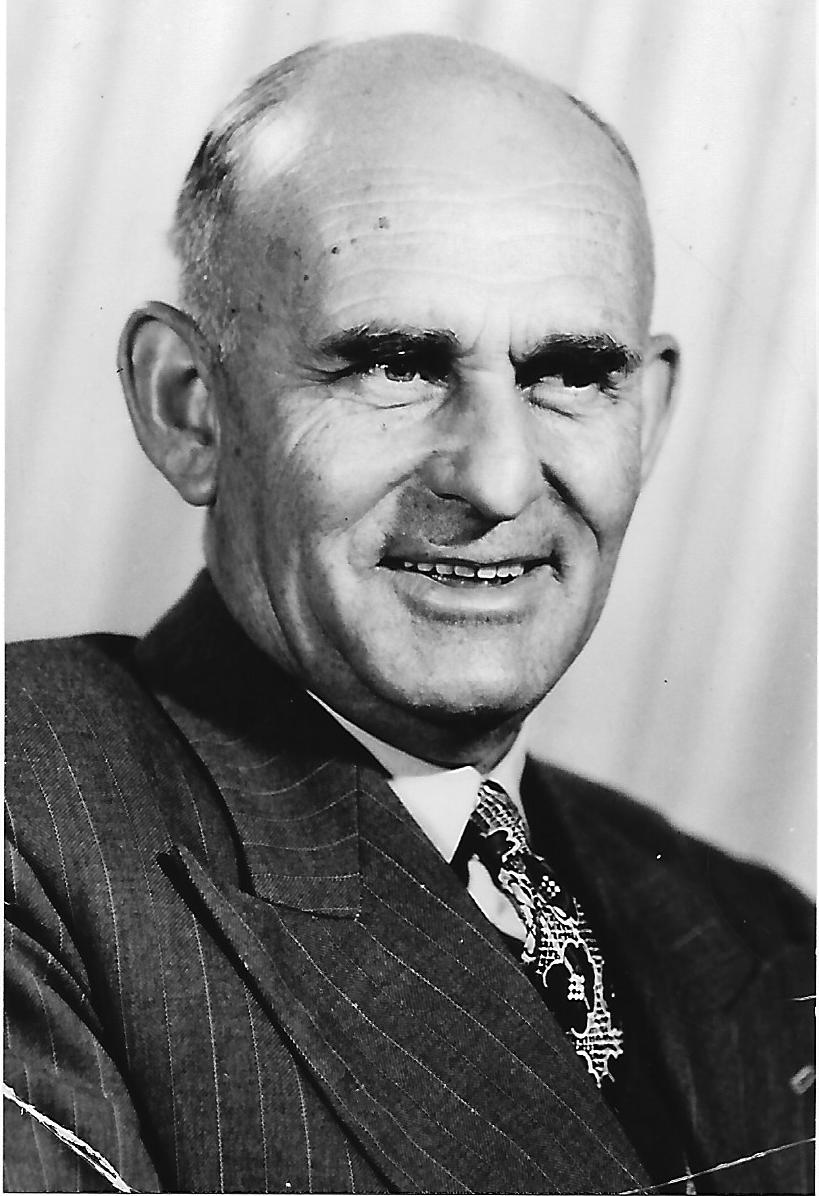 Joe GlosterA.J.(Joe) Gloster commenced business in 1925 in a small garage in Mossop Street, having taken over from former operator Ron Edwards. Joe had previously worked in his brother Alf's Ouyen garage and at Jim Nulty's garage in Walpeup. In 1926 Joe married his sweetheart Grace Little, who worked as secretary in the business with him. Others also worked in the business.
Purchase of a Brockway truck from Ronaldson Tippett to enable them to cart salt from the Salt Lakes added another facet to the business. Joe's brother Albert came from Melbourne to drive the truck. They were also able to cart wheat for farmers during harvest.
Joe was appointed a General Motors (Holden) Dealership in 1927 and sold his first Chevrolet in that year.
Joe believed the highway would one day be a main thoroughfare between major cities and his ambition was to have premises on the main street. In 1930 he exchanged his garage premises with Steve Pole's Chaff Store on Cotter Street (Mallee Highway), where A.J.Gloster & Sons business still operates today.
The business continued to prosper and diversify. Along with vehicle sales and service, business operations included:
*1933- commenced operating town electricity supply
*1934- Freezing Works - enabling the cooling and storage of rabbit carcases and Ice Works – making large ice blocks for Coolgardie Safes.

*1937 Introduced Lanz Bulldog Tractor to this district
With the exodus of employees enlisting in WW2 forces, Ray made the decision to conclude his time at Maryborough Technical School at the end of 1943 and return to Underbool to work in the garage with his father. [Ray continues to work at the garage in 2019, 75 years later!] His brother Ken joined the partnership in 1948. With Joe's enterprise and experience, Ray's mechanical skills and Ken's aptitude for sales and bookkeeping, Gloster's Garage became a highly successful family business.
Further business expansion involved:
*1944-1964 responsible for pumping water from reservoir for town supply
*1945 Underbool - Ouyen school bus contract commenced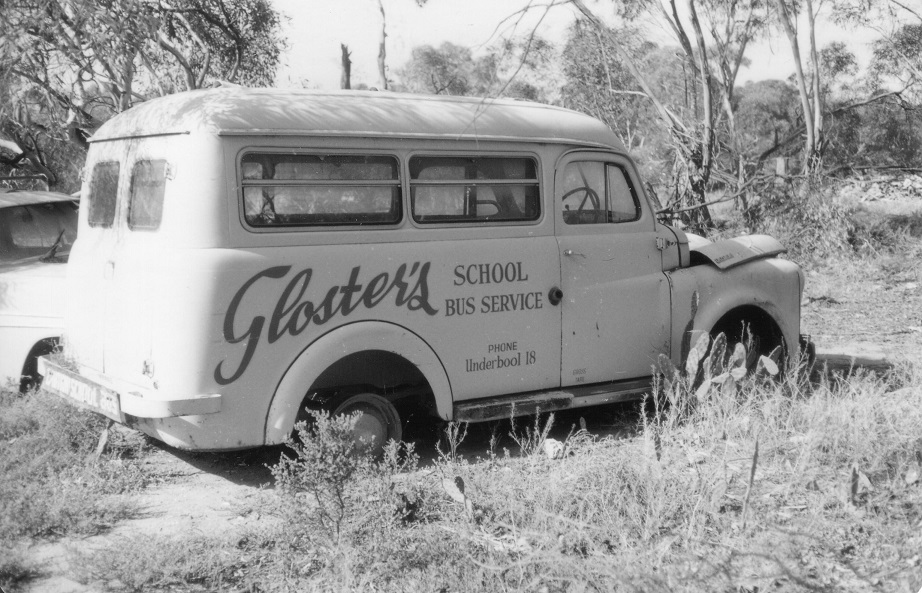 Underbool-Daalko 'feeder' bus*1948 Introduction and first sale of Holden motor vehicle
*1955 Underbool - Daalko 'feeder' school bus to Ouyen High School and Underbool Primary School commenced.
*2020 School bus upgraded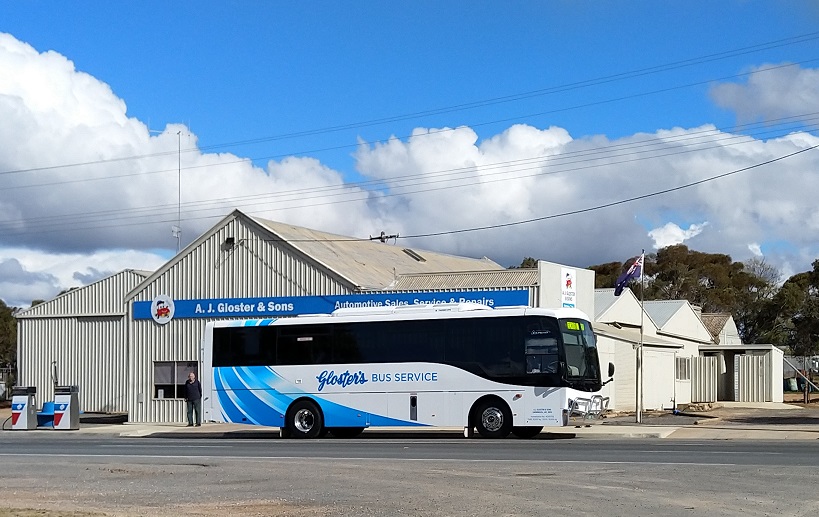 'new' school bus started operation in Term 4 2020
Ray's sons Robert and Doug joined the business in 1968 and 1978 respectively completing their apprenticeships. Robert's wife Colleen took on the administration in 1984. Ken had retired to Bendigo in 1970, although he regularly commuted to Underbool to work in the office until 2000.
Robert's son Cameron and Doug's son Timothy began as apprentices in 1994 and 2013 respectively. In 2019, three generations are working together in this family business! A fifth generation member has become very adept at answering phones! Since qualifying, Timothy has moved on to working in agriculture, and no doubt applying his mechanical skills in this local industry.

Three other local boys – Alan Jackson, Theo Magnisalis and Garth Aikman – also completed mechanical apprenticeships through A.J.Gloster & Sons making a total of 7 apprentices successfully trained since 1968.
Over the years A.J.Gloster & Sons commitment to the dealership, sales and service has been recognised by Holden. In 1961, Joe's consistently high Holden sales, won the Group 17, Australia award. In 1971, Ken was accompanied by his wife Joan on a P&O cruise of the Pacific Islands which was awarded for sales. Robert, as Dealer Principal, accepted a Holden "Grand Master Dealer" (National Award) on three occasions - 1996, 1999 and 2002 recognising excellence in all facets of Holden sales and service.
In an article titled "Some lessons from a national Champion…" [GMH 'Pointers' May 1961] it was said:
"His selling success can be attributed to:
1. the great interest taken by Joe and the boys in selling, and
2. giving first-class service to the community."
These traits have continued to characterise the business.
2017 was a year to celebrate 90 years of a family Holden Dealership in Underbool, but it was also a shattering time when Dealer Principal and Partner Robert received notification from General Motors Holden stating that after 'a strategic review', their business no longer fitted the 'network footprint' and would cease to be associated with Holden after December 31, 2017. Despite a valiant fight by the Glosters (and many of the 30 or so other affected franchises) to retain their franchise or failing that, at least to continue as a Holden Service Outlet, Holden's decision to downsize their dealer network nationwide was final. October 2017 was also the end of the GMH production line in Australia.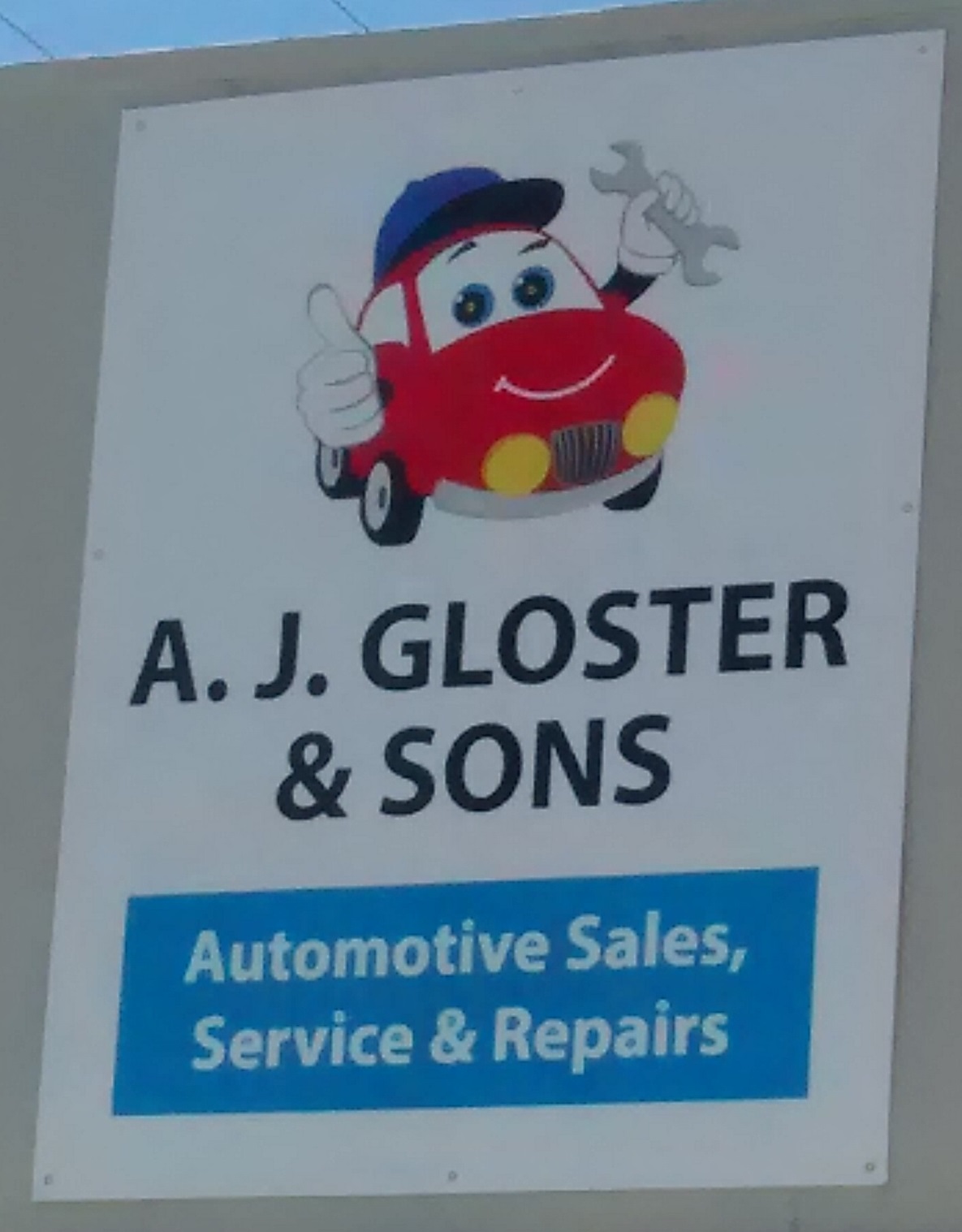 Loss of the iconic Holden franchise was hugely disappointing both to the Glosters and to the community, but this local, family business is resilient. In 2018 a friendly motoring logo replaced the Lion and new colours were adopted. Qualified technicians at A.J.Gloster & Sons continue to offer car servicing (of new and older vehicles), roadworthy certification, used car sales, parts/accessories stocked, and fuel sales, providing a much valued service to residents around the district.
As a community service, in 2016 the business took on the receival, and sale of the local paper (North West Express) to residents.
The business has supported many community groups and sporting clubs over the years by way of donations, trophies and awards. Not only have each generation given devoted service with the business, but also in a civil capacity, serving in various positions in many local and district organisations, working to maintain a sustained and sound lifestyle for the community.