Underbool Tennis Club
Address
Underbool Recreation Reserve, Gnarr Rd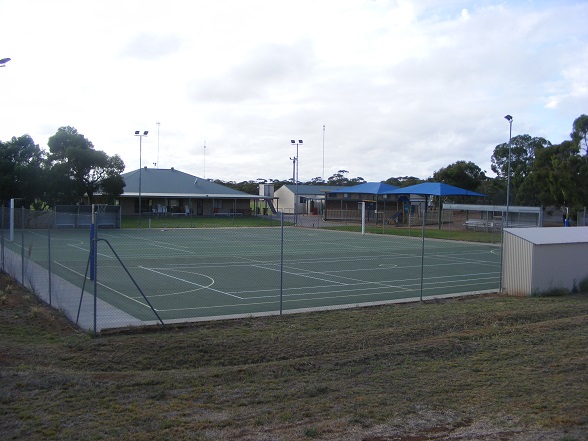 Underbool
Vic
3509
Description
Secretary Nicole Magnisalis

*Flexible Harvest Break Nov 22nd, 29th and Dec 6th.
*Long weekend March 6th
*If heat rule is enacted, teams drawn on hard court have option to play night match.
Junior Tennis schedule as advertised in Underbool Press

January 2020
It's time to try something new!
Tennis numbers have been looking a little low over the recent years and rather than give up on our small tennis competition we have decided to try something new. We are looking at running a 6 week block of tennis commencing on Saturday 1st Feb at Underbool Hardcourts 12.30 assembly.
4 captains will be selected by club officials on the day and then those 4 captains will choose their players from the crowd. Each taking a turn to make their selection.
A new captain and team will be selected each week depending on who is available so if you can only play sometimes it will not effect the competition.
Sets played will depend on player numbers on the day.
$5 per player per week is requested to cover membership and ball fees. All families will be asked to bring something very small to share for afternoon tea. A BBQ will follow most weeks.
If you are keen please register your name with Tim or Pennie UDTA, Sophie or Prue UTC as soon as possible so that we can gauge if there is enough interest.
New members very welcome.

Memberships are due for Tennis season 2018/19.
They remain the same amount at: $120 per family,
$45 per single, $35 for students.
Direct deposit can be done to:
Underbool Tennis Club. BSB 083 776. ACC:
672917081.
Or pay cash or cheque to Kylie
Junior Tennis 2018 -2019

Will be run on a Monday night from 4pm til 5pm, through to the 3rd of December and then continuing on in the new year once school goes back.
The younger players will be practicing their ball skills with drills and fun games, while the 'older' players will do a warm up and then play a 4 game set with scoring and trophies / medals at the end of the season. The player will have to be able to hit/serve (a bit) to play, and will be at our discretion if they are ready for a game or not.
$2 per player each week, they MUST bring a full water bottle and be wearing sunscreen. Grade 3 and up. Extra parent help is also needed. Kristen has offered to take the older ones with the game, and I'll be doing the drills with the younger ones. Any enquiries please contact Kylie 0408393817.
Some extra tennis coaching will be offered throughout the season and will be advised.