Australia Day Celebrations at Underbool
Australia Day 2016 at Underbool was celebrated in the cool of the evening at Outen Park with a good number of residents present. Fran Lynch, President of Underbool Progress Group welcomed all, including Councillors Ali Cupper and Greg Brown, and invited the group to join in the Affirmation for all Australians and the singing of the National Anthem.
part of the crowd attending, listening intently to CatherineTea was served and all enjoyed the cold meats and tasty salads. Generous sponsorship of the evening by Mildura Rural City Council was much appreciated.
Miss Catherine Brown, was introduced as Guest Speaker for the evening and spoke on her Kokoda experience which she undertook in May 2015. Catherine and Tegan Morrish, another friend from Ouyen P-12 College, signed up with Kokoda Spirit. They gave themselves 12 months to prepare physically and mentally, however they got much more than expected out of the experience. Catherine complemented her natural general fitness by walking with weights, netball training, Pilates, and even walking up Mt Jess north of Underbool as part of her training.
She also prepared herself through reading, researching and watching video clips. Two excellent books she recommends are "Kokoda' by Peter Fitzsimmonds and Kurt Fearnley's biography "Pushing the limits". Kurt is a three time Australian Wheelchair Paralympic Gold Medallist who crawled the Kokoda Track in 2009.
In 1942, along a narrow track over the rugged mountains of Papua New Guinea, 625 Australians were killed and over 1000 injured. The Battle of Kokoda was a four month struggle which began with the Japanese landing in Papua in July1942.The Japanese strategy was to take Port Moresby via a track over the Stanley Range. Port Moresby was vital to the defence of Australia. However the Australians, in a costly series of engagements pushed the Japanese back the way they had come. By mid-November the Japanese were forced to abandon their plan to take Port Moresby. They retired to their north coast strongholds. The costly engagements were fought at Kokoda, Deniki, Isurava, Eora,Efogi,Templeton's Crossing, Ioribaiwa and Oivi- Gorari.
The location of the track has changed since 1942. Just as the local people in the mountains move their villages to a different place every now and again, so they also alter the route the track follows. Then years later it may move again, possibly back to an earlier route. At present, about three quarters of the track follows the same path as that used by the Australian and Japanese in 1942.
The group Catherine was with consisted of 18 people, with 4 people carrying their own bags and 14 hiring personal porters. Catherine had her own personal porter and found him most helpful on the trek, as the porters cooked the meals, washed their muddy clothes if necessary and guided them along the track assisting in averting many a fall. The porters were inspiring, their laughing infectious, their singing beautiful and they could carry amazing loads on their backs.
The 96 kilometre track was completed by Catherine's group in 8 days. The track wanders along narrow crests offering spectacular views and falls into deep dark gorges where the thick green vegetation blocks out the daylight. The landscape was beautiful. The Kokoda track region appears much as it did in 1942 when the Australian soldiers fought there. Along the track, trenches and rusted weapons can still be seen. There is no electricity, no shops and each madly rushing stream is crossed by means of a simple log bridge.
Due to PNG having had lots of rain before Catherine's group arrived and with much more 'traffic' being the 100th Anniversary of the Anzacs, the track was very churned up and muddy which added a further challenge to keep one's footing.
"The most gobsmacking moment of the terrain", Catherine said, "was walking over a crest and seeing the dropping zone of Myola, a dry lake bed, where supplies were dropped for the soldiers." It was a vast flat lake bed, east of the main track and totally different to where they had been walking.
On Anzac Day they attended a dawn service at Bomana War Cemetery, the largest war cemetery in the Pacific. It contains 3779 graves, of which 3069 are known and 237 are unknown Australians. They also had two services along the track which was quite emotional. The last post was played by their Australian trek leader on the bugle and a minute's silence observed. In such a peaceful and beautiful place it was hard to picture bloodied bodies.
Whilst walking the track Catherine thought of those who were injured and how they walked through their mental and physical barriers. When she was fatigued she thought of the Anzacs and what they did for our freedom. Mateship, sacrifice, endurance and courage, those words will stay with her for the rest of her life.
Catherine encouraged those present to pursue their dreams. "If you want to do something, just do it!"
Catherine is glad she walked the Kokoda Track - the experience has made her appreciate life and to enjoy the life she has and she is grateful.
What do the words mateship, sacrifice, endurance and courage mean to you? 'Lest We Forget.'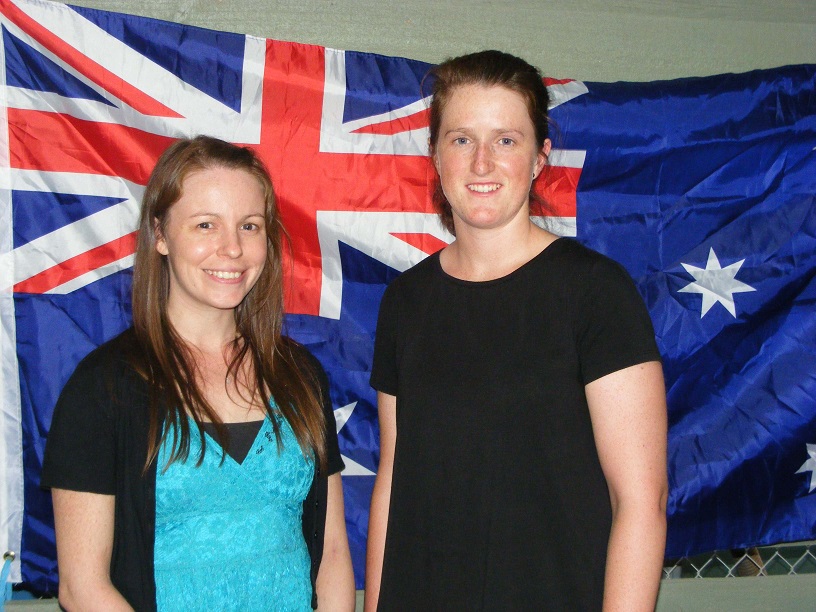 Cr Ali Cupper and Miss Catherine BrownPresident Fran thanked Catherine for her most inspirational talk and dvd presentation of photos of the trip.
Dessert - the ever popular fruit salad and icecream – was then enjoyed, after which Fran introduced Councillor Ali Cupper representing MRCC.
Referring to Catherine's talk Ali said on this Australia Day we need to be following in the footsteps of the Anzacs, with their endurance, courage and mateship.
"We are a people of inclusion, a people of tolerance, a people of diversity," Ali said. Australia is fundamentally a country of peace and harmony and tolerance which enables us to focus on the sciences, education and clinical research. It is testament to our character that we have the confidence to confront difficult situations and to talk about difficult stuff. Confront the areas of our life that are not perfect. Last year's Australian of the Year Rosie Batty had that courage. This year's Australian of the Year, Army Chief David Morrison has also had to deal with confronting issues in his field.
In closing Councillor Cupper thanked the Underbool Progress Group for the invitation to be part of the town's Australia Day celebrations, commending and admiring the spirit of the people living in small communities such as Underbool. Happy Australia Day to all.