Mallee Border Health Centre
Di Thornton, Nurse Practitioner, is available by appointment on Tuesdays in Underbool. Appointments can be made by calling 0885778065 or mobile 0448522703 or at www.malleeborderhealth.com.au
Underbool Press Annual donations.
2022-23 Financial year annual donations are due. The fee has been decreased to $30 per year. Payments can be made via cash or cheque (placed in the blue folder at the Post Office and leave a note if you require a receipt) or via EFT. Please put the name of the organisation as the reference. Please let Kylie know if you need an invoice sent.
BSB: 083-776 Acc: 54 023 4318
Underbool CFA Fire Truck Roster
The truck can be taken out any day during your rostered week.
Please remember to check the fuel level and organise to fill it if required. We cannot turn out to fires if there is no fuel in the truck.
If you are unable to take the truck out, please contact the Committee Member responsible for your month.
UNDERBOOL FIRE BRIGADE ROSTER
April – Comm's Officer Rob Gloster
09/04 Matt Funcke
16/04 Robert Gloster
23/04 Doug Gloster
30/04 Scott Brammer
Underbool Linga Memorial Hall
Two working bees have been planned to tidy the garden area and hall surrounds.
Saturday 15th April @ 9:30am
Wednesday 19th April @ 9:30am
Assistance from members of the community would be greatly appreciated.
BYO garden tools please.
D. Brown & H. Gloster (Sec)
Underbool CFA
Underbool CFA will be holding its AGM on Wednesday 19th April at the Underbool Fire Station. Long service awards will be presented.
A BBQ tea will commence at 6.00pm and meetings will follow. If families could please provided a salad or sweet to share it would be greatly appreciated. All welcome. Any apologies to either Col Lockett or Sonia McVicar.
Long Service awards being presented.
Dallas Willsmore 15 years
Simon Brown 20 years
Terry Kilpatrick 20 years
Garth Aikman 20 years
Darby Beasley 20 years
Matt Brown 20 years
Brett Evans 20 years
Kieren Hayter 20 years
Duke Nicholl 35 years
Neil Jackson 50 years
Allan Lynch 50 years
Ken Jones 60 years
Ouyen United Football Netball Club.
Training is well underway, the first game for the season is on Saturday 22nd April playing at Blackburn Park in Ouyen. Please see Kitchen roster for Underbool below.
Underbool Primary School Easter Raffle.
An Easter Raffle has been kindly donated by the families of the Underbool Primary School.
1st Prize: Easter Egg hamper.
Drawn on Thursday 6th of April at the School.
MTHCS Exercise Program
This program, run by staff from MTHCS, is held on Tuesdays at the Underbool Tennis Courts at 2pm. It is suitable for all ages and abilities.
We must have at least 4 attending for the program to run.
Please register your intention to come (by 12 noon on the day) with Tsharni via the facebook messenger group or phone 0473 311 123.
Bring a water bottle and wear sunscreen & a hat. Cost -$5.
All welcome.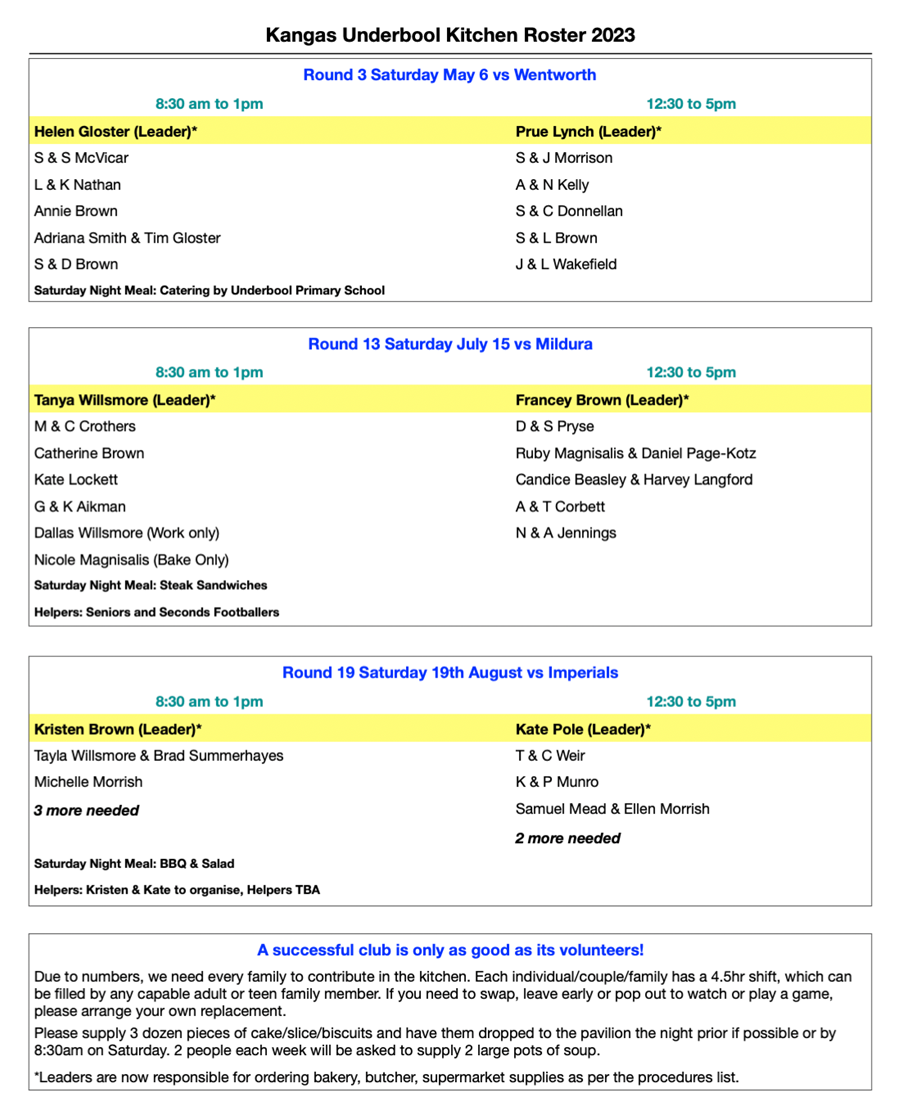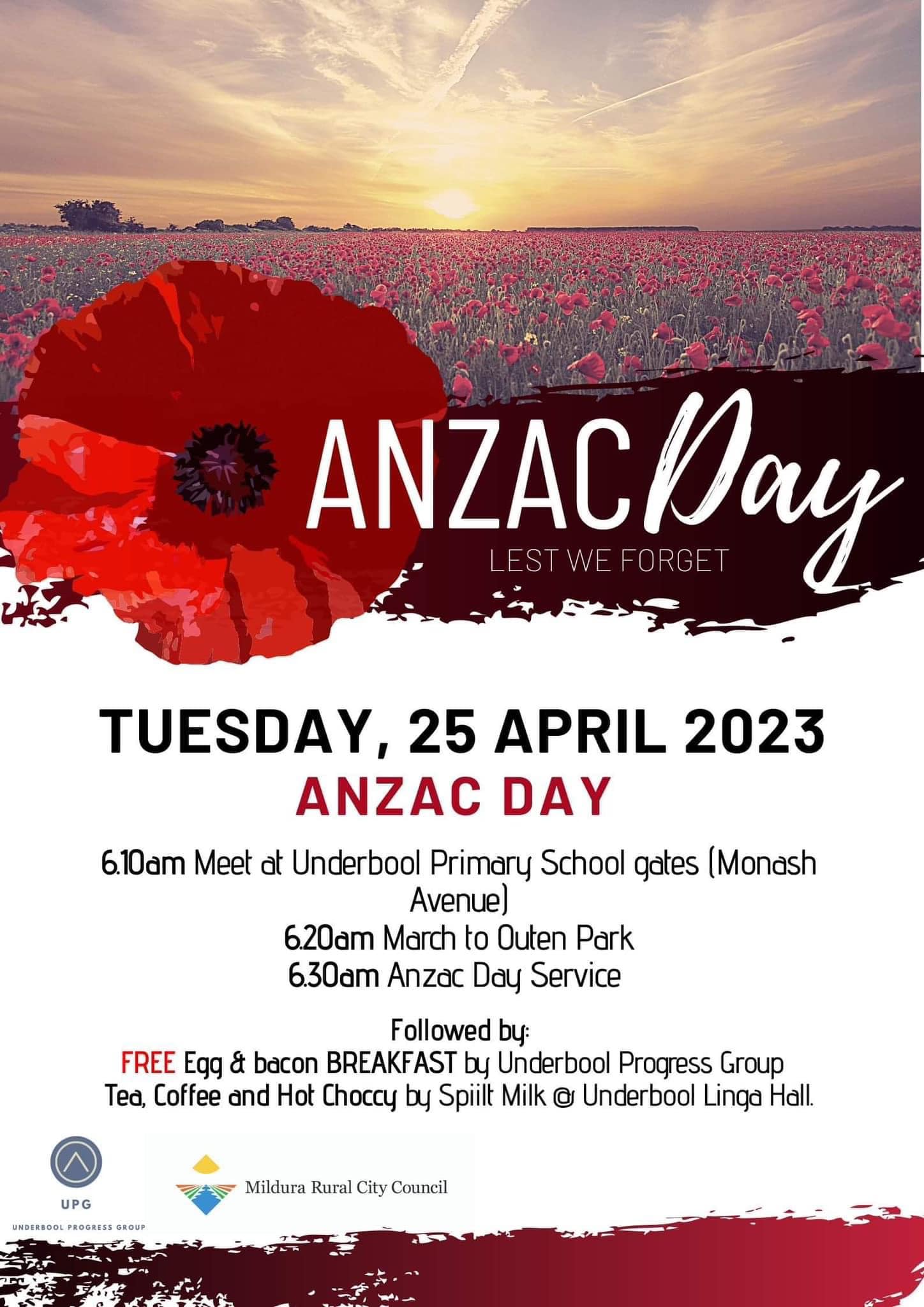 Underbool Press
There will be no Underbool Press for the School holidays.
Next typist 26th April: Rhonda Lockett colinlockett@bigpond.com