2018 Harvest
It's started....with a few early deliveries to grain storages.
Only as the season progresses will the final yield and quality of grain be known after a very dry season, some very windy times, frosts, .... high temperatures predicted to end October......
November 2018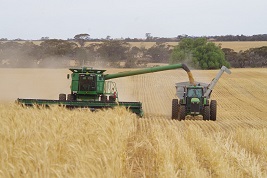 Barley, lupins, wheat, canola... harvest is well underway now. Yields are variable, as is quality. But we are thankful that there grain to harvest.
Rainfall of about 5mm was recorded in Underbool on Tuesday 27th but not all farms in the surrounding area received the rain. With a good breeze and sunshine on Wednesday, headers were again harvesting crops that had been rain affected.