Details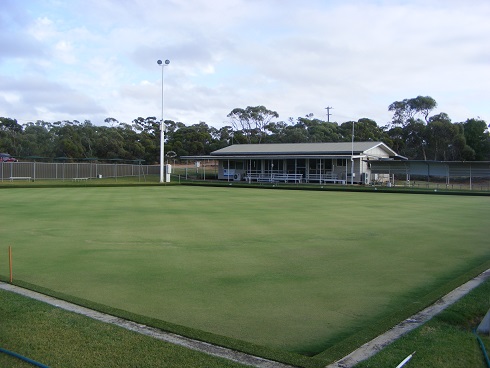 Address
Reservoir Road
Underbool Vic 3509
2022-2023 Syllabus contact a board member for further details
Description
2021-2022 Board
President: Colin Lockett

Secretary: Howard Crothers
Senior Vice President: Steve Simmonds

Junior Vice president: Les Stone

Assistant Secretary: Jennifer Wakefield

Treasurer: Raelene Winslow

Immediate Past President Robert Gloster
Additional Board members: Alan Stone, Marie Cummings, Noelene Crow, Jen Stone
Match Committee Men Ray Gloster, Robert Gloster, Colin Lockett, Alan Stone

Match Committee Ladies Jen Stone, Jennifer Wakefield

Greens & Maintenance Committee Robert Gloster, Steve Simmonds, John Cummings, Alan Stone,
Stephen Lynch, Col Aikman, Les Stone, Jen Stone, Rhonda Lockett, Robert Pole, John Stone
Registered Coach Steve Simmonds
Press Corres. Robert Gloster, Jen Stone (photographer)

Bowls Sunraysia Delegates Robert Gloster, Jennifer Wakefield

Pennant Selectors -- -Saturday: Alan Stone, Robert Gloster, Les Stone

Midweek: Colleen Gloster, Marie Cummings.
National Umpires Robert Gloster, J Cummings.
Catering Committee Wendy Stone, Nolene Crow, Rhonda Lockett

Bar Managers H Crothers, Colleen Gloster, Ray Gloster, Rob Gloster.
*IF FORECAST TEMPERATURE FOR MILDURA IS 38 DEGREES OR ABOVE, SAT BOWLS TO BE IN THE EVENING
Sat play – names in by 1.15 pm for 1.30 pm start
Wednesday twilights – names in by 6pm for 6.30 pm start.
BBQ on Saturdays when pennant is at home.
Membership $100
Social Membership $50
Bar Membership $5
All Green Fees $5, BBQ $10, Twilights $10 plus Green Fees
Non Playing Visitors Meal $10 (includes Bus driver)
Club Car Travel – All Pennant and Ladies Star days each player to pay driver $10, car to be paid $10 even if traveling in a different car. Ouyen, Murrayville – Nil
Delegates Meetings car $30
Club Room Hire for Meetings $25
Casual Clothes may be worn except for pennant and tournaments
December 2023

November 2023
The Mid Week Pennant team continues to roll along nicely being pretty competitive in most matches against some fairly strong competition. Wednesday 15th November they journeyed to Workers where they won 1 rink by enough to secure a 5 shot victory overall. Wednesday the 22nd, back on the road again to Euston where they won both rinks with a 9 shot overall win.
This week, 29th November, will be a tough match against Mildura at Underbool. Sunday the 26th the Ladies pairs Semi Final was played, with Jennifer Wakefield and Veronica Stone defeating Lyn Pryse and Dorothy Brown to move into the Grand Final against Marie Cummings and Colleen Gloster.
Saturday 18th of Nov. in the weekend Pennant, Underbool travelled to Mildura Bowls Club and recorded a 79 shots to 59 victory, 11 points to 1 with 2 rinks winning and a draw.
Back to our home synthetic on 25th Nov. we played Euston, defeating them 74 shots (10) points to 51 shots (2) points. Whilst still hanging onto top position on the ladder, our next match against Irymple at Irymple will be a real challenge.
The Mens 100 up Handicap draw has been done with 26 bowlers entered in the competition, so when harvest is finished it will be a challenge to get all our Club competitions finished.
The Midweek pennant team ventured to Irymple on Wednesday 1st November winning both rinks with an overall result of 50 shots to 45. Colleen Gloster's rink by 3 shots and Marie Cummings' rink by 2 shots in a closely fought contest.
Wednesday the 8th was a week off with the Bye and we are currently sitting 3rd on the Ladder. This week the 15th November they play top team Workers at Workers.
Weekend pennant on Saturday 4th we welcomed our neighbours Ouyen to Underbool, the first time in the Pennant format for many years. The home team were able to get over the line, winning 2 out of the 3 rinks, 68 shots to 58.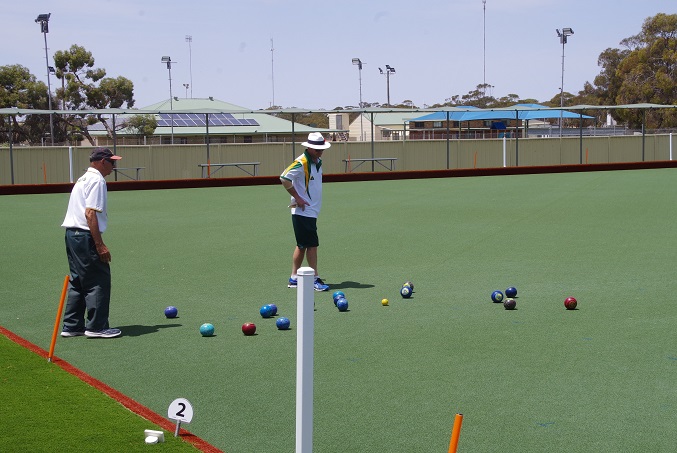 11th NovLast Saturday 11th November, we welcomed Workers to our Club for an early start, as initially it was predicted to be a fairly hot day, but as it turned out the day was rather pleasant.
A few of our players hadn't had much sleep as they were out fighting lightning strike fires until the early hours of the morning.
However, it didn't deter the home side with all rinks winning, yielding 73 shots to 47 overall and a maximum 12 points. A few minutes before 11 o'clock all matches were paused to observe and pay our respects for Remembrance Day. So much for a catch up rest in the afternoon as once again the fire siren sounded and the volunteers were turned out once again.
This Saturday 18th we travel to Mildura to play Mildura 3.
October 2023
Several Members did an RSA course held in Ouyen on 31st October which further strengthens the good numbers we currently have in the Club.
Last Wednesday 25th the Midweek pennant team ventured to Mildura where they found the going a bit tough, with Marie's team able to force a draw but Colleen's team succumbing to a strong combination going down by a considerable margin. However, they are all the better for the challenging experience.
This week the Midweekers travel to Irymple for a new challenge.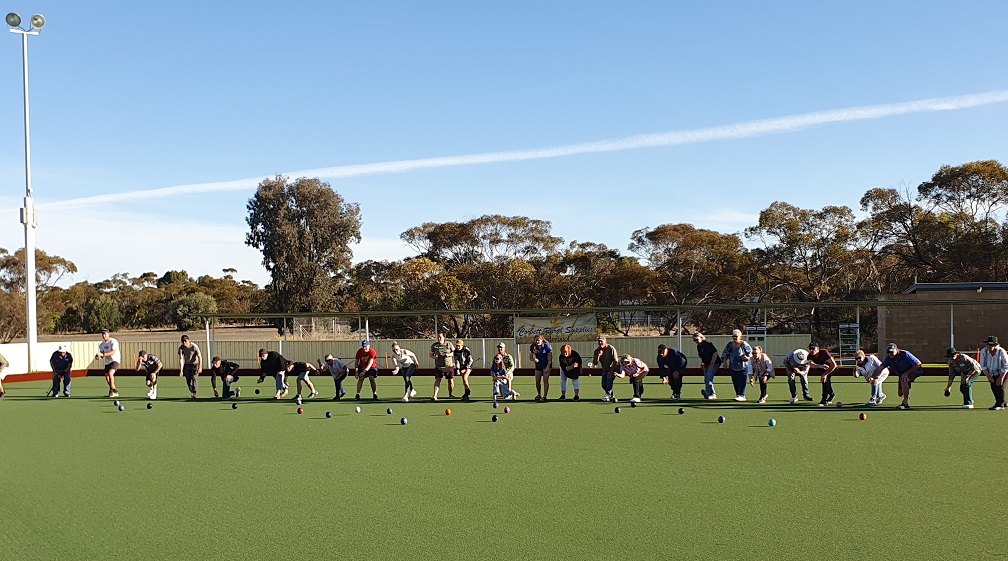 27th OctoberFriday evening the 27th the annually sponsored " Corbett Rural Supplies" Trophies for Bowlers and Non Bowlers was held with another really successful night of bowls, fun and fellowship enjoyed by the surrounding community. Special thanks to Ash and Tracey for the wonderful prizes, the beautiful salads presented by the members and the BBQ cooks. It was another memorable event for the Bowls Club.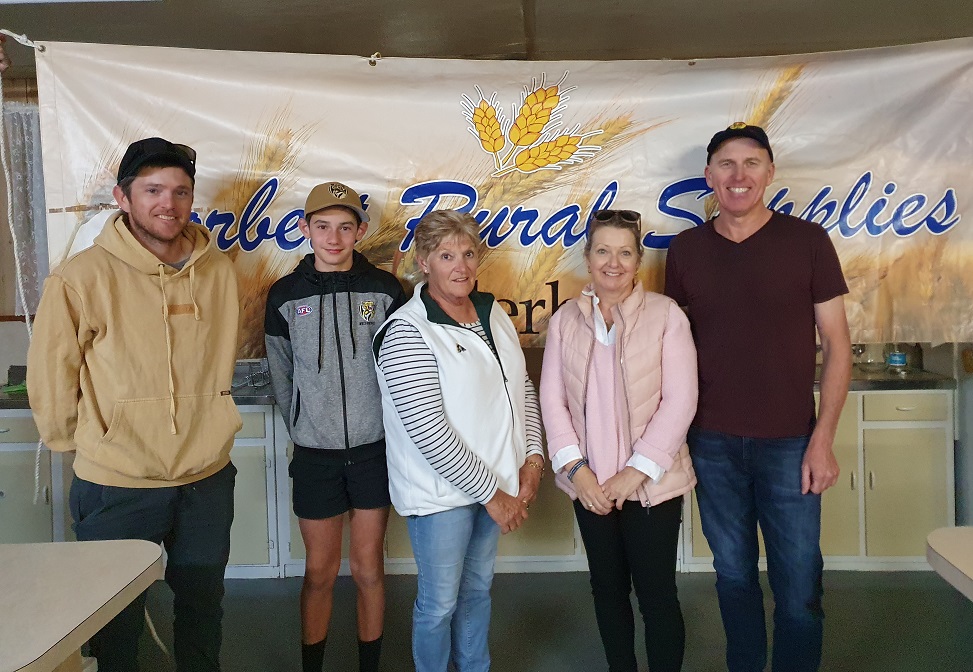 runners-up with Tracie Corbett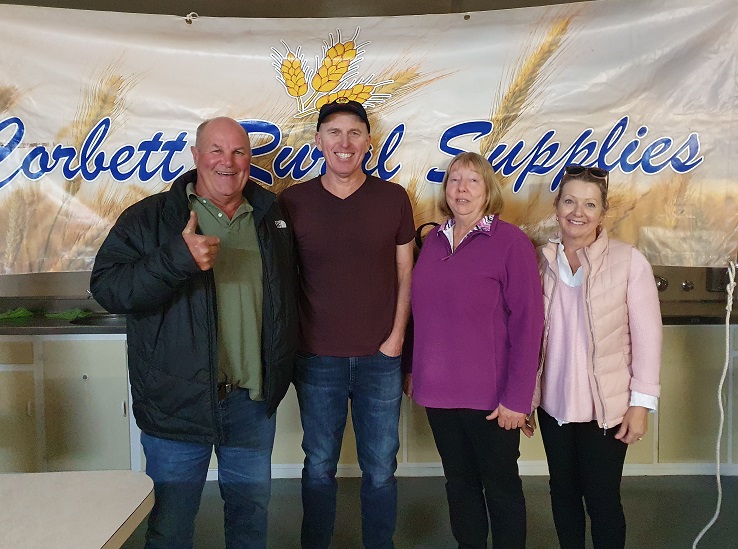 winnersWinners of the triples event were Raelene Winslow, Jack Winslow and Ash Corbett.
Runners Up were Lyn Pryse, Simon Brown and Harry McVicar.
Saturday 28th Saturday Pennant saw us welcome the strong outfit of Irymple 3 to our synthetic green, but they proved too strong overall on the day. Going down 62 shots to 86 shots we could only manage a win by one rink. We welcome back a couple of players this week as we look forward to tackling our neighbours Ouyen on our home turf, I'm guessing whatever the result it will be a fun day.
The Men's Club singles is getting to the pointy end. Howard Crothers and Rob Gloster played off in a cracking Quarter final on Sunday with the score at 24 all, Howard prevailed on the final end to now meet Cameron Gloster to decide who meets Steve Simmonds in the Final.
The Ladies Final is to be played between Jennifer Wakefield and Lyn Pryse. Lyn is one of our newer bowlers and has adapted to the game very well, which is very refreshing for our club.
The good part about the synthetic green is that it is available to play on 24/7 which should be encouraging for would be players.
The Underbool Bowls Club Annual Triples Tournament was held on Sunday 22nd October. Thanks collectively to our dedicated Members and the 78 visiting bowlers from all Sunraysia clubs, Hopetoun, Murrayville, Pinnaroo and Parilla, it was a huge success. The weather wasn't very kind early in the day with a cold westerly wind, but improved as the day progressed.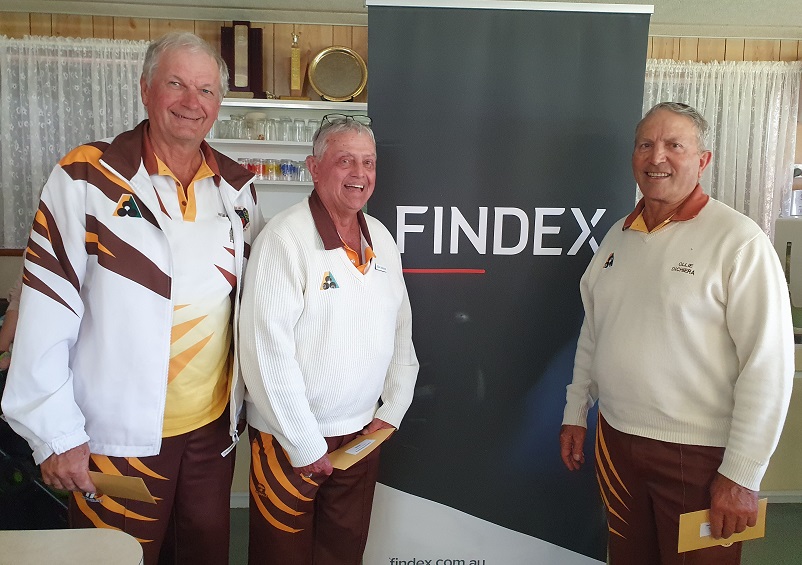 Winners: Owen, Allan and OllieWinners of the 'Findex Mildura' and Ontario General Store' sponsored tournament was the Merbein team of Ollie Dichiera (s), Allan Johnston and Owen Rentsch being the only three game winners.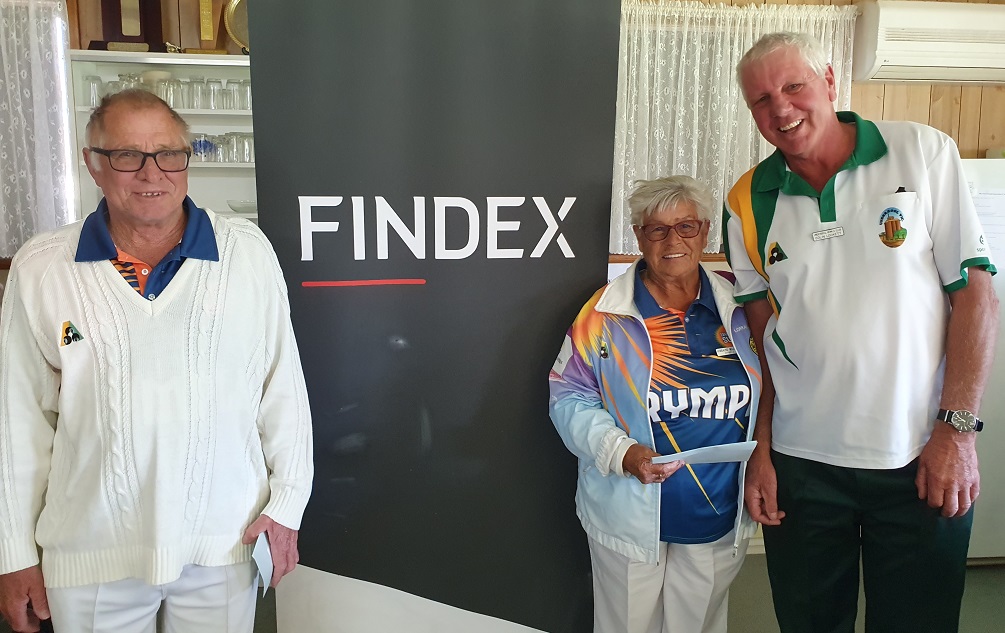 Runners-upR/up with 2 ½ games was Lorraine Millward ( S ), Brendan O'Brien & Wayne McDonald from Irymple. In 3rd place also with 2 ½ games was the Murrayville/ Pinnaroo combination of Ross Huxtable ( S ), Sarah Hawthorne & Viv. Hawthorne.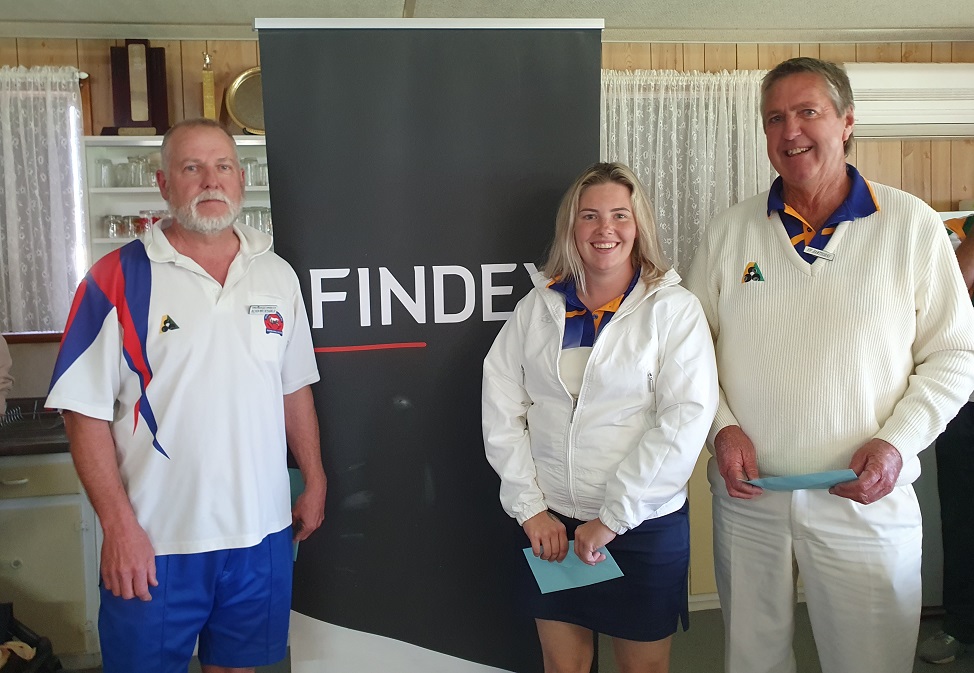 3rd placedResting toucher prizes went to Robert Groves, Wade Duncan, Wally Grembecki and Tom Bath.
Wednesday 18th the Midweek team scored the maximum 10 points over Euston winning 46 shots to 29.
This week they venture to Mildura 2. Saturday the 21st was round 3 of weekend Pennant where we traveled to Euston, not only battling the wind but a very slick grass green. We could only muster a 1 rink win to go down 72 shots (10 Points) to 55 shots (2 points).
This week we welcome the strong outfit of Irymple to our home turf.
Last Wednesday 11th saw the opening of the Midweek Pennant season with Underbool hosting Workers to our new green. In windy and trying conditions weatherwise. The home team won one rink and lost the other to go down by 3 shots overall in a tight finish.
This Wednesday 16th we are home again when we play Euston.
Saturday the 14th Underbool played Mildura 3 at Underbool in round 2 of Saturday Pennant where all 3 rinks recorded a good win overall 85 shots to 39 taking all 12 points. This week we travel interstate to Euston for round Three.
Teams are: Rob Gloster ( S ), Colleen Gloster, Jen Stone & A. Willsmore. H. Crothers ( S ),
John Stone, F. Gloster & S. Lynch. C. Lockett ( S ), L. Stone, Ray Gloster & M. Lockett.
2 teams of Ladies are representing at Ouyen's Star day on Thursday 19th and a Men's fours team ventured to Parilla S.A. on Sunday where the iconic "Rump & Red" day was thoroughly enjoyed by all.
Sunday 22nd is our Annual Triples Tournament where we will have 84 visiting bowlers enjoying our hospitality, we look forward to a very successful event.
Saturday 7th October was the opening match of the new Pennant Season and we made the trip to Mildura to play Workers 3. Even with the half hour earlier start this season, the slick greens presented us with a fairly late finish. However, it was a good day for our team winning overall 77 shots to 66, a positive start to the season.
This week we welcome Mildura to our new synthetic surface and teams are:
Rob. Gloster ( S ), Cam Gloster, Colleen Gloster & Alan Willsmore.
H. Crothers ( S ), John Stone, F. Gloster & S. Brammer.
Col. Lockett ( S ), L. Stone, Ray Gloster & S. Lynch.
Social bowls last Saturday the winners were V. Stone, R. Winslow & L. Pryse.
Wednesday 11th Midweek Pennant begins with Underbool playing Workers at Underbool.
Both the Mens and Ladies Club Singles Championships are progressing quite well at the moment.
Our Triples Tournament on Sunday 22nd October is fully booked for the 2 fills which is great for the Club
Sunday the 1st of October was the scheduled 2023-24 season opening day for the Underbool Bowls Club. President Col Lockett welcomed all in attendance including some visitors from our neighbouring Ouyen Bowls Club. He then had the privilege of introducing Dr Anne Webster MP - Federal Member for Mallee to officially open our Bowls Season which she completed by perfectly despatching the kitty, but not quite so the first bowl.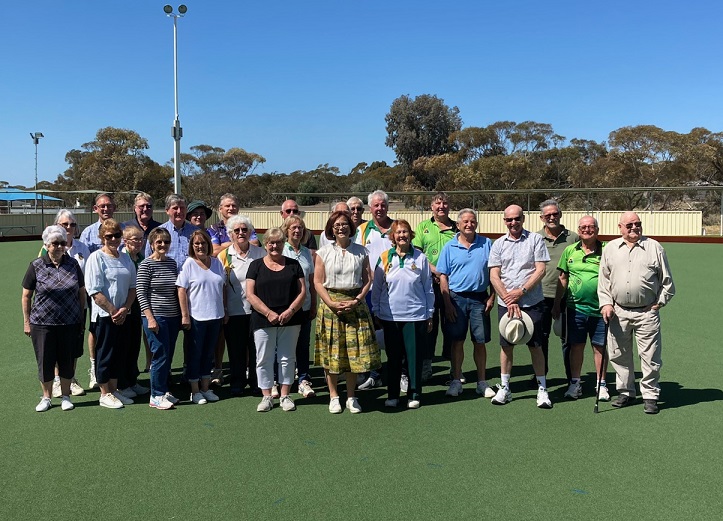 Official Opening of Underbool's New Synthetic Green and 2023- 2024 bowls seasonWe were delighted that Dr Webster and husband Dr Philip Webster accepted our invitation to take part in our season opening. As usual our ladies had prepared and presented a beautiful luncheon which everyone enjoyed, prior to an afternoon of social bowls. 3 games of 2-4-2 were played for trophies kindly donated by Robert & Merle Pole and Raelene Winslow.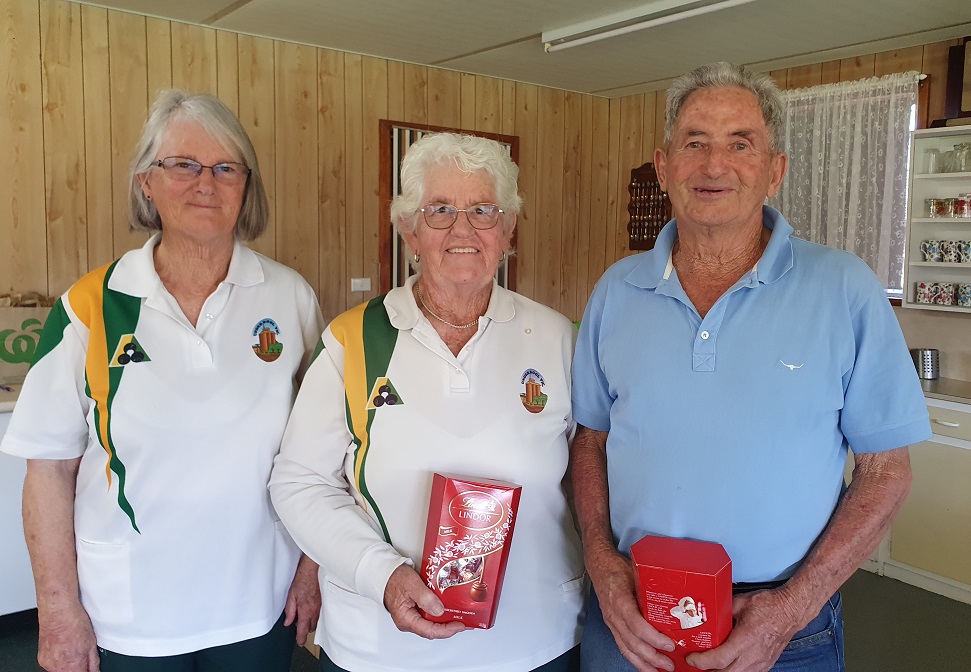 Merle with winnersWinners were Norm Latta & Marie Cummings, with runners up being Reg Dean & Colleen Gloster. A large number of raffles followed.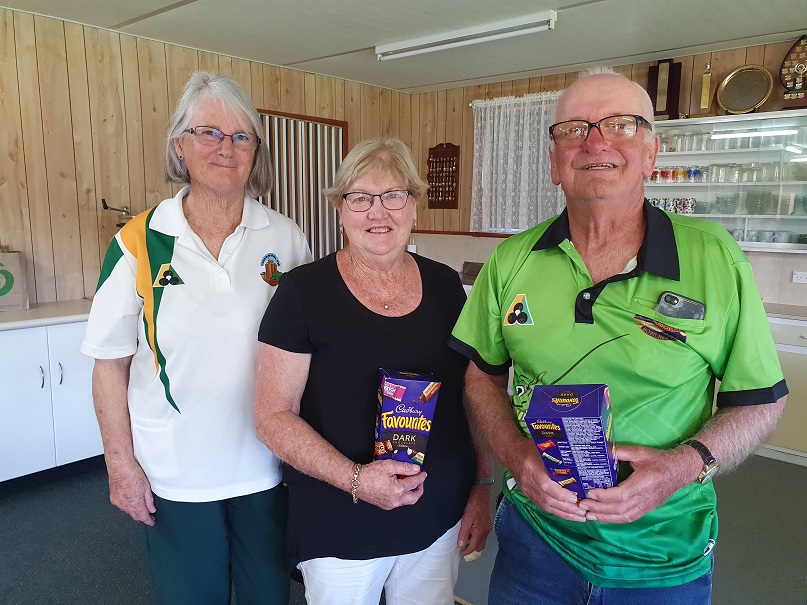 Merle with runners-upIt was a very successful opening day and we look forward to sharing our new synthetic green with all our surrounding clubs during the upcoming Pennant and Tournament season.
Saturday Pennant begins this week 7th October. This season we are in 3rd Division and our 1st game is against Workers at Workers. Teams are:
Rob Gloster ( S ), Cam Gloster, A. Willsmore, Jen Stone.
H. Crothers ( S ), John Stone, Frankie Gloster, S. Lynch.
C. Lockett ( S ), L. Stone, Ray Gloster, W. Stone.
September 2023
Last Wednesday 13th September we were presented with a glorious wind free spring Mallee day, which was absolutely ideal for the Ladies Annual Star day Tournament.
The New synthetic green and surrounds made for a beautiful setting against the backdrop of our legendary Mallee trees. A great representation of Bowlers from the surrounding Sunraysia Clubs, thoroughly enjoyed our Ladies hospitality and the privilege of playing in our first tournament on the new surface.
The Tournament was once again Sponsored by " McGlynn Hunt Funerals" to whom we are most grateful for their support.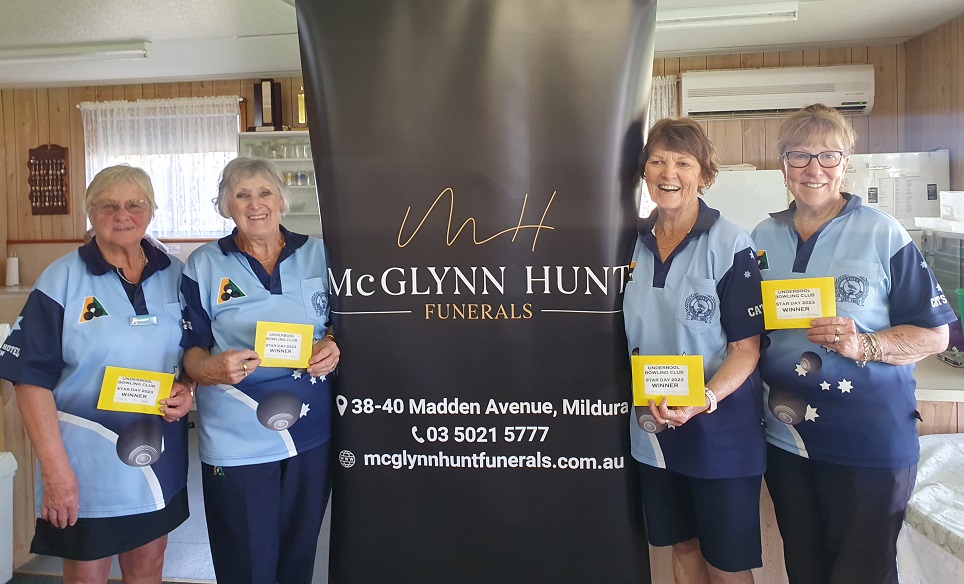 winnersWinners of the Day were the Ouyen team of Janet Vallance ( S ), Judy Pengelly, Barb. Hahnel & Val. Latta.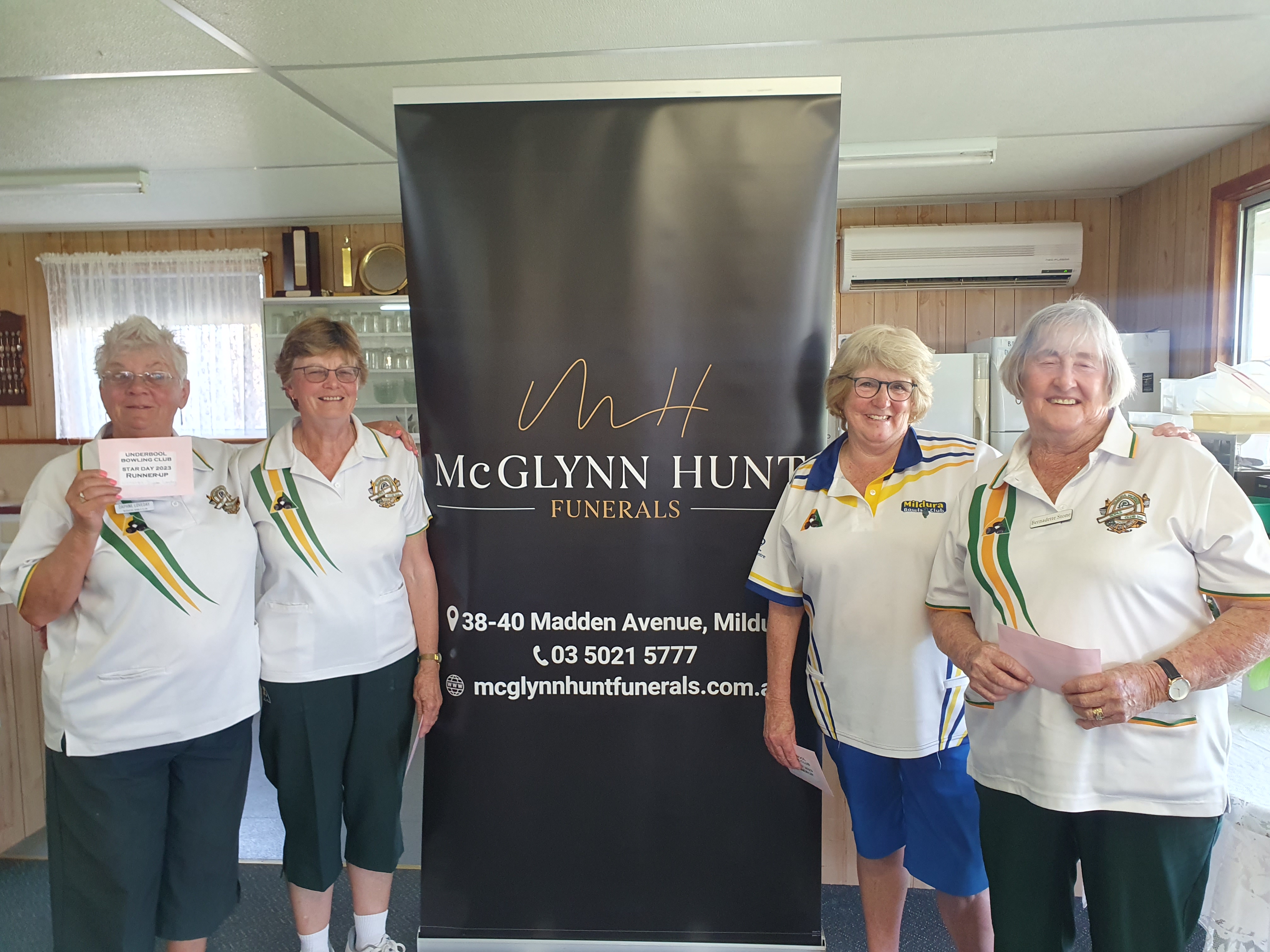 runners upR/Up from Workers was Bernadette Stone ( S ), Glenys Yeowart, Joy Stevens & Daphne Loveday.
Third place from Mildura were Joan Bunney ( S ), Judy Morris, Fran Richards & Marlene Scheele.
Lucky Door winner was Carolyn Coles from Red Cliffs and the " Spider " winner was Delwyn Milner from Coomealla.
Congratulations Ladies on putting together and executing such a wonderful day of competition, fellowship and wellbeing.
Saturday the 16th September, 2 teams of fours represented at Irymples Trilogy day, which left the home club social bowls a bit depleted, but quite a few had a competition with the winner being Wendy Stone. Thursdays are training evenings and Social bowls will continue each Saturday.
June 2023

For those interested in the progress of our new synthetic green project. This is an exciting time for the Underbool bowls club and surrounding community.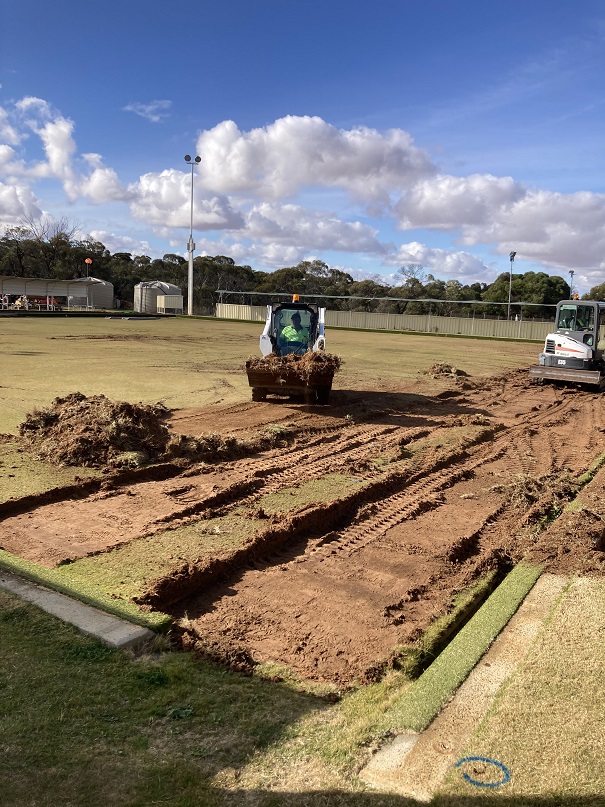 removing lawnFollowing a very productive and informative meeting during May with representation from MRCC, Berry Bowls Systems and Underbool Bowls Club, it was confirmed that to make the project complete, it would require construction of new outer bank and ditches with precast concrete forms and the supply and installation of 25mm Premium Synthetic grass around the perimeters. Approval and funding was granted and Berry Bowls Systems commenced works on the 29th May.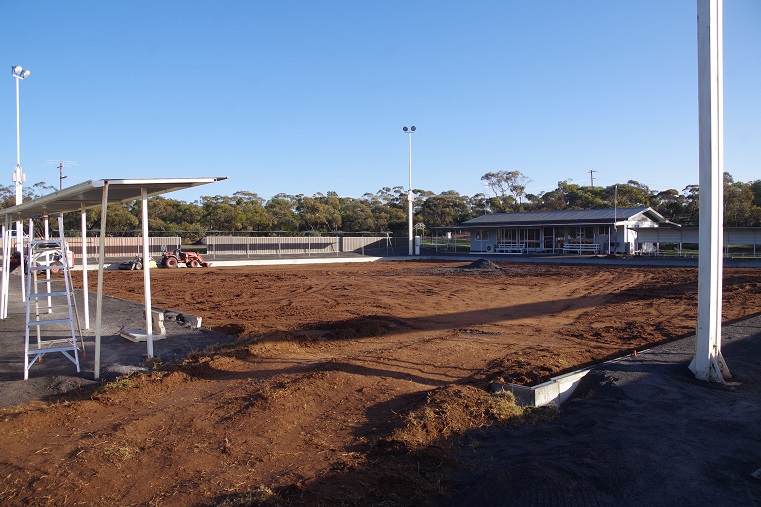 works progress: 18 JuneIt wasn't long before the old faithful grass green, which has served the community so well since 1951, was turned into the point of no return. The contractors have worked very diligently, doing some long hours, at times battling the cold and drizzling rain.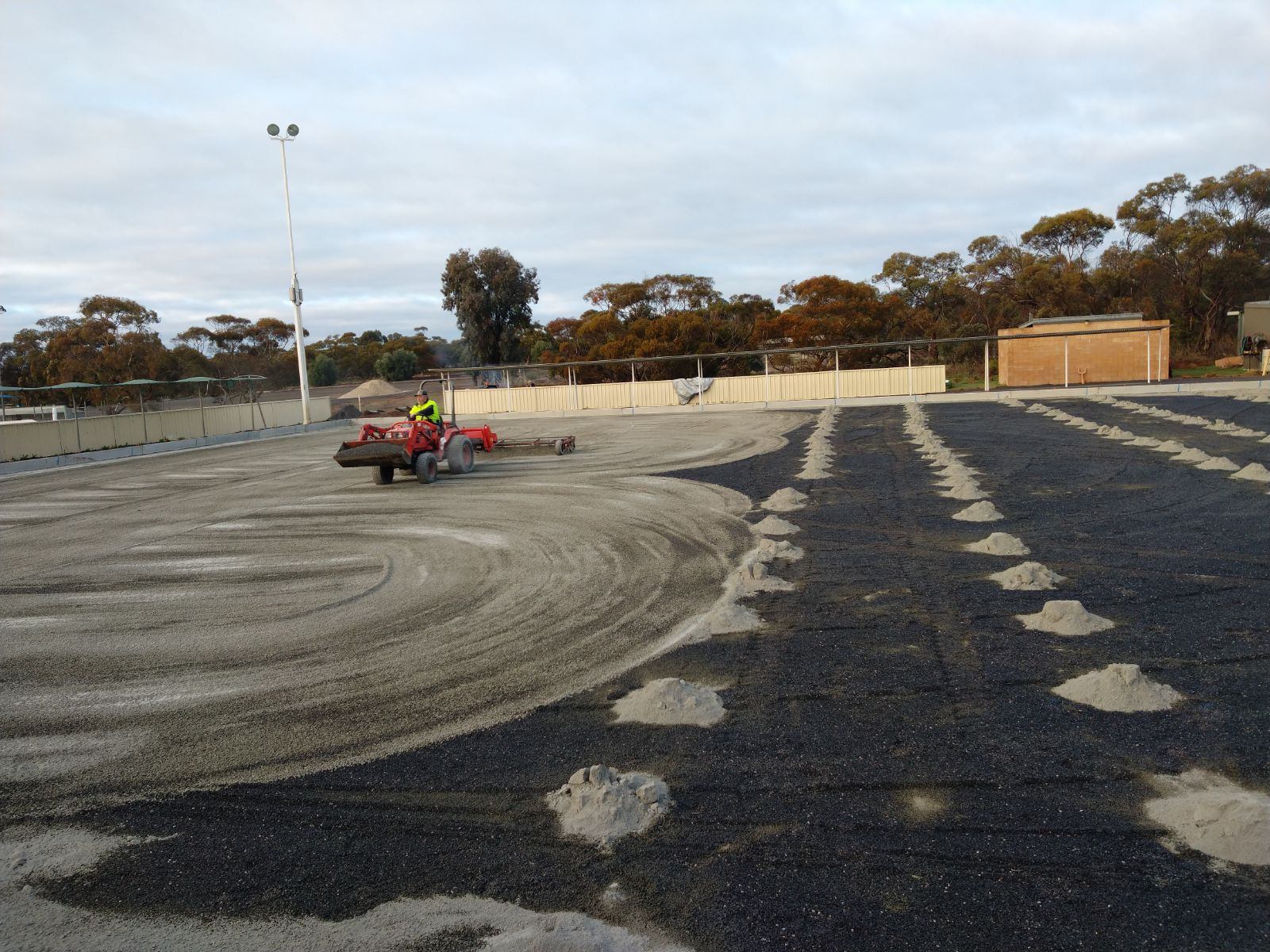 Also, the Members have had some very well attended working bees coinciding with the contractors to have the likes of rink marker, and assist handle foundations in place prior to the synthetic surround being laid. I believe some of our ladies have been spoiling the contractors with regular morning and afternoon teas, " good on em".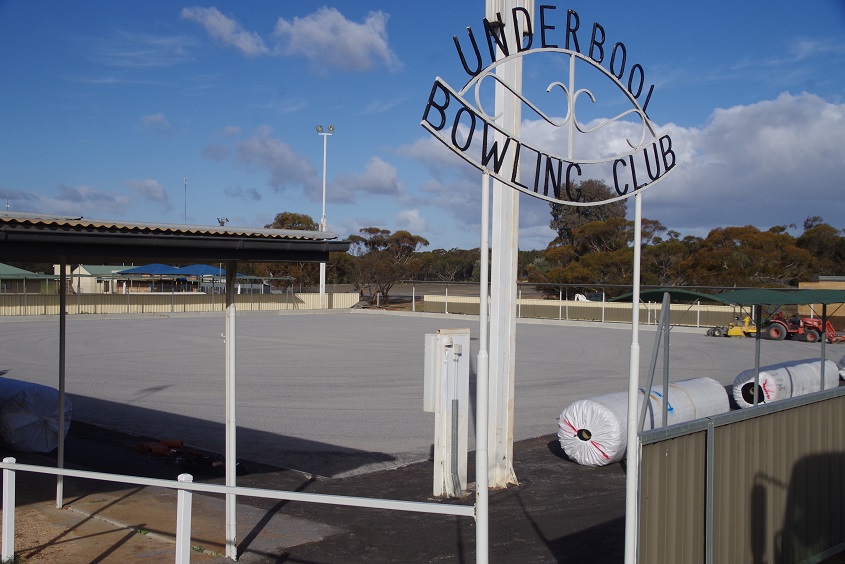 works progress: 26 JuneIf all the ducks align, the Synthetic surfaces should start being laid in the next couple of weeks.
On Wednesday 21st June the Club held the Annual Meeting. Once again Col Lockett was voted in to continue the President's role, with Howard Crothers retaining the Secretary/CCO position.
With the new synthetic green project now coming to fruition, the club looks forward to further stability and exciting times ahead.
April 2023
Well, we did think our Bowls was done and dusted, but the Club has been busy representing in the various Sunraysia Champion of Champions events over the last 2 weekends.
On Saturday the 15th our Ladies Club pairs Champions, Jen Stone and Raelene Winslow, took on Workers in the first round at Coomeallas new multi million dollar complex. However after a good tussle the girls were bundled out, but found it a great experience. Down on the B green our Mens Club Champions Steve Simmonds and Col Lockett, were drawn to play against Mildura's Mark Eckel and Wayne Gardner, arguably 2 of the best bowlers in Sunraysia. Steve and Col adapted to the new surface brilliantly and in a very high class match of draw bowling they won the game and advanced to the next round on Sunday morning, only to meet our neighbouring Club Ouyen. Norm Latta and Mick Donaghy have had success in this event before over our boys, and once again proved their nemesis, holding on to win over the fast finishing Underbool boys. However, the fact that Norm and Mick went on to win the Sunraysia pairs Championship was the next best result and we congratulate the Ouyen pair on a well deserved victory for the Mallee.
Saturday the 22nd at the same venue the Sunraysia Champion of Champions 4's event took place. The Underbool Clubs Mens four of Rob. Gloster, Col. Lockett, Les. Stone and Steve Lynch played Ouyen in the first Round and advanced to the next round on the Sunday against Red Cliffs. In a good team effort Underbool advanced to the Grand Final against Merbein who were in red hot form. But for one disastrous 10th end, Underbool were right in contention, but paid the penalty of that one poor end eventually succumbing to Merbein who were the champions.
On the Sunday our Ladies 4's Champions of Noelene Crow, Colleen Gloster ( Sub)( for Jen. Stone), Lyn. Pryse and Jennifer Wakefield, combined brilliantly to defeat Red Cliffs and advance to the Grand Final against Workers. They couldn't produce the same consistency in the afternoon and also Workers played very well to eventually win the Championship quite comfortably.
However, what a great effort to have both our Ladies and Mens 4's in the Sunraysia playing area Championship Finals, it is a great experience for all the players that contributed. Not only are Underbool and our Neighbours Ouyen at the furthest spectrum for travel within the Sunraysia playing area, we are also very vigilant at representing and contributing to the Sunraysia events, a credit to both Clubs.
Thank you to our Members who represented at Ouyen's recent carnival, I believe it was another great success.
An update on our synthetic green project, we had a very positive meeting with MRCC and Berry Bowls Systems last week and if all the ducks align it may be started around August. Fingers crossed.
The Bowls activities for the Underbool Bowls Club are beginning to wind down for season 2022/23. The final 2 Club Championships were decided last Friday evening the 31st March.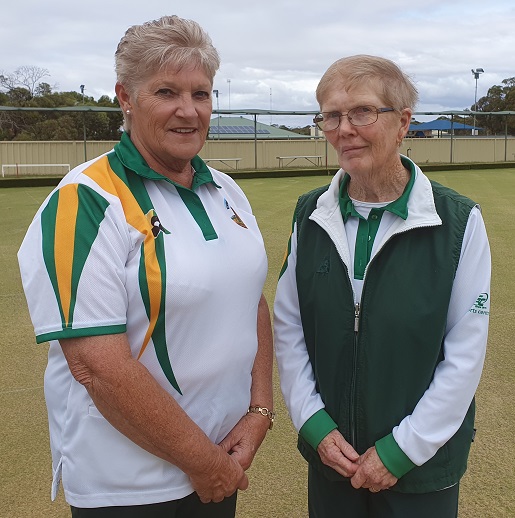 Jennifer Wakefield played first year bowler Lyn Pryse in the Ladies 100 up handicap Final, and it was a very tightly contested event very fitting for a Championship decider. Lyn acquitted herself very well and has made giant steps towards being a very good bowler. Jennifer's experience prevailed in the end to take out the last ladies Championship decider.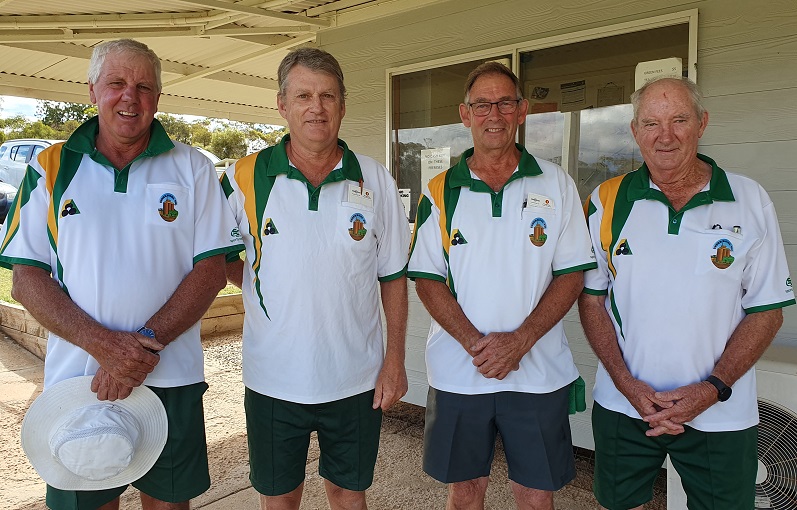 At the same time Steve Simmonds and Col Lockett were playing Rob Gloster and Alan Stone in the Men's pairs Championship Final. Unfortunately, whatever Rob and Alan threw at the multiple Champion pairs duo, they couldn't match the monotonous consistency of Steve and Col. Congratulations Jennifer, Steve and Col. Both these events needed to be completed prior to our Presidents Day and Season wind up on Sunday April the 2nd.
However, prior to that, 2 teams represented at Irymples Trilogy 4's Tournament on Saturday April 1st. It was a great days bowling and the lunch of Fish, Chips and Salad was a real treat. It's been a reasonably happy hunting ground for our Club over the years and Rob. Gloster ( S ), Howard Crothers, Alan Stone and Jenny Stone played very consistently to take out 3rd position trophies.
Still quite a few Tournaments and Carnivals coming up for bowlers to attend and enjoy.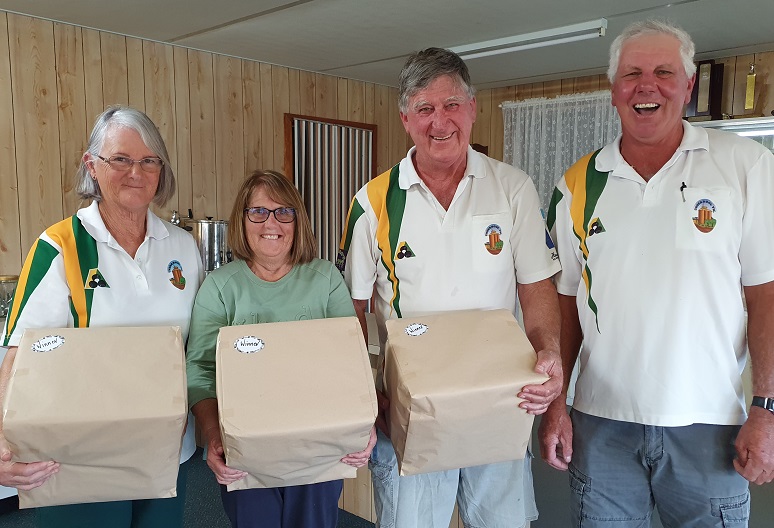 The afternoon of Sunday 2nd April amidst beautiful Autumn weather conditions, the Club held our Presidents Day and Wind up day combined. Those playing bowls were vying for the magnificent array of prizes and raffles so kindly supplied be President Col and wife Rhonda. 3 bowl triples was the order of the day with each team playing every other team in a short 4 end match, with the total win/loss result deciding the eventual victors. It was a great fun day enjoyed by all.
Spider winner was Merle Pole.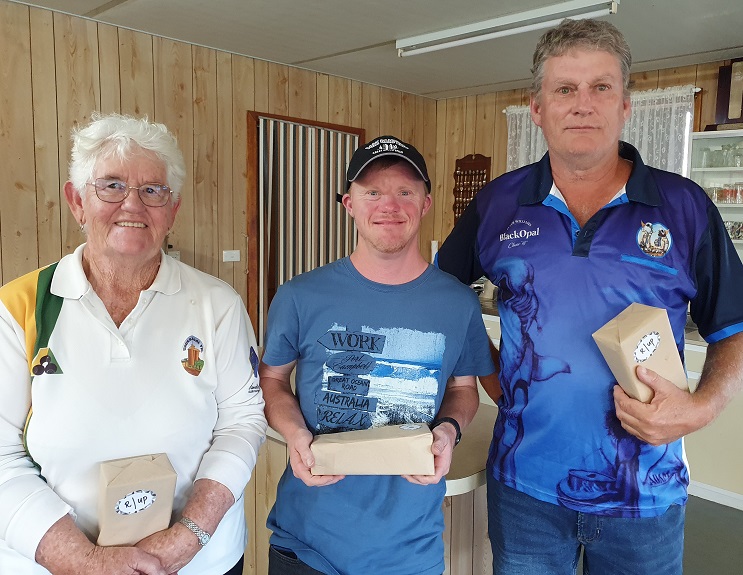 runners-up Winners of the day were Howard Crothers (S), Noeleen Crow and Merle Pole. R/Up were Steve Simmonds ( S ), Marie Cummings and Paul Lockett( who was over the moon !! ).
The many high quality raffles were then spread around. Thankyou sincerely Col and Rhonda.
President Col then proceeded with the presentation of the various Club Championship trophies for season 2022/23.
Mens Club Champion: Steve Simmonds. R/Up: Col Lockett.
Ladies Club Champion: Jennifer Wakefield. R/Up: Marie Cummings.
Mens Pairs: Steve Simmonds and Col Lockett.
Ladies Pairs: Jenny Stone and Raelene Winslow.
Mens 100 Up: Steve Lynch.
Ladies 100 Up: Jennifer Wakefield.
Ladies Fours: Noeleen Crow, Jennifer Wakefield, Lyn Pryse and Jenny Stone.
Whilst we wait patiently for our synthetic green to proceed, we must thank Cameron for his effort in maintaining our current green at such a great playing level for the season under trying conditions. It has drawn and been as pacey as any Green in the Sunraysia playing area all season, which has also attributed to the improvement in many of our bowlers.
Even though this may be our final bowls notes for the season, there will still no doubt be social bowls continuing while the weather is favourable. May I as the Scribe take this opportunity to sincerely thank the North West Express for allowing us to present our notes and the many photos in our local paper, and trust they have been of some interest to the wider community. We will try and keep you posted on the progress of our synthetic green !! Keep on Bowling.