Details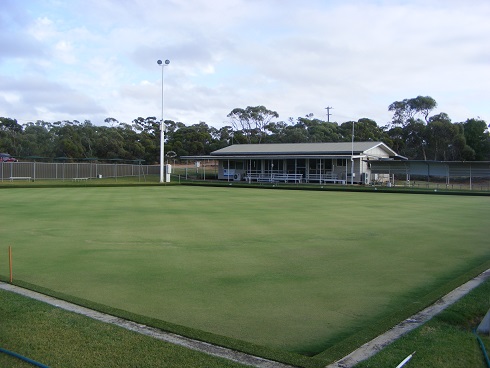 Address
Reservoir Road
Underbool Vic 3509
2022-2023 Syllabus contact a board member for further details
Description
2021-2022 Board
President: Colin Lockett

Secretary: Howard Crothers
Senior Vice President: Steve Simmonds

Junior Vice president: Les Stone

Assistant Secretary: Jennifer Wakefield

Treasurer: Raelene Winslow

Immediate Past President Robert Gloster
Additional Board members: Alan Stone, Marie Cummings, Noelene Crow, Jen Stone
Match Committee Men Ray Gloster, Robert Gloster, Colin Lockett, Alan Stone

Match Committee Ladies Jen Stone, Jennifer Wakefield

Greens & Maintenance Committee Robert Gloster, Steve Simmonds, John Cummings, Alan Stone,
Stephen Lynch, Col Aikman, Les Stone, Jen Stone, Rhonda Lockett, Robert Pole, John Stone
Registered Coach Steve Simmonds
Press Corres. Robert Gloster, Jen Stone (photographer)

Bowls Sunraysia Delegates Robert Gloster, Jennifer Wakefield

Pennant Selectors -- -Saturday: Alan Stone, Robert Gloster, Les Stone

Midweek: Colleen Gloster, Marie Cummings.
National Umpires Robert Gloster, J Cummings.
Catering Committee Wendy Stone, Nolene Crow, Rhonda Lockett

Bar Managers H Crothers, Colleen Gloster, Ray Gloster, Rob Gloster.
*IF FORECAST TEMPERATURE FOR MILDURA IS 38 DEGREES OR ABOVE, SAT BOWLS TO BE IN THE EVENING
Sat play – names in by 1.15 pm for 1.30 pm start
Wednesday twilights – names in by 6pm for 6.30 pm start.
BBQ on Saturdays when pennant is at home.
Membership $100
Social Membership $50
Bar Membership $5
All Green Fees $5, BBQ $10, Twilights $10 plus Green Fees
Non Playing Visitors Meal $10 (includes Bus driver)
Club Car Travel – All Pennant and Ladies Star days each player to pay driver $10, car to be paid $10 even if traveling in a different car. Ouyen, Murrayville – Nil
Delegates Meetings car $30
Club Room Hire for Meetings $25
Casual Clothes may be worn except for pennant and tournaments
March 2023

On Friday the 10th March "Barefoot " Bowls continued with 22 players enjoying the light hearted competition and socialising. Declared winners of the evening were Jack Pryse, Paul Lockett and Maureen Wandel.
Social bowls numbers were down a little on Saturday 11th due to the long weekend and players representing at various tournaments over the weekend. Winners of the day were Colin Aikman and Dorothy Brown.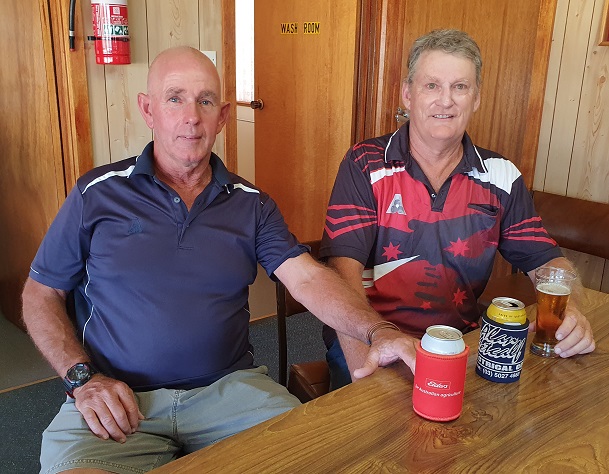 Thursday afternoon the 16th, the Club Mens 100 up Handicap Final was played off between Stephen (Dixi) Lynch and Steve Simmonds. Dixi played a very consistent game and didn't allow Steve to erode too deep into his handicap margin, congratulations Dixi . Mens pairs final is to be played on Friday 31st March, just prior to our Presidents day and official wind up on April 2nd. No doubt bowls will continue until Football and Netball starts, as we patiently wait for further progress on our new synthetic green.
Now, on Friday night the 17th March the Club hosted a huge night for the "Corbett Rural Supplies Trophies". 40 Bowlers and would be bowlers took to the green for an entertaining evenings bowls. There were 2 random rolls to the kitty, white kitty for bowlers and yellow kitty for non- bowlers. The winners being Cam Gloster for bowlers and Adam Kelly for non- bowlers.
Following several games of 3 ends the bell tolled signalling time for a beautiful bbq dinner accompanied by the usual magnificent salads supplied and presented by the club members. We catered for approximately 70 Bowlers, Non-bowlers, spectators and children, a job well done to all involved.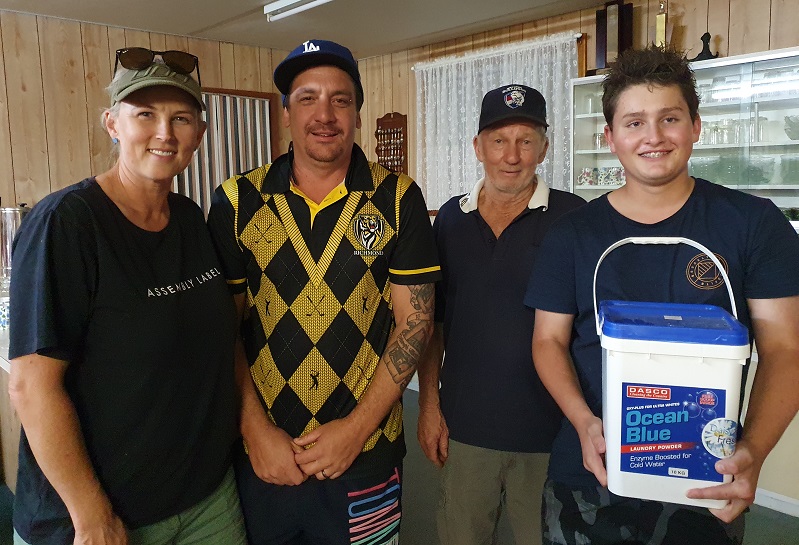 winnersAt the conclusion of dinner the bowls continued, this time playing games consisting of 2 ends, so was a regular rotation of bowlers criss crossing the rinks. At the conclusion a final play off decided the Winners and Runners up.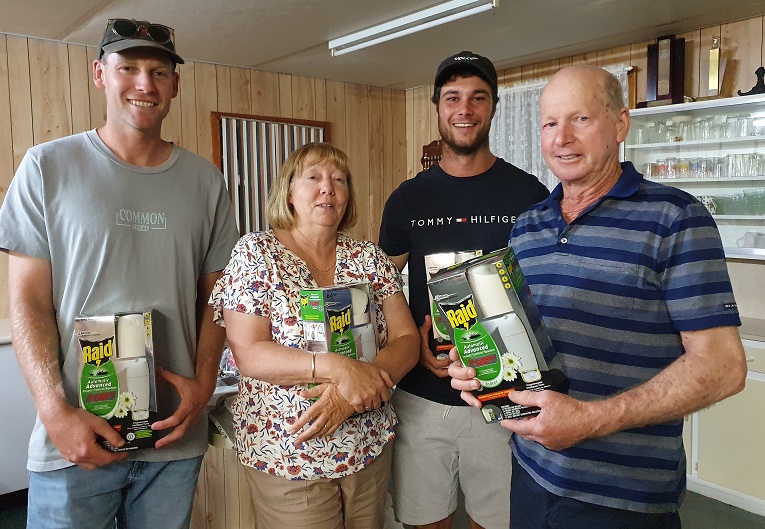 runners-upThe Winning team was Frankie Gloster, Scott Brammer, Lee Brown and Frank Stone with the Runners Up being Les Stone, Raelene Winslow, Dallas Willsmore and Tim Gloster.
Following the presentations those not so lucky in the bowls relied on the numerous raffles that followed. President Col sincerely thanked Tracie and Ashley for their kind sponsorship, they weren't able to attend as they were enjoying the new arrival of their first Grandchild, a granddaughter, congratulations to you all from the Underbool Bowls Club.
Sunday 19th March, seven of our Members venture to the Annual Bendigo Bowls Country Week for 4 days and will as usual be joined by past resident and member Ken Byrne and wife Fran, who now reside in Violet Town. We also have 3 teams
Sunday 19th March, seven of our Members venture to the Annual Bendigo Bowls Country Week for 4 days and will as usual be joined by past resident and member Ken Byrne and wife Fran, who now reside in Violet Town. We also have 3 teams playing in Ouyens Pairs tournament Sunday and we thank them for representing our club considering quite a few going to Bendigo that day.
Friday evening the 3rd March, 22 barefoot bowlers took to the green to test their skill at mastering the ball with a bias. There were many and varied delivery styles on display all with the same intention, but not always the result required. However, it was a very enjoyable night played in beautiful weather conditions. The declared winners of the evening were Theo Magnisalis, Francey Brown and Glenda McDonald.
Saturday morning the 4th March, the Ladies Club 4's Championship final was played and what a cracking game it was. All square after 15 ends, and with some very close heads over the last 3 ends, Noelene Crow (S), Jennifer Wakefield, Lyn Pryse and Jen Stone were able to claim the Championship over Marie Cummings (S), Wendy Stone, Raelene Winslow and Dorothy Brown.
Steve Simmonds, Col Lockett, Colin Aikman and Howard Crothers represented at Irymples tournament on Saturday. This weekend is the long weekend holiday and we have representatives going to Euston on Saturday, Workers and Murrayville on the Monday.
Alan Stone and Rob Gloster have advanced to the final of the Club Pairs Championship waiting for a couple of games to be decided to see who they will play off.
Friday the 17th March is the Corbett Rural Supplies Trophy night and is open to prospective new or would be bowlers also, with a BBQ tea after the first game.
Congratulations to our neighbouring Club out west, Murrayville won the first division Pennant Grand Final over Parilla on Saturday, well done.
February 2023
Social bowls on Saturday 18th Feb. saw Alan Stone (S) and Wendy Stone take out the days trophies. Friday night the 24th bare foot bowls resumed with 12 players enjoying a game with some newer players taking part. Saturday 25th Feb. A good roll up for social bowls, considering quite a lot of bowlers are away at the moment, with Alan and Wendy Stone again combining with Dorothy Brown to take home the trophies.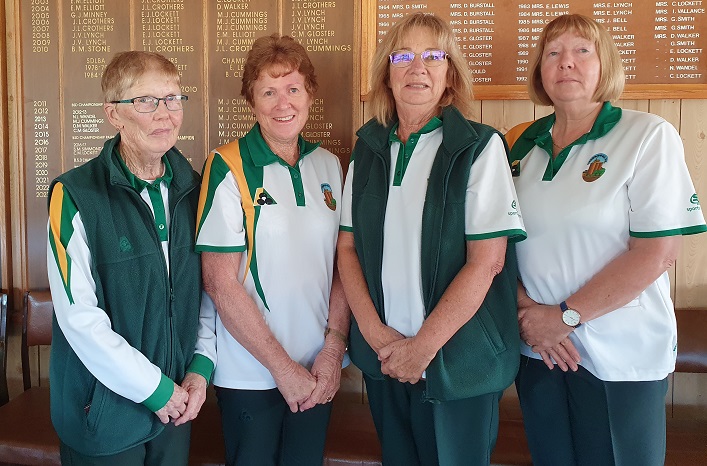 Sunday the Ladies Club Championship pairs Final was contested between Jen Stone and Raelene Winslow playing Jennifer Wakefield and Anne Stone. Both Jen(S) and Raelene played very consistently not allowing their opposition to make any inroads, thus taking out the Club Pairs Championship quite comfortably.
The Men's pairs and 100 up Handicap events need to be pushed along as the season end looms. All the best to our fellow member Colleen Gloster who has just had a knee replacement, hope to see you back on the green shortly.
Saturday the 4th Feb. our Club Ladies and Mens Champions played off in the Sunraysia Champion of Champions Singles at new Coomealla complex. Steve Simmonds played his first round against Wentworth and recorded a great win, only to come up against Glen Scott of Euston in the afternoon round. Steve kept with him for a fair time, both playing some excellent bowls on the new synthetic surface, but Glen eventually pulled away, but it was a tight tussle to the end. Well done Steve.
Jennifer Wakefield had to wait until the second round where she met our neighbouring club winner Jammie Vallance from Ouyen. Jennifer went down 15/25 but represented our club proudly.
Sunday 6th 2 teams represented at Nangilocs tournament and enjoyed a great day. Rob Gloster ( S ) , Mop Crothers, Alan Stone & Cam Gloster came home with third place trophies which was a bonus.
January 2023
Underbool Triples Tournament.
Sunday the 29th January Underbool Bowls Club held their very popular 2 bowl triples tournament. We were eagerly watching the weather forecast the week leading up to the event, as unfortunately this time of the year can be a problem with the heat policy. Little did we know however that it would be a few skiffy showers during the first game that would cause us some concern. However, the showers cleared, the temperature was ideal, the venue was a picture nestled against a backdrop of healthy mallee trees and the green was filled with bowlers having an enjoyable day.
President Col Lockett welcomed the 72 bowlers who travelled from our Sunraysia Clubs, Hopetoun, Murrayville, Pinnaroo and Parilla to contest the "Findex" and "Ontario Avenue General Store" Sponsored Trophies. We are very grateful for the support these businesses give to our small rural sporting clubs. The ladies put on a magnificent lunch, morning and afternoon tea to complement the day.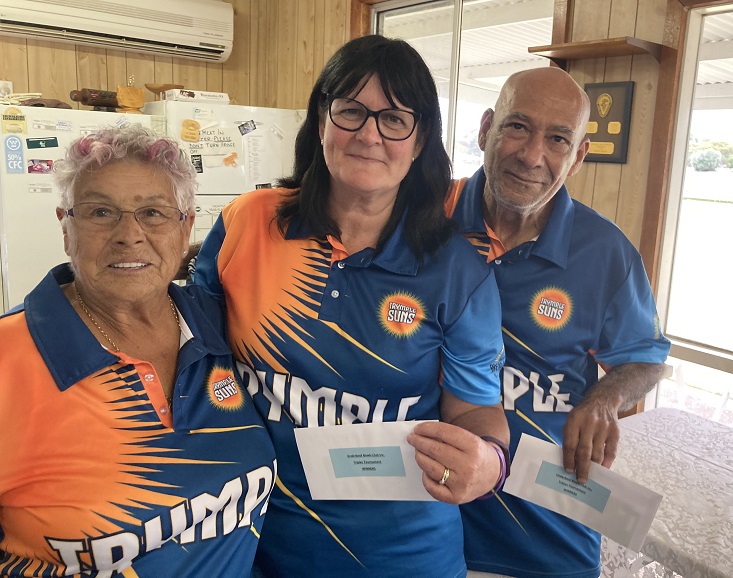 winnersSuch was the mood of the day, even the support gallery burst into song during the last game when one skip played a telling bowl.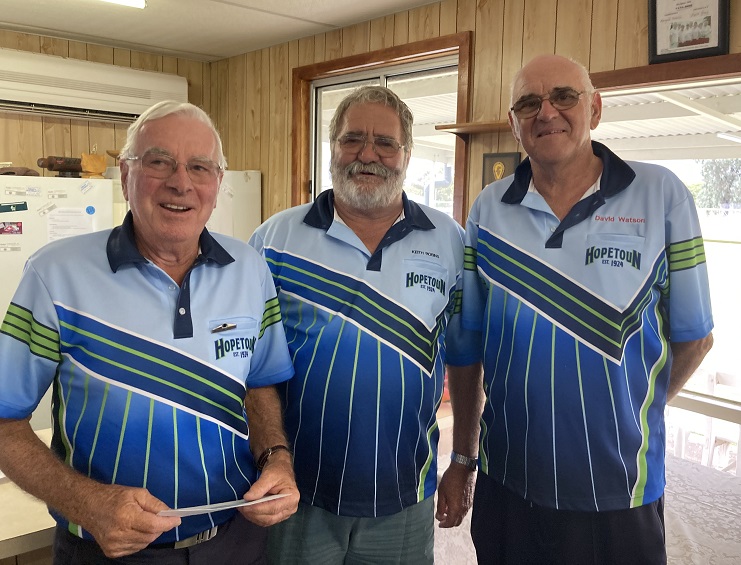 runners upThere were only 2 three game winners over the 2 fills with the very popular victors being Lorraine Millward ( S ), Tracie Storer & Neil Biles from the Irymple Bowls Club. Runners Up from the Hopetoun Bowls Club, which was also a great result, were Winston Gould ( S ), Keith Robins & David Watson.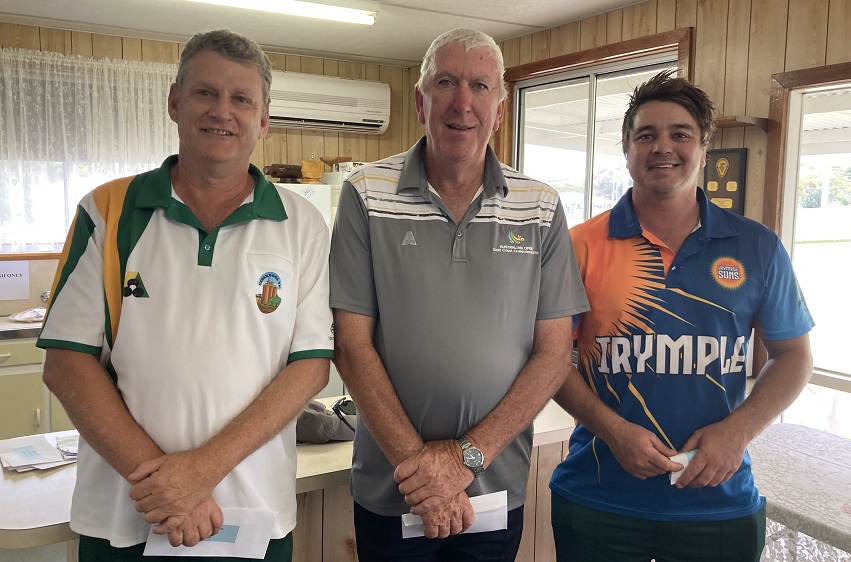 3rd placeIn Third place with 2 ½ wins were Matt West (S), Steve Simmonds and Harry Munro ( Combination Side).
Prizes were also given for resting touchers at specific times and the large number of raffle prizes were very popular. A lot of work for our members but very rewarding when it is a successful event and we sincerely thank the visiting Clubs and bowlers for supporting us.
We won't hold our breath but who knows - our next tournament may be on Synthetic!
Social bowls was played last Saturday 21st , with a very good roll up, the winners of the 3 bowl pairs was Bob Lester and Noelene Crow. Great to welcome Bob back as he now resides In Werribee. Another exceptional BBQ tea was held with a few extras joining us for a sociable evening.
Due to circumstances effecting our 2 ladies who were playing off for the Ladies Club Championship, the Final had to be played Thursday 12th January in the morning because of the heat.
After a good tussle Jennifer Wakefield prevailed over Marie Cummings, to take out her second Club Championship. Congratulations Jennifer.
Last Sunday afternoon in front of an excellent crowd, Steve Simmonds and Col Lockett put on a marvellous exhibition of draw bowling on a very slick 15.5 Second green, in the Mens Championship Final.
Once again Steve's consistency came to the fore giving him another Championship, congratulations to both bowlers it was a very worthy final.
Both Jennifer and Steve will venture to Coomealla on Feb. 4th to contest the Sunraysia playing area Champion of Champions, all the best to them both, we're sure they will represent our Club admirably.
At last our Synthetic green project has gone to tender, so here's hoping things will start moving from here on.
December 2022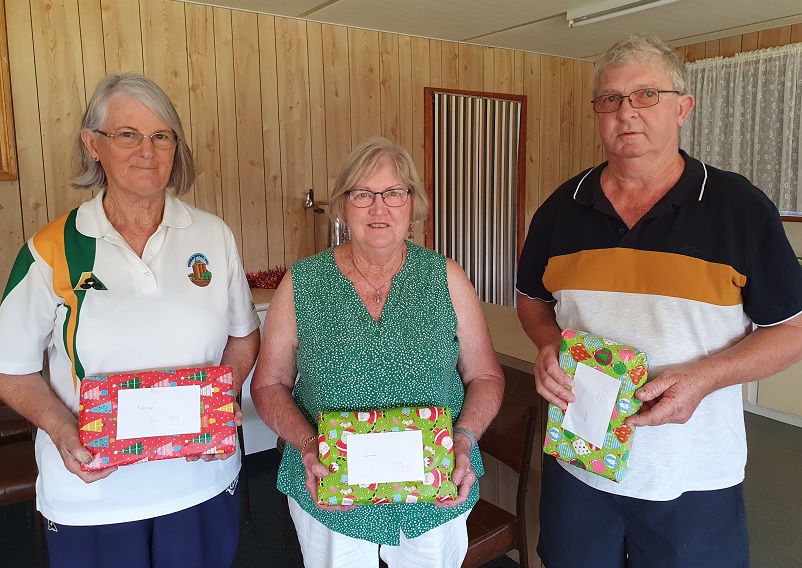 winnersWith harvest in full swing and pennant done and dusted for this season, it has been a bit quiet at the bowls club lately. However, Saturday was an exception as we held our Ouyen IGA Sponsored Xmas Triples followed by a sumptuous Xmas dinner. We are very fortunate to have such great support from Gary and Jackie Jason's IGA Store and our Club really appreciate their assistance. Winners of the Triples event were, John Stone ( S ), Colleen Gloster and Merle Pole.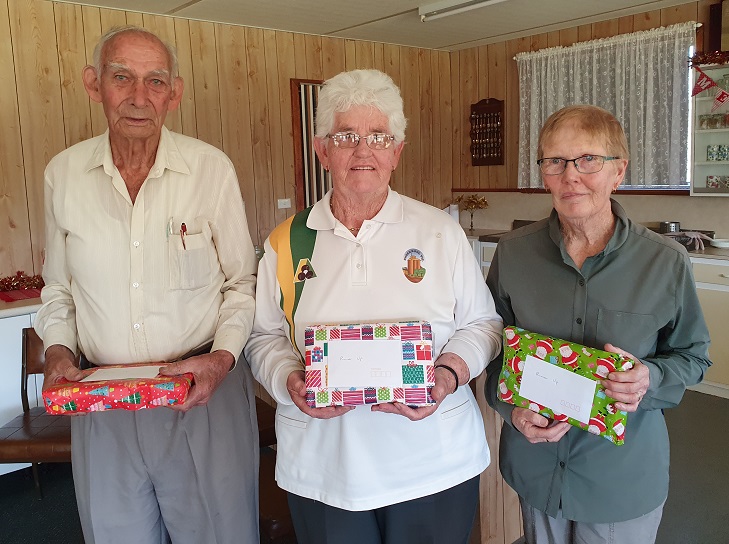 runners upRunners up were, Marie Cummings ( S ), Jennifer Wakefield and Ray Gloster. Roll to the ditch prizes were won by Ray Gloster and Colleen Gloster. The ladies presented a beautiful Xmas dinner, complete with Aussie pavlova and Brandy snaps, which were all enjoyed within the appropriately decorated clubhouse.
Our Club matches are on hold at the moment but will need to be pushed along come the new year. We extend our commiserations to our neighbour club Ouyen, who just fell short In their Division 3 Premiership tilt on Saturday. It was so near and yet so far, but what an outstanding season you had, congratulations on a great effort.
The MRCC project team have informed us that the Synthetic green project should go out for tender before Xmas, here's hoping, we can but only remain patient it appears.
Our President Col and the Underbool Bowls Club wish you all a very Happy, Healthy & Safe Xmas and a Productive New Year.
Ray Gloster and family members played pennant togetherSaturday 3rd was the final round of weekend Pennant, where we hosted Mildura 2 at the Underbool Bowls club. With harvest being in full swing, once again our wonderful Ladies came to the rescue and helped us put 3 teams on the green. Although Mildura won comfortably overall, Marie Cummings team comprising Jennifer Wakefield, Ray Gloster and Robert Pole recorded a great 8 shot win. Who knows what the format of Saturday pennant will hold next season, watch this space I suggest!!
Monday 5th, our Midweek pennant team ventured to the magic carpet at Red Cliffs to contest the Preliminary Final against Mildura. An interesting experience to say the least, unfortunately that's where our season ends, as we went down in both rinks. However, it has been a successful pennant season considering, as we probably achieved 2 more steps than we would have predicted at the beginning of the season. The selectors did a remarkable job to present 2 teams each week, given the numbers not available on many occasions. Thanks to the men who helped out in filling a side when required rather than having to forfeit any matches. Once again we will have to wait and see what next season brings regarding format, length of season and so on.
November 2022
The weekend of Saturday 19th was the Vic Open weekend so no Pennant was allowed to be played for the week. Consequently a good number of Members enjoyed Social bowls with the winners being Col Lockett ( S ) & Lyn Pryse. A good crowd enjoyed a BBQ tea to finish the evening. On the Sunday 2 teams represented the Club at Irymples Carnival Star day, where Howard Crothers ( S ), Rob Gloster, Alan Stone & Cam Gloster picked up the third place trophies.
Saturday 26th was not only election day, but a rare fine day for harvesting. This like the election result proved a disaster for our pennant side, which was scheduled to play Workers at Workers.
With approximately 10 Members unavailable due to harvest commitments ( which due to weather has become critical), we had no option but to forfeit. However, social bowls was still well supported and gave some of the midweek bowlers good practice for their Semi Final on the Monday. Winners of the day were Rob. Gloster and Frankie Gloster.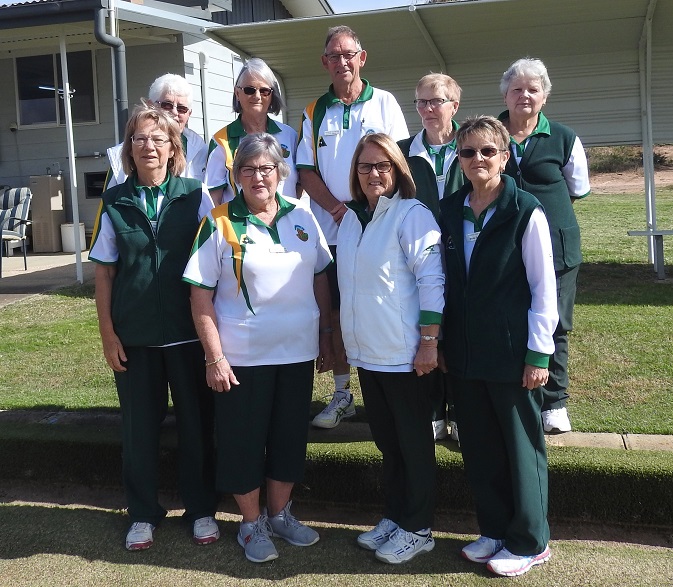 Mid week Pennant team: Marie, Merle, Robert, Jennifer, Veronica, Jen, Colleen, Noelene,WendyMonday 28th, Underbool hosted Workers in the Midweek cut throat Semi Final. What a final it was, both Underbool teams displayed some excellent bowls to record a much deserved win overall by 9 shots. A great win and just reward that sees them advance to the Preliminary Final against Mildura at Mildura next Monday.
With the weather on the improve and harvest in full swing, it may be a challenge to match Mildura 2 at Underbool this Saturday, the last home and away Saturday Pennant match.
14th Nov
Who would have predicted a Bowls pennant season - weatherwise - as we have witnessed this year. Barely a sunny Saturday, but consistently cold, overcast and wet, wet, wet.
Typically, the Irymple team no sooner pulled up in the Underbool carpark, removed their bowls from the vehicles and yes, more precipitation proceeded to fall for the next couple of hours.
Following a general consensus, the game was declared a washout, and after a few drinks, a raffle and early afternoon tea the visitors ventured back to the Cauldron. The weather took up about 3.30 pm so a couple of rinks were rolled and President Col decided along with the social bowlers, we would play the Presidents Mixed Cup. Following a round robin series of matches, the winners of this year's Cup were: Col Lockett, Colleen Gloster, Frankie Gloster & Wendy Stone.
We travelled to the Mildura bowls club on Monday for the last game of Midweek pennant before the Finals. Once again it was showery and overcast, but we managed to complete the match. It was a tough day for one rink, but the other one had a nice win to enable us to secure 3rd position on the ladder. The semi-finals will be played on the 28th Nov. - not sure of the venue. Well done to all contributing players, you have done remarkably well to make the finals.
The Club wishes one of our veteran stalwarts, John Cummings all the very best for his upcoming hip operation this week, and sincerely hope he's back on the green real soon.
We have Ladies representing at Wentworth's Star day this week, and the Club will be attending Irymple's Carnival star day this weekend also.
There will be Social Bowls (weather permitting of course), on Saturday, as there is no pennant due to the Vic. Open week taking precedence.
Mid Week Pennant:
Monday 31st October we welcomed top team Irymple to Underbool and what a cracking match it was. After 24 ends both teams were 23 all with one end to play. Noelene's team picked up 2 shots to win by same, while on the other rink Colleen was 1 down on the head with only her bowl to play. So she declared the bowl going down by 1 shot but the team won by 1 shot overall. A thrilling result to a great day with the green running beautifully which allowed for some excellent bowls heads.
Monday the 7th November, we ventured to Workers on their beautifully manicured and prepared greens. Another excellent days bowls under blue skies and sunshine. Even with a rink win and a loss, we hung in gallantly to produce a somewhat surprising win overall by 5 shots, against a pretty strong Workers' team. With one more pennant match before finals, the Midweekers should now have cemented their position in the four, a great achievement considering our small numbers.
Saturday Pennant: October 29th we played Mildura 3 at Mildura. After a tough battle, we could only muster up 1 rink win to go down 64 shots to 78. Saturday the 5th we had the bye. Next week we welcome Irymple to Underbool for Round 12. Teams are: Rob Gloster (S ), Cam Gloster, C. Aikman & J. Cummings. H. Crothers ( S ), John Stone, S. Brammer & A. Willsmore. C. Lockett ( S ), Alan Stone, Ray Gloster & S. Lynch.
Good to have Alan back on the green again with 2 new knees.
The benefit of a bye was a great roll up for social bowls on Saturday. Pairs 2-4-2 was the order of the day with some keen competition. Winners were Alan Stone and Noeleen Crow with Runners up Rob Gloster and Courtney Brammer. Great to see new bowlers Courtney and Cherie Donnellan joining in for social bowls and both doing very well. A BBQ tea was enjoyed by a good crowd.
Sunday Rob and Cam Gloster, Col Lockett and John Stone represented at Wentworths Murray Darling fours, which culminated in a pleasant scenic drive back home.
Friday evenings "Bare Foot" bowls has been run for those who are interested in giving bowls a go. Last Friday 16 players enjoyed some light hearted fun whilst gaining some input to the sport of bowls. If you are high school age onward and interested come and give it a go. Winners last week were Isobel McVicar and Cherie Donnellan.
September 2022
Saturday 17th, Jen Stone rolled the first kitty and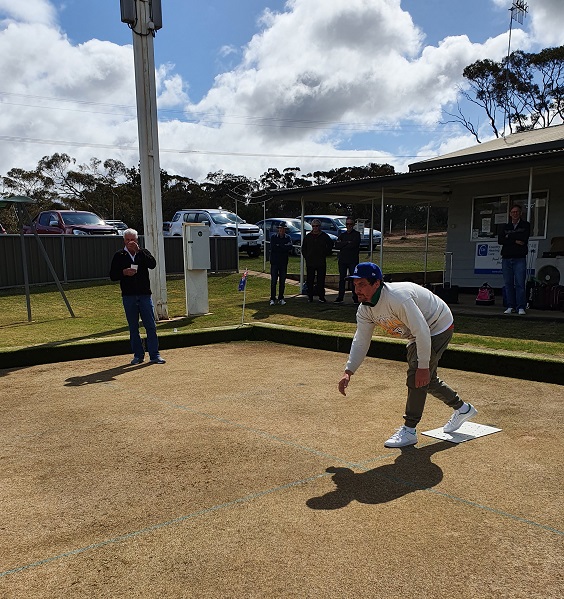 Scott Brammer bowled the first bowl at Underbool Opening Day for the season.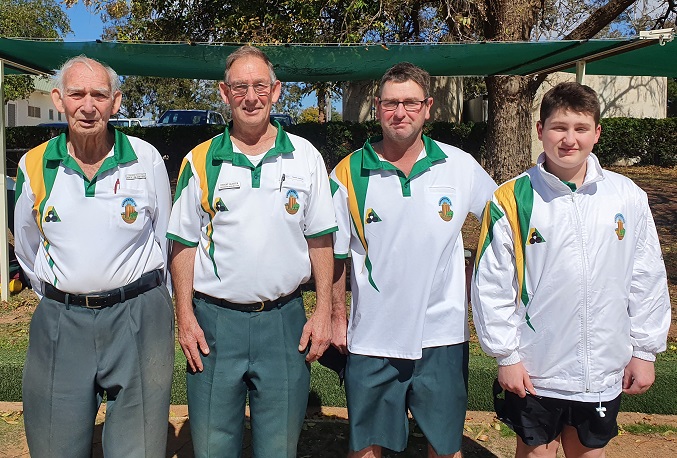 Ray, Robert, Cameron and Frankie Gloster Four generations played Pennant for Underbool on Saturday 3rd.
April 2022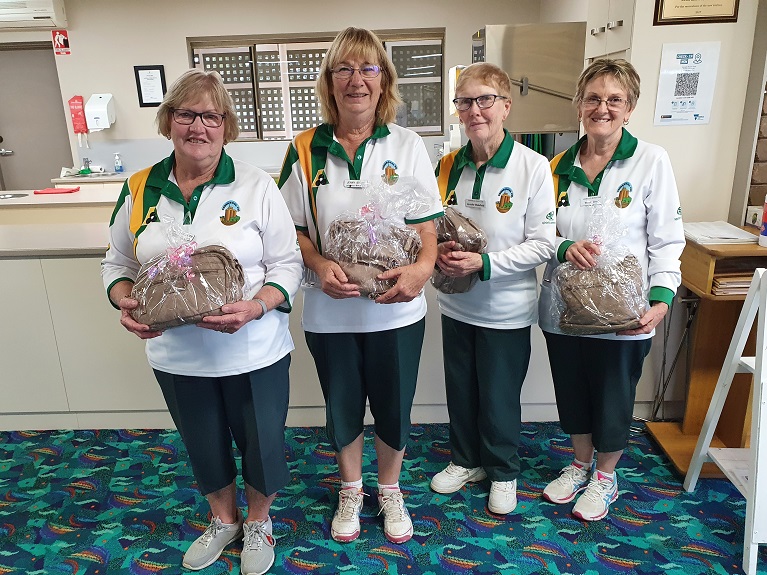 happy winnersWednesday 6th of April our Ladies travelled to Irymple for their Star day tournament and were ecstatic to be the only 3 game winners and therefore bring home the trophies. The team of Colleen Gloster (S), Jen. Stone, Jennifer Wakefield and Wendy Stone all played very well throughout the day and enjoyed the tournament immensely. On their arrival back to the Club for our Season Wind up twilight event, their joviality set the scene for a great fun night.
President Colin Lockett welcomed the large crowd of Members and Visitors and following a few pre dinner drinks, the ladies presented a beautiful dinner which was overwhelmingly appreciated. Following dinner a good mix of experienced and newer bowlers took to the green for a game of 2 bowl pairs, 2 ends per game with teams rotating left and right like a " Barn Dance"!! To add to the fun everyone had to use the very old large draw bowls from the Clubs archive stockpile.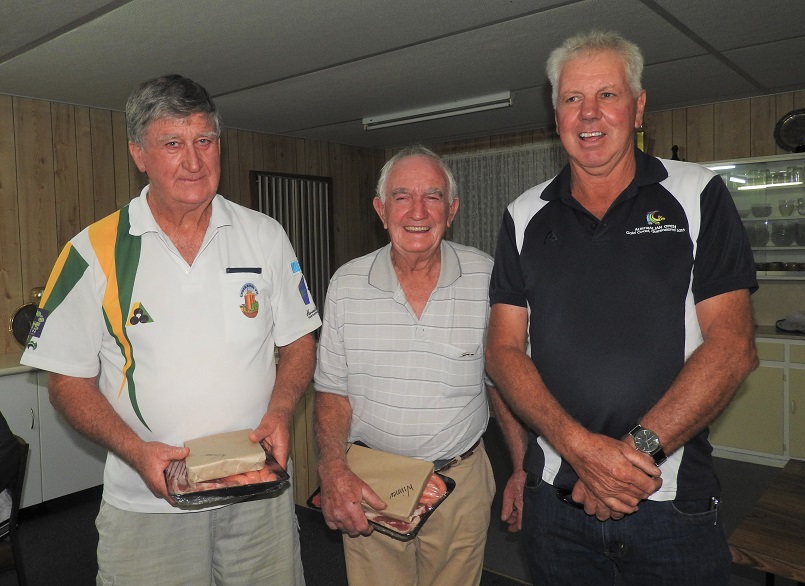 Winners of the Presidents donated prizes were presented to Howard Crothers( S ) & Alan Willsmore, with the Runners up prizes going to Scott Brammer ( S ) & Robert Pole. A multitude of raffles followed which were keenly sought after.
The evening concluded with Colin thanking all who contributed to keep our Club functioning as a great sporting and social venue. He then proceeded to present the 2021-22 seasons various Club Championship trophies.
Ladie's Singles Champion: Jenny Stone. R/Up: Jennifer Wakefield.
Men's Singles Champion: Steve Simmonds. R/Up: Robert Gloster.
Ladies' Pairs: Jenny Stone & Raelene Winslow.
Men's Pairs: Steve Simmonds & Colin Lockett.
Ladies' 4's: Colleen Gloster, Wendy Stone, Nita Wandel & Raelene Winslow.
Men's 4's: Steve Simmonds, Colin Lockett, Les Stone & John Cummings.
Men's 100 up: Scott Brammer.
Who knows what surface we will be playing on next season, will it be grass or synthetic, only time will tell. Thank you to all clubs in the Sunraysia playing area, it's great to welcome you all to our small but very proud club and we love visiting your clubs. Renewing old acquaintances and meeting new bowlers is what the social aspect is all about with this great sport.
Speaking of meeting bowlers, how many would our Club's veteran bowler Ray Gloster have met over the years? Ray celebrates his 95th birthday during Easter and is still a very active club member. Happy Birthday Ray, keep on bowling.
Our Club is winding up the season on Wednesday the 6th April, with twilight bowls, tea and the year's Championship winners presentations. The green at this stage will still be available for social bowls prior to the Football/Netball season starting. I'm sure many will still be keen to attend the many Carnivals and Tournaments still on offer at our sister Clubs. We look forward to our new synthetic green project coming to fruition sooner rather than later, therefore giving us all year round bowling.
Saturday 2nd April social bowls winners were Rob Gloster (S), Alan Willsmore and Frankie Gloster. A BBQ tea was enjoyed by our Members to wind up a good day.
Also, on Saturday, our Mens 4's team of Steve Simmonds (S), Col Lockett, Les Stone and John Cummings played off in the Sunraysia Champion of Champions at Ouyen Bowls Club, where they won through to the Grand Final only to go down by 2 shots to old foes Nangiloc, after being all square on the last end. Well done to 2 of the smaller Clubs for putting on such a great exhibition, congratulations Nangiloc.
It is a shame the Sunraysia playing area appears to be in bit of disarray at the moment. Several clubs weren't represented at the 4's C of C last weekend obviously for various reasons, and the dates for both Ladies pairs and fours C of C and Mens pairs C of C have been changed that often, the eligible teams for play off are going dizzy trying to plan whether they will be available or not. It has been pointless having a syllabus as the dates have been thrown out the window to satisfy a minority and some personal preferences. Certainly needs addressing if the future of Champion of Champion playoffs is to continue in Sunraysia bowls.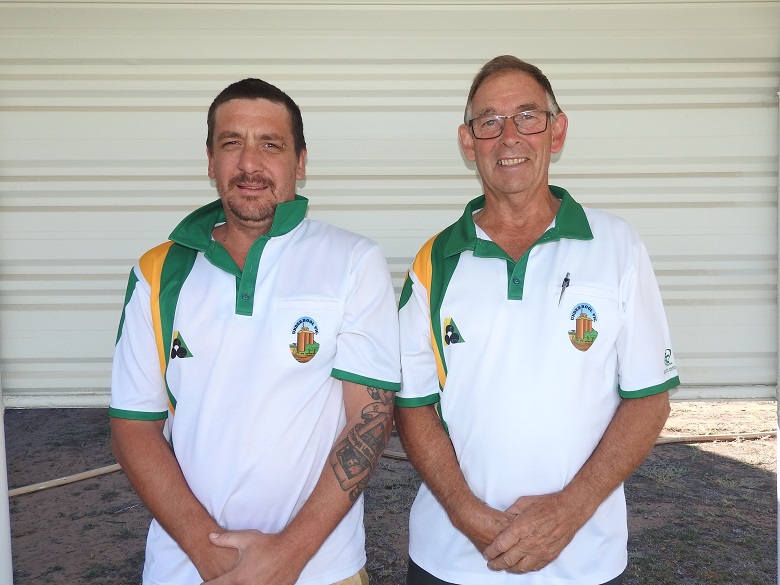 Scott and RobWith Pennant all done and dusted, Saturday social bowls is still being reasonably attended.Friday evening the 1st April, the Club Mens 100 up Handicap Grand Final was played between the relatively new and upcoming bowler in Scott Brammer on scratch and the more experienced bowler in Rob Gloster who was on -45. It was always going to be a hard task as Scott has become very good at draw Bowling and consistently. After a very entertaining match, Rob couldn't quite bridge the gap handing Scott the 100 up Championship - very refreshing to have a new bowler progressing so well.
On March 26th a 2-4-2 competition was held, with the winners being Rob Gloster and Nita Wandel.
March 2022
100 up still has a few matches to complete, which we need to have completed before our Season wind up which this year is to be held as a twilight on Wednesday 6th April.
Not much happening on the Club Social side of Bowls at the moment, hopefully that picks up from now on. This Sunday we have 7 Members travelling to Bendigo Country Week, meeting up with past Club member Ken Byrne (Violet Town ) who continues to join us for 4 days of bowls.
Thank you to all the members who have represented our Club by attending tournaments over the long weekend at Ouyen, Workers and Murrayville, and this coming Wednesday to Wentworth, we are only a small Club but do our best to support as many Clubs as is possible.
Thursday 10th March the Mens Club Championship 4's was played off, with Steve Simmonds ( S ), Col Lockett, Les Stone & John Cummings taking thehonours over Rob Gloster (S), Cam Gloster, Alan Stone & Steve Lynch.
With Pennant over for this season for our Club, it's on with our Club matches and attending tournaments. Mens 4's championship play off is this Thursday evening, 10th March . Several tournaments are on this coming weekend of which we have Members attending.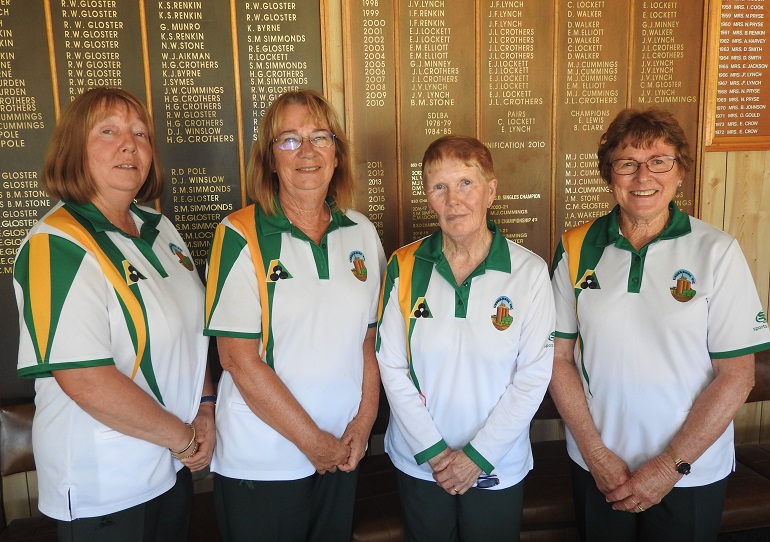 Raelene, Jen, Jennifer, AnneSunday 6th afternoon - both the Mens and Ladies Club Pairs finals were decided. Jen Stone (S) and Raelene Winslow played Jennifer Wakefield (S) and Anne Stone in a very competitive match, with Jen and Raelene able to open up a small margin in the latter stages of the game and maintain that margin to be crowned Club Pairs Champions.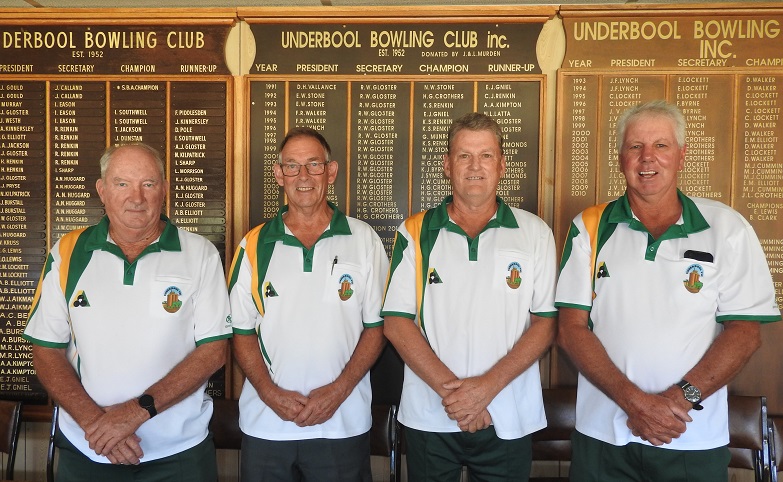 Alan, Rob, Steve, ColAlongside them the Mens pairs Championship between Steve Simmonds (S) and Col Lockett playing Rob Gloster (S) and Alan Stone was also being conducted, in what turned out to be a very difficult day at the office for Robert and Alan. Steve and Col played with extraordinary consistency and accuracy to outplay their opponents and take out the Club Pairs championship.
Saturday 5th saw a good number gracing the green for social Bowls, where a pairs event was won by Col Lockett and Frankie Gloster from runners up John Cummings and Anne Stone.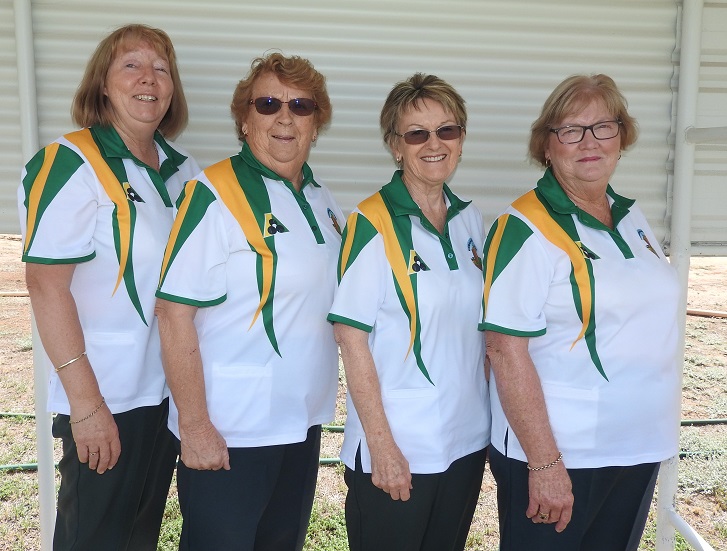 Raelene, Nita, Wendy, ColleenAt the same time the Ladies Club 4's Grand Final was played off with Colleen Gloster (S), Wendy Stone, Nita Wandel and Raelene Winslow winning the Championship over Jennifer Wakefield (S), Jen Stone, Veronica Stone and Dorothy Brown.
The Men's pairs Semi Final was also played off Saturday afternoon between Rob. Gloster (S) and Alan Stone and Cameron Gloster (S) and Stephen Lynch. It was a Crackerjack game being 18 all on the last end with Rob and Alan getting home by 1 shot to move into the Grand Final.
Last Friday night 4th was the final night of 'try bowls' -'Jack Attack', We hope those who participated, enjoyed themselves and continue to come along to our social bowls on a Saturday.
February 2022
This week is the final Pennant game for season 2021/22, where we welcome the Mildura Bowls Club.
Club events need to be kept pushing along or they won't get finished by seasons end.
Recently quite a few of our Members have attended Tournaments at Nangiloc and Ouyen enjoying the bowls and comaraderie.
Saturday 12th February we welcomed the very strong Irymple club to our green, once again going down overall 53/69. Howard Crothers Rink had a good win over John Harmer, but the other 2 rinks couldn't overcome Irymples consistency.
Pennant team ventured to Red Cliffs on the 5th of February, with Steve Simmonds rink handling the carpet ok recording a good win, but the other 2 rinks struggled going down overall 68 /86.
January 2022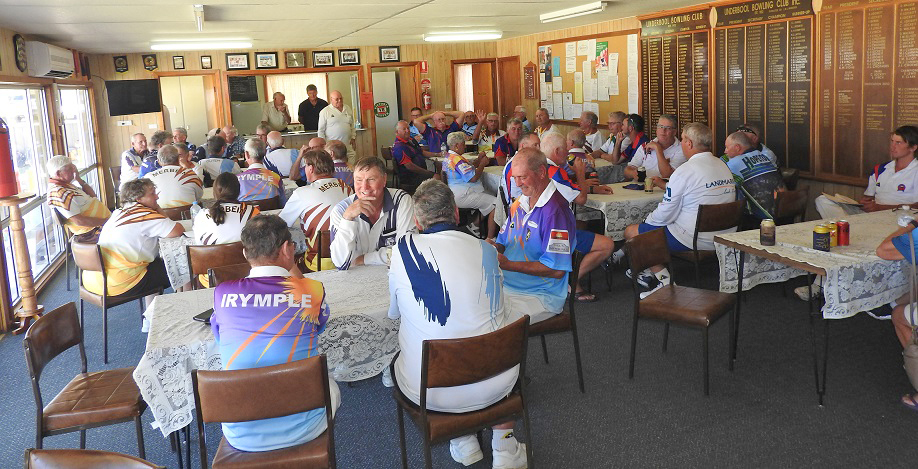 Sunday 30th, our Annual Triples Tournament was a huge success. 66 visiting Bowlers had an absolute blast of a day, many hailing it the best tournament they had attended in a long time. Once again it is a credit to our wonderfully committed members, who put in so many volunteer hours to keep this club successful. From the pristine surrounds, the beautiful country meals and cooking to the general tournament organisation, our Members can be very proud of their efforts.
Eight of the Nangiloc boys had camped overnight in preparation for the Tournament where some may have peaked a little early, or late whichever the case may be!!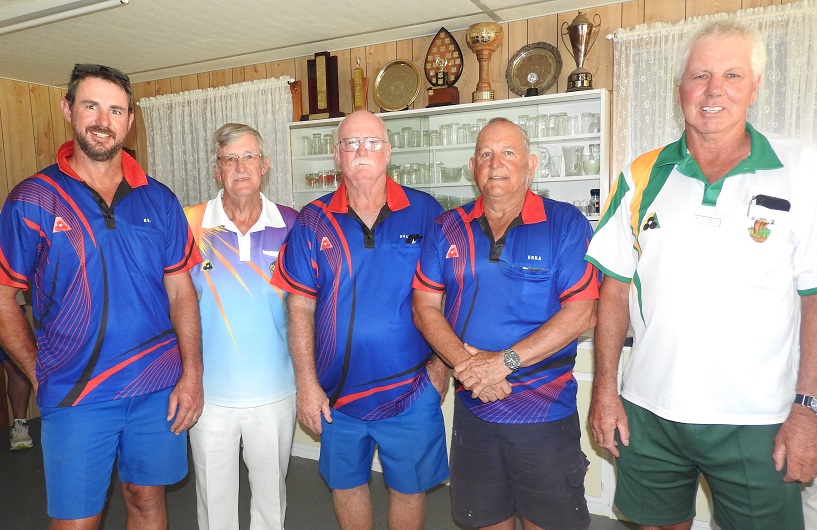 Winners -Nangiloc team with Graeme Phillips (a major sponsor) and Colin Lockett (Underbool Bowls Club president)Winners of our 2 Bowl Triples Tournament - very kindly sponsored by " Findex Financial Services Mildura" and "Ontario General Store" - were the Nangiloc team of Ben Mansell ( S ), Alan Erskine & Shane Moore.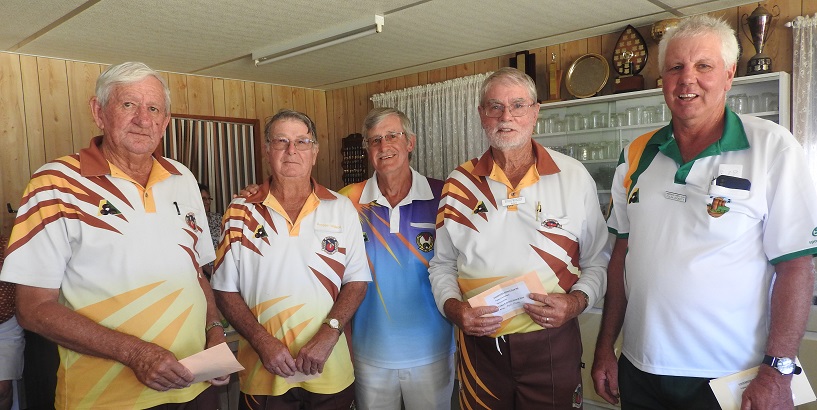 Runners up - Merbein team with Graeme and ColinR/Up were the Merbein team of Eric Watson ( S ), Bryce Midgely & Gordon Wallace.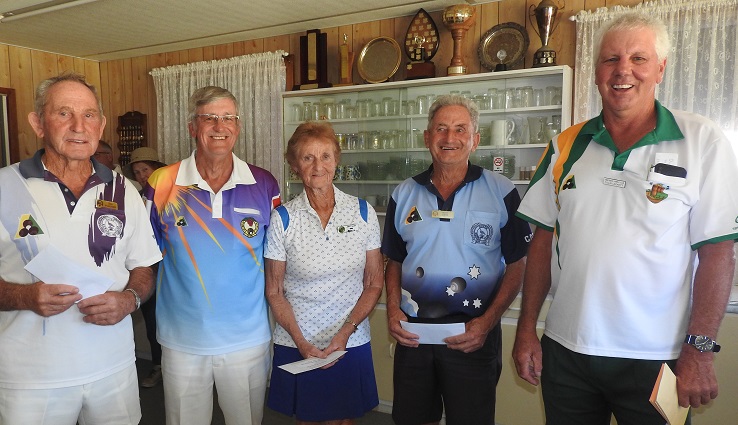 3rd place - Ouyen team with Graeme and ColinThird place was the Ouyen team of Norm Latta ( S ), Joan Pohlner & Don Pohlner.
We are very appreciative of all the Clubs that supported us. Visiting Clubs included: Irymple (5), Ouyen, Workers, Murrayville, Parilla, Merbein, Nangiloc and Hopetoun It was very refreshing to see a couple of young school aged lads from Murrayville playing in the tournament, both very accomplished bowlers, which proves our sport is for all ages.
Also on Sunday 30th, Jen Stone represented our Club in the Champion of Champions ladies singles putting up a gallant effort in the first round against Irymple's young champion Emma Simmonds and although not winning, represented our club proudly.
Saturday 29th - round 11 of Pennant saw us take on Nangiloc at Underbool, where the Nangy team were trying to hang onto 4th spot on the ladder. However, Underbool were very keen to avenge 2 losses to them in earlier rounds and did so by winning all 3 Rinks in some very tightly contested games. Next week's round against Red Cliffs on the carpet will provide an interesting task for us.
Saturday was just the beginning of a very successful weekend of Bowls for the Underbool Club.
Social bowls was played Saturday with the days winner being Raelene Winslow.
Saturday 15th January we resumed Pennant and played a very good side in Irymple at Irymple. Always tough to beat whether at home or away, we really took it up to them just going down overall 66/69. All 3 rinks were struggling before the afternoon tea break, but turned it around in the second half. We have quite a few unavailable at the moment, which was always going to be the case playing after Xmas, but thankfully our ladies have stepped in to assist and are playing very well.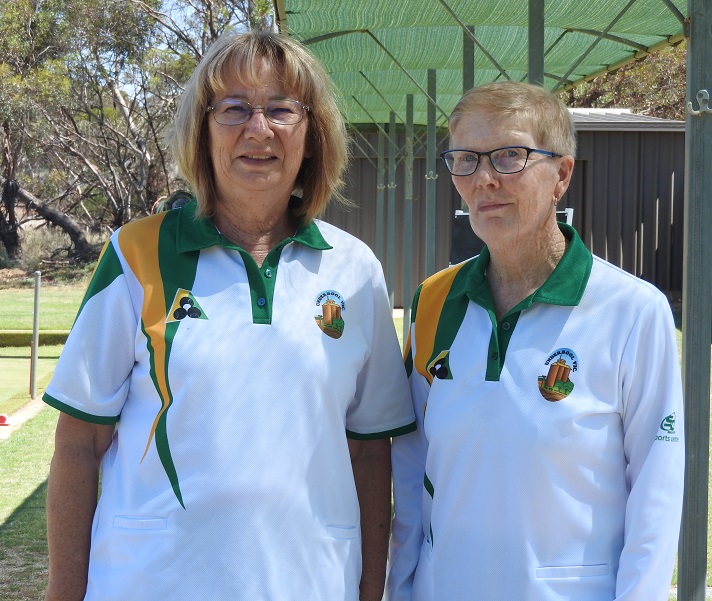 On the 4th Jan. both the Mens and Ladies Club Singles Championships were played off before a very large crowd of interested members and onlookers. They weren't disappointed as both games were very keenly contested with some excellent shots being played and the usual twists and turns that finals can produce.
In the Ladies Final, Jenny Stone held out a very determined Jennifer Wakefield, to win her second Club Championship, 25/20. Well done Jen, we wish you all the best in the Sunraysia C of C to be held on 30th of January.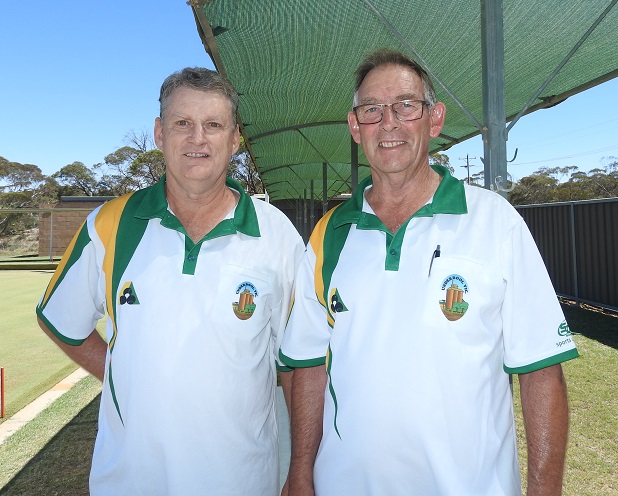 The Men's final between Rob. Gloster and Steve Simmonds was a game of 2 halves, with Rob flying out of the blocks early to hold a very good lead but when Steve found his radar, his consistency was very hard to reign in and he ran over the top of Rob 25/21. Well done Steve on another Club Championship.
Coming up, this Saturday 22nd Jan. we travel again, to do battle with Mildura Bowls Club.
Sunday 30th January is our Annual 2 bowl Triples Tournament, entries are pretty healthy, so we are looking forward to a wonderful day of bowls, fun and fellowship.
December 2021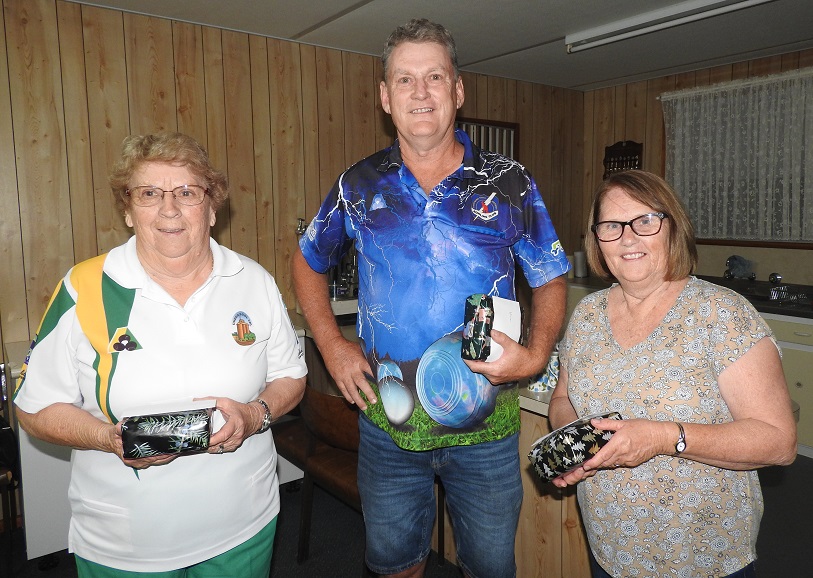 winnersOn the 22nd December we had a great roll up for our Ouyen IGA Sponsored Xmas twilight competition, with our wonderful ladies presenting a fabulous meal, which was the ideal lead into the festive season. The winners of the Triples event were, Steve Simmonds ( S ), Noelene Crow & Nita Wandel.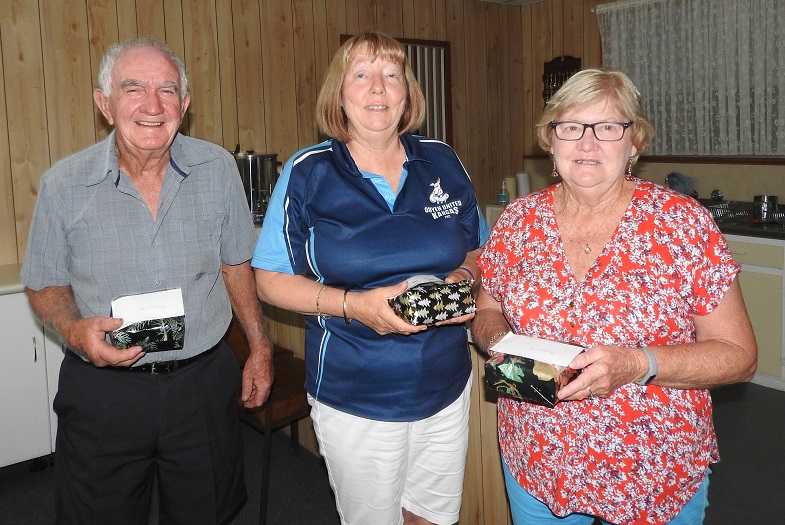 runners-upRunners Up were Colleen Gloster ( S ), Raelene Winslow & Alan Willsmore. The rest had to rely on the numerous raffles. Thankyou sincerely Gary and Jackie for your generous support.
To assist in alleviating a situation at a later date in the pennant calendar for both Underbool and Nangiloc, both clubs were in agreeance to play what was to be a home match for Underbool, at Nangiloc. With the forecast temperature estimated to be at the top end of the scale, an early start was agreed upon, so as to avoid the mid afternoon heat. And didn't they take advantage of their home turf as they stitched us up 2 rinks to 1, 91 shots to 66. Howard Crothers, Alan Stone, Ray Gloster and Jen Stone carried the flag for Underbool, with the other 2 rinks being outplayed. A very tasty BBQ lunch was enjoyed following the game, such is the hospitality of the Nangiloc club, thank you.
This week end was a double header for Div. 2, with another round to be played the next day (Sunday). We welcomed Red Cliffs to Underbool, where the temperature was ideal but unfortunately, the forecast high gusty winds turned out to be accurate, which made for a very testing time on the green. It was however, a good day for the home team winning 69 shots to 64 overall. Howard Crothers and Col Locketts rinks had good wins and were able to cover Rob Glosters rink which had a very tough day at the office. That's it for Pennant until we resume again on 15th Jan.
Wednesday 22nd is our Christmas twilight night, sponsored by Jason's Ouyen IGA; we look forward to a good roll up to conclude 2021. All the very best for a happy, healthy and safe Christmas and New Year, may you all come back refreshed and ready for bowls in 2022.
Another cracker Saturday for bowls, when our pennant team came up against top team Workers at Underbool on Saturday 11th. Once again we backed up our first round encounter with them, by just going 63/68 shots overall. Rob. Gloster's rink had a good win 31/16 over Geoff Weller, but Steve Simmond's after closing the gap over Col. Gowers, eventually went down 16/27. Howard Crothers' rink had no answer to Ron Dunn's magic stick as it could do no wrong, but they did a great job holding them to a 16/25 result. We have had some good tussles with Workers, and this was no exception.
Social bowlers enjoyed a pairs competition with Winners being Raelene Winslow and Ron Elliott from Runners up, Colleen Gloster and Frankie Gloster.
This weekend the 18th & 19th of Dec. is a Pennant double header, we play Nangiloc at Nangiloc on Saturday and welcome Red Cliffs to Underbool on Sunday. This is also the final round before the Christmas break, after which we will resume on the 15th Jan.
Sunday Rob Gloster and Alan Stone played off one of the Men's Singles Championship Semi Finals, where Rob was able to advance to the Grand Final at a date to be decided when the other semi is completed.
Wednesday the 22nd of December is our Christmas tea wind up twilight night, sponsored by Jason's Ouyen IGA - let's hope the weather is kind.
Good to see Ken Taylor back bowling at the club again after some health issues, and a couple of younger bowlers coming along to our social bowls and enjoying the game. With harvest being wound up we should see a few more numbers on the green.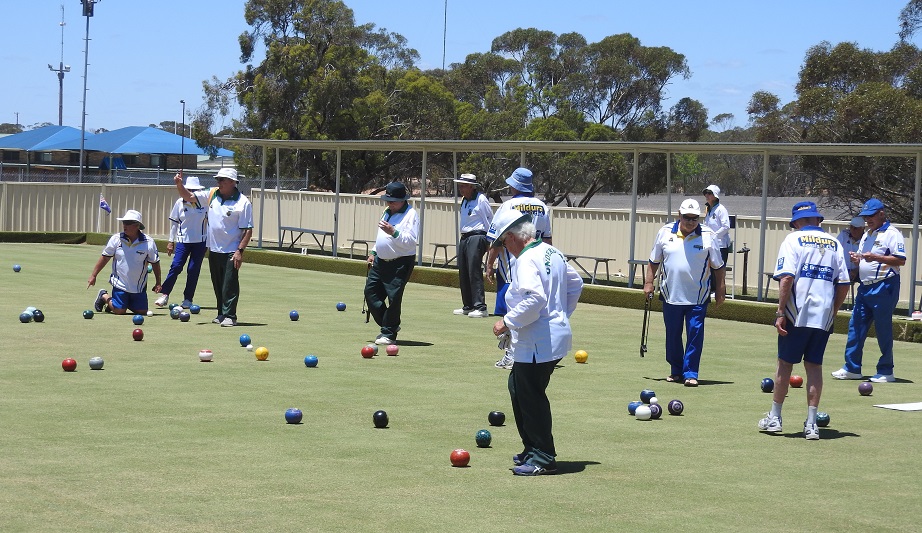 A few more team adjustments had to take place for Saturday 4th Dec. pennant match against Mildura at Underbool with harvest still in full swing. It's actually quite a long time since Mildura have played at Underbool and word has it they were swatting up the "Australian Touring Guide" Friday evening. It was great to welcome them back again, to catch up with some old and new faces and enjoy a very light- hearted and social day albeit with some very keen competition.
Howard Crothers' strong win over Rob. Hanns was enough to cover the narrow losses of Rob. Gloster's and Steve Simmonds' rinks to give the home team a 3 shot overall win 67/64.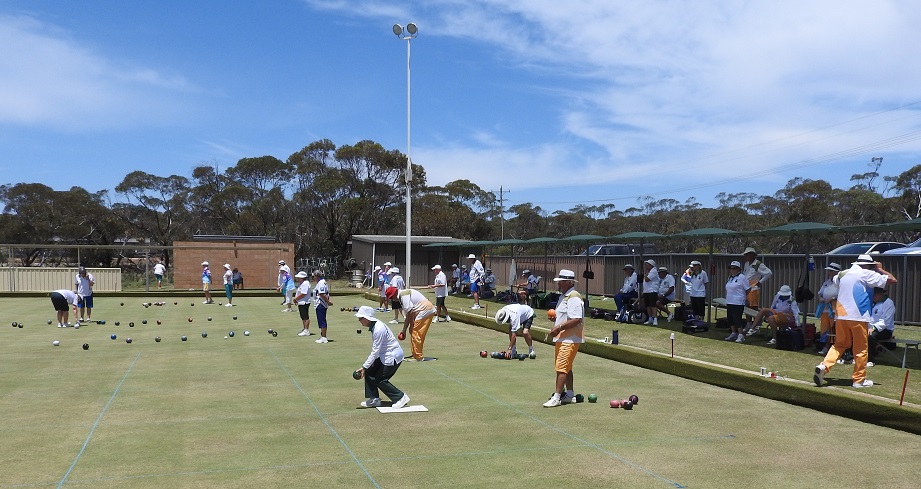 Midweek pennant home and away matches for Division 2 concluded on Monday, with all teams being hosted by Underbool, where the green and surrounds looked a picture in the natural bushland setting. Coomealla were able to clinch both rinks over Underbool by 9 shots overall in the morning match. However, the afternoon match against Euston was a complete turnaround with Colleen Gloster's rink winning 18/7 and Marie Cumming's rink winning 19/5, to finish the season on a high note.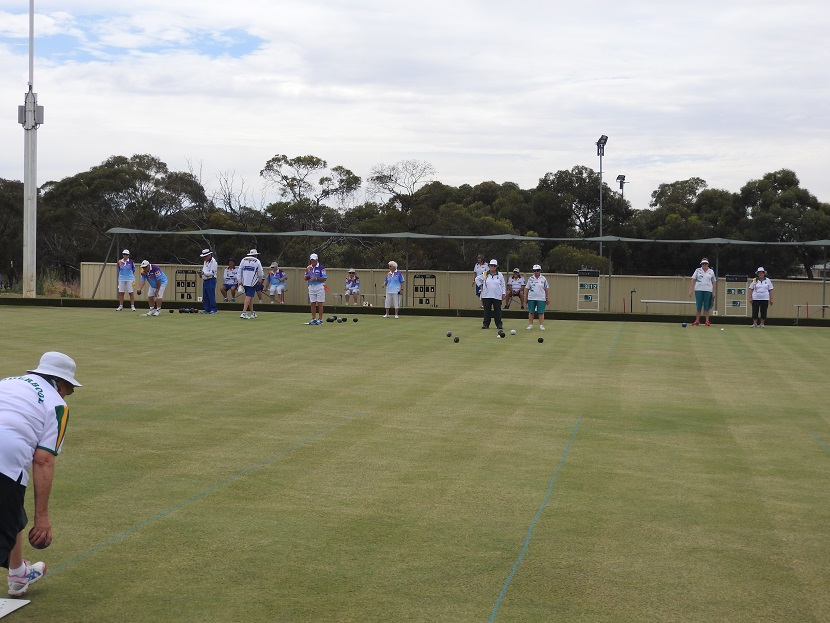 Well done to all those Members who contributed to the Midweek competition, the experience in this type of match play is invaluable.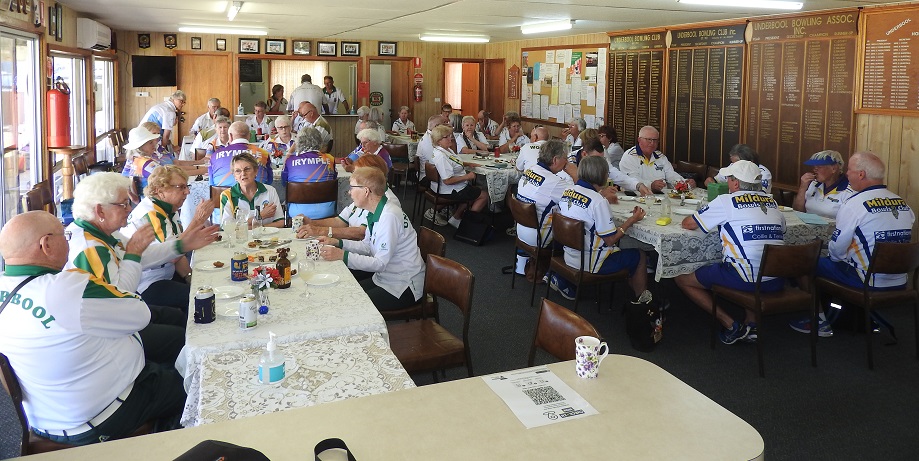 The afternoon tea provided by the Underbool ladies for the final Div.2 round was very much appreciated by all the visiting Clubs.
This Saturday December 11, we welcome Workers to Underbool to begin a new round. Social bowls will also be held with the usual BBQ tea to follow the days Bowling.