March 2022
100 up still has a few matches to complete, which we need to have completed before our Season wind up which this year is to be held as a twilight on Wednesday 6th April.
Not much happening on the Club Social side of Bowls at the moment, hopefully that picks up from now on. This Sunday we have 7 Members travelling to Bendigo Country Week, meeting up with past Club member Ken Byrne (Violet Town ) who continues to join us for 4 days of bowls.
Thank you to all the members who have represented our Club by attending tournaments over the long weekend at Ouyen, Workers and Murrayville, and this coming Wednesday to Wentworth, we are only a small Club but do our best to support as many Clubs as is possible.
Thursday 10th March the Mens Club Championship 4's was played off, with Steve Simmonds ( S ), Col Lockett, Les Stone & John Cummings taking thehonours over Rob Gloster (S), Cam Gloster, Alan Stone & Steve Lynch.
With Pennant over for this season for our Club, it's on with our Club matches and attending tournaments. Mens 4's championship play off is this Thursday evening, 10th March . Several tournaments are on this coming weekend of which we have Members attending.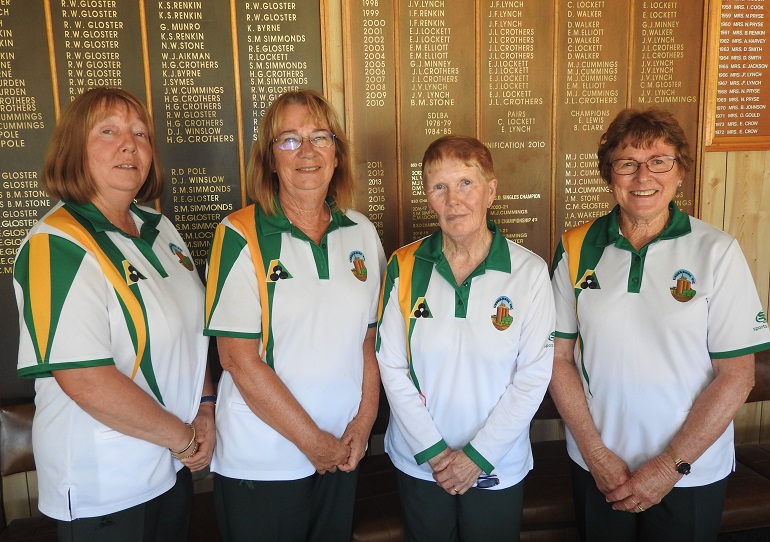 Raelene, Jen, Jennifer, AnneSunday 6th afternoon - both the Mens and Ladies Club Pairs finals were decided. Jen Stone (S) and Raelene Winslow played Jennifer Wakefield (S) and Anne Stone in a very competitive match, with Jen and Raelene able to open up a small margin in the latter stages of the game and maintain that margin to be crowned Club Pairs Champions.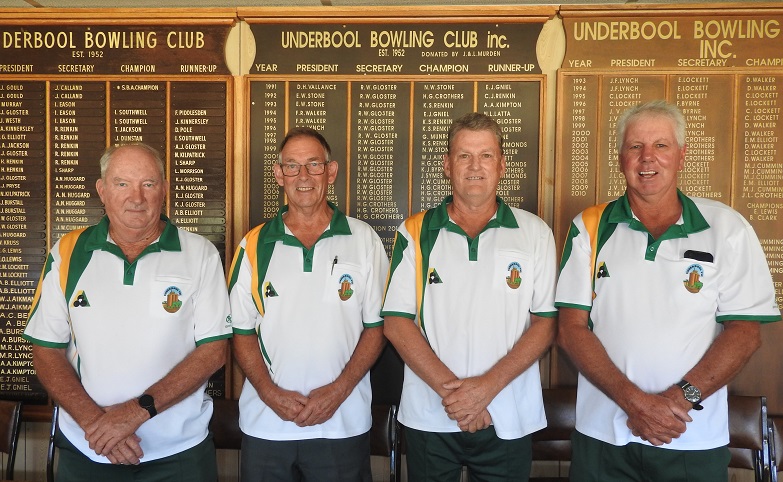 Alan, Rob, Steve, ColAlongside them the Mens pairs Championship between Steve Simmonds (S) and Col Lockett playing Rob Gloster (S) and Alan Stone was also being conducted, in what turned out to be a very difficult day at the office for Robert and Alan. Steve and Col played with extraordinary consistency and accuracy to outplay their opponents and take out the Club Pairs championship.
Saturday 5th saw a good number gracing the green for social Bowls, where a pairs event was won by Col Lockett and Frankie Gloster from runners up John Cummings and Anne Stone.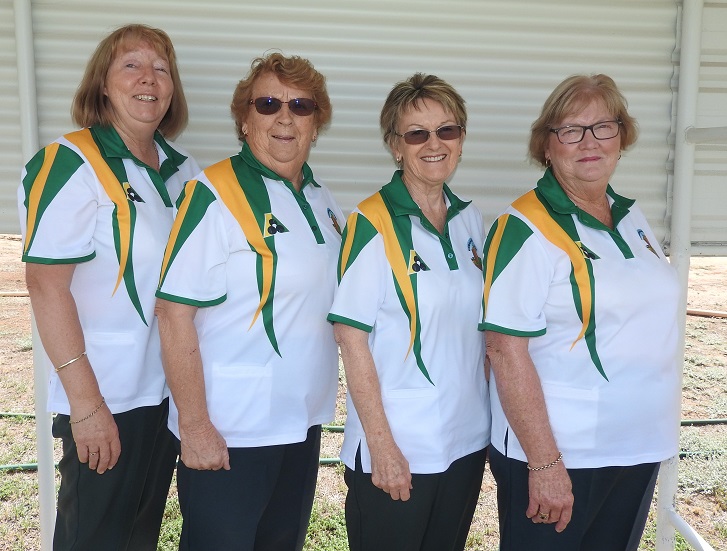 Raelene, Nita, Wendy, ColleenAt the same time the Ladies Club 4's Grand Final was played off with Colleen Gloster (S), Wendy Stone, Nita Wandel and Raelene Winslow winning the Championship over Jennifer Wakefield (S), Jen Stone, Veronica Stone and Dorothy Brown.
The Men's pairs Semi Final was also played off Saturday afternoon between Rob. Gloster (S) and Alan Stone and Cameron Gloster (S) and Stephen Lynch. It was a Crackerjack game being 18 all on the last end with Rob and Alan getting home by 1 shot to move into the Grand Final.
Last Friday night 4th was the final night of 'try bowls' -'Jack Attack', We hope those who participated, enjoyed themselves and continue to come along to our social bowls on a Saturday.
February 2022
This week is the final Pennant game for season 2021/22, where we welcome the Mildura Bowls Club.
Club events need to be kept pushing along or they won't get finished by seasons end.
Recently quite a few of our Members have attended Tournaments at Nangiloc and Ouyen enjoying the bowls and comaraderie.
Saturday 12th February we welcomed the very strong Irymple club to our green, once again going down overall 53/69. Howard Crothers Rink had a good win over John Harmer, but the other 2 rinks couldn't overcome Irymples consistency.
Pennant team ventured to Red Cliffs on the 5th of February, with Steve Simmonds rink handling the carpet ok recording a good win, but the other 2 rinks struggled going down overall 68 /86.
January 2022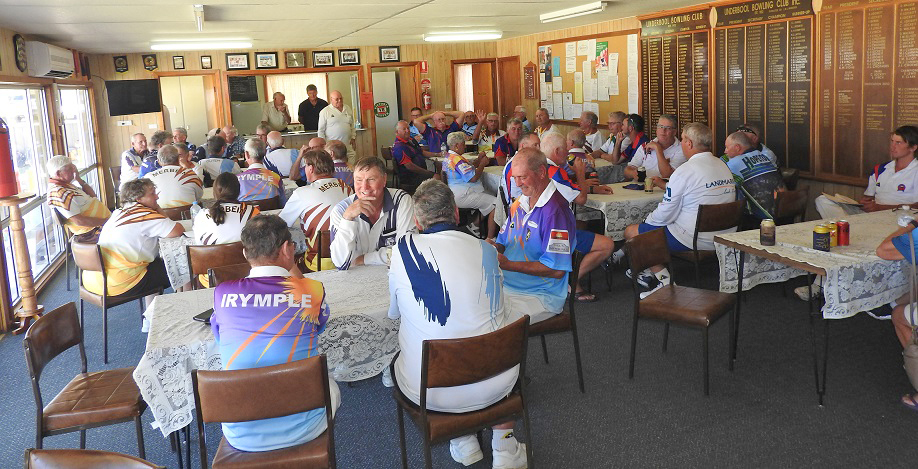 Sunday 30th, our Annual Triples Tournament was a huge success. 66 visiting Bowlers had an absolute blast of a day, many hailing it the best tournament they had attended in a long time. Once again it is a credit to our wonderfully committed members, who put in so many volunteer hours to keep this club successful. From the pristine surrounds, the beautiful country meals and cooking to the general tournament organisation, our Members can be very proud of their efforts.
Eight of the Nangiloc boys had camped overnight in preparation for the Tournament where some may have peaked a little early, or late whichever the case may be!!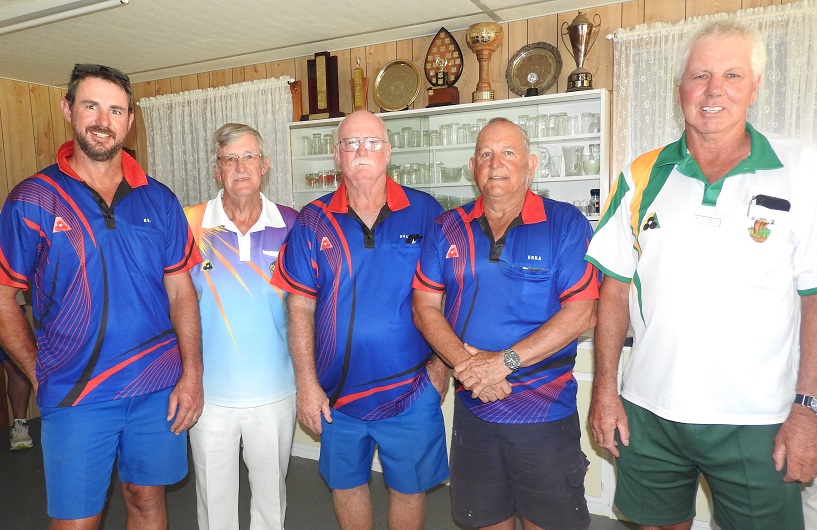 Winners -Nangiloc team with Graeme Phillips (a major sponsor) and Colin Lockett (Underbool Bowls Club president)Winners of our 2 Bowl Triples Tournament - very kindly sponsored by " Findex Financial Services Mildura" and "Ontario General Store" - were the Nangiloc team of Ben Mansell ( S ), Alan Erskine & Shane Moore.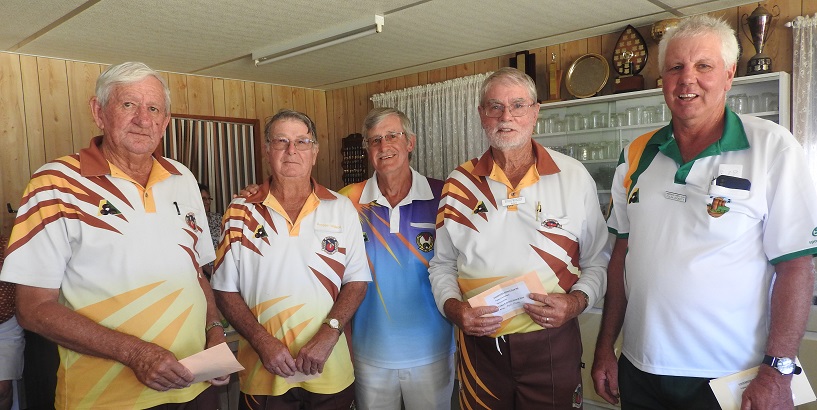 Runners up - Merbein team with Graeme and ColinR/Up were the Merbein team of Eric Watson ( S ), Bryce Midgely & Gordon Wallace.
December 2021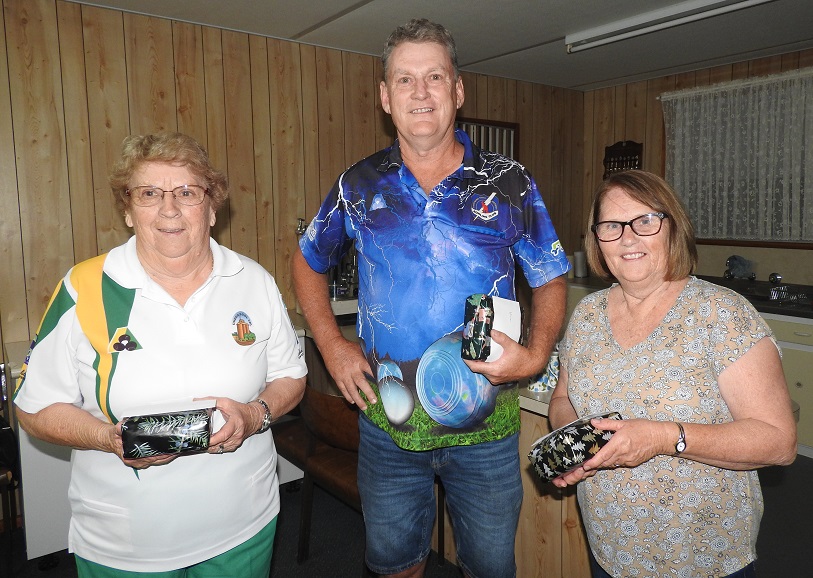 winnersOn the 22nd December we had a great roll up for our Ouyen IGA Sponsored Xmas twilight competition, with our wonderful ladies presenting a fabulous meal, which was the ideal lead into the festive season. The winners of the Triples event were, Steve Simmonds ( S ), Noelene Crow & Nita Wandel.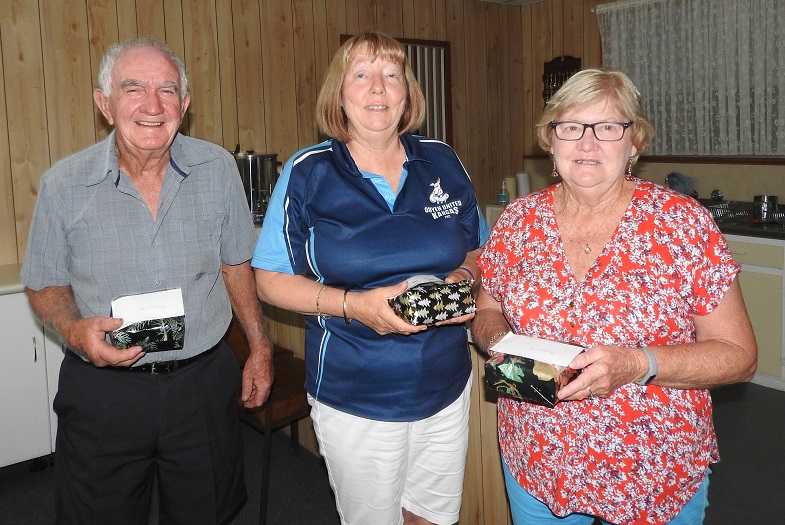 runners-upRunners Up were Colleen Gloster ( S ), Raelene Winslow & Alan Willsmore. The rest had to rely on the numerous raffles. Thankyou sincerely Gary and Jackie for your generous support.
To assist in alleviating a situation at a later date in the pennant calendar for both Underbool and Nangiloc, both clubs were in agreeance to play what was to be a home match for Underbool, at Nangiloc. With the forecast temperature estimated to be at the top end of the scale, an early start was agreed upon, so as to avoid the mid afternoon heat. And didn't they take advantage of their home turf as they stitched us up 2 rinks to 1, 91 shots to 66. Howard Crothers, Alan Stone, Ray Gloster and Jen Stone carried the flag for Underbool, with the other 2 rinks being outplayed. A very tasty BBQ lunch was enjoyed following the game, such is the hospitality of the Nangiloc club, thank you.
This week end was a double header for Div. 2, with another round to be played the next day (Sunday). We welcomed Red Cliffs to Underbool, where the temperature was ideal but unfortunately, the forecast high gusty winds turned out to be accurate, which made for a very testing time on the green. It was however, a good day for the home team winning 69 shots to 64 overall. Howard Crothers and Col Locketts rinks had good wins and were able to cover Rob Glosters rink which had a very tough day at the office. That's it for Pennant until we resume again on 15th Jan.
Wednesday 22nd is our Christmas twilight night, sponsored by Jason's Ouyen IGA; we look forward to a good roll up to conclude 2021. All the very best for a happy, healthy and safe Christmas and New Year, may you all come back refreshed and ready for bowls in 2022.

Another cracker Saturday for bowls, when our pennant team came up against top team Workers at Underbool on Saturday 11th. Once again we backed up our first round encounter with them, by just going 63/68 shots overall. Rob. Gloster's rink had a good win 31/16 over Geoff Weller, but Steve Simmond's after closing the gap over Col. Gowers, eventually went down 16/27. Howard Crothers' rink had no answer to Ron Dunn's magic stick as it could do no wrong, but they did a great job holding them to a 16/25 result. We have had some good tussles with Workers, and this was no exception.
Social bowlers enjoyed a pairs competition with Winners being Raelene Winslow and Ron Elliott from Runners up, Colleen Gloster and Frankie Gloster.
This weekend the 18th & 19th of Dec. is a Pennant double header, we play Nangiloc at Nangiloc on Saturday and welcome Red Cliffs to Underbool on Sunday. This is also the final round before the Christmas break, after which we will resume on the 15th Jan.
Sunday Rob Gloster and Alan Stone played off one of the Men's Singles Championship Semi Finals, where Rob was able to advance to the Grand Final at a date to be decided when the other semi is completed.
Wednesday the 22nd of December is our Christmas tea wind up twilight night, sponsored by Jason's Ouyen IGA - let's hope the weather is kind.
Good to see Ken Taylor back bowling at the club again after some health issues, and a couple of younger bowlers coming along to our social bowls and enjoying the game. With harvest being wound up we should see a few more numbers on the green.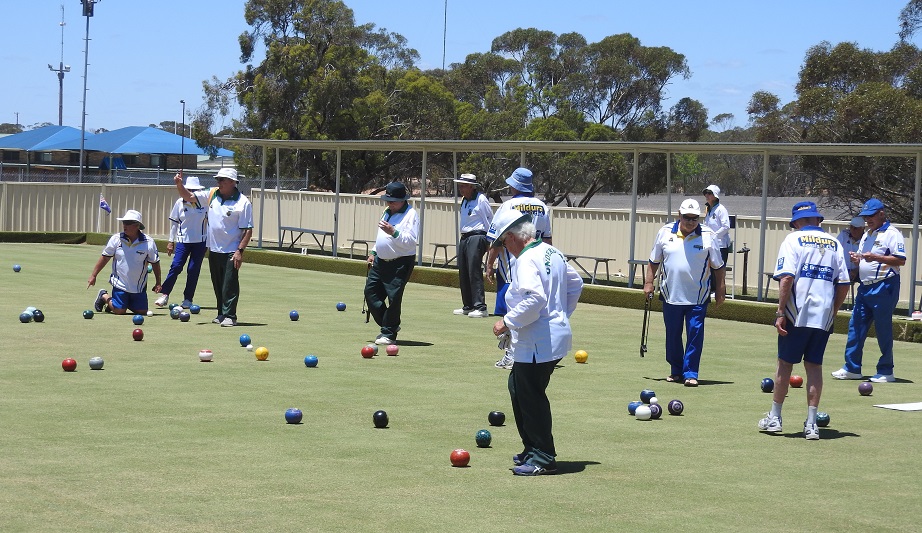 A few more team adjustments had to take place for Saturday 4th Dec. pennant match against Mildura at Underbool with harvest still in full swing. It's actually quite a long time since Mildura have played at Underbool and word has it they were swatting up the "Australian Touring Guide" Friday evening. It was great to welcome them back again, to catch up with some old and new faces and enjoy a very light- hearted and social day albeit with some very keen competition.
Howard Crothers' strong win over Rob. Hanns was enough to cover the narrow losses of Rob. Gloster's and Steve Simmonds' rinks to give the home team a 3 shot overall win 67/64.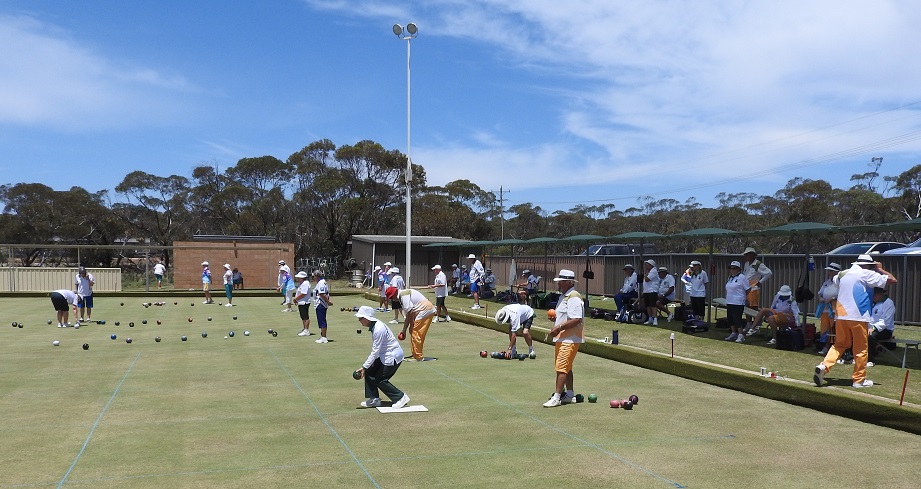 Midweek pennant home and away matches for Division 2 concluded on Monday, with all teams being hosted by Underbool, where the green and surrounds looked a picture in the natural bushland setting. Coomealla were able to clinch
March 2021
Steve Simmonds (s), Colin Lockett, Les Stone and John Cummings played in the Sunraysia Men's Championship Fours at Ouyen the weekend of 20th and 21st March. With a bye in the first round, the team won against Coomealla in the second round on the Saturday. Returning Sunday morning to play Workers team and having won that game, they went into the Grand Final against Nangiloc. Underbool trailed closely all the game until the last end when the score was 18 all. An exciting finish saw Nangiloc take the game by 1 point. Final score 18/19.
Social Bowls Saturday 20th March, fourteen bowlers played. Alan Stone and Jennifer Wakefield were winners of the day.
Friday 19th March: the Men's Championship Pairs was played out with Steve Simmonds and Colin Lockett playing Colin Aikman and Les Stone. Once again Steve Simmonds and Colin Lockett retain their status as Underbool Men's Pairs Club Champions. Best wishes to them as they go on to play in the Sunraysia Men's Pairs Championships at Irymple next weekend 27th and 28th March.
Also best wishes for good bowling to Bernadette Stone and Raelene Winslow as they play in the Sunraysia Ladies Championship Pairs at Euston on the same weekend.
January -February 2021
runners-up team
Champion 4's winners28th February: The team of Bernadette Stone (s), Noelene Crow, Jennifer Wakefield and Jen Stone played Marie Cummings (s), Colleen Gloster Wendy Stone and Raelene Winslow with a narrow win going to Marie's team.
Bowls Sunraysia Ladies Championship Fours will be played off at Ouyen 13th and 14th March.
Social Bowls Saturday 27th February, in perfect weather for bowls, sixteen played Pairs with Marie Cummings and Ron Elliott enjoying a win.
Saturday 20th February. Yet another hot day forecast, so word went out for anyone interested in playing at 9am. Ten bowlers enjoyed 2 games of eight ends in the cool of the morning. Colleen Gloster and Scott Braemer won their two games and were declared winners.
Sunraysia's Ladies Singles Champion of Champions, Marie Cummings played at Murray Downs Sunday 21st February in the Murray Mallee Region Championships play off. Marie played a young lass from Tooleybuc. They had a close contest throughout the game with little difference in the scores. On the twenty sixth end Marie took the lead, 20/19, but her opponent took out the next four ends to run out the winner. As Marie said "It was a tough game". Well done Marie. The Underbool Bowls Club are proud of your efforts.
The Club held a Twilight Bowls Trophy event on Wednesday 3rd February with Trophies and other items donated by Warwick Gloster. Eighteen players enjoyed an evening on the green.
winners : Ray, Les and JohnWinners on 56 ½ points were John Cummings (s) Les Stone and Ray Gloster. Runners/up were Howard Crothers (s) Raelene Winslow and Ron Elliott with 55 ½ points.
Alan Willsmore won roll to the ditch. Adam Kelly, Scott Braemer and Callum Winslow were presented with encouragement gifts in anticipation of their future involvement with the Club. There were lots of other treats and surprises.
runners'up : Howard, Raelene and RonMany thanks to Warwick Gloster for his generous sponsorship. The club has certainly benefitted from the evening.
Social bowls on Saturdays
6th February fourteen played - Alan Stone, Ray Gloster and Dorothy Brown won with 64 points.
30th January Ray Gloster and Raelene Winslow had the best score
23rd January Too hot for bowls
16th January Steve Simmonds, Wendy stone and Ron Elliott won
9th January with Col Lockett and Jen Stone winners of the day
December 2020
Colleen, Jen, Stan - winnersSocial Bowls at Underbool on Saturday 19th December was a special day when members played for Trophies donated by Ouyen IGA. This was followed by a Christmas meal in the evening.
Murray, Jennifer, RobertLucky winners were Colleen Gloster (S) Jen Stone and Stan Stone on 79 ½ points.
Runners/up, Robert Gloster (s) Jennifer Wakefield and Murray Lockett on 79 points. Many thanks to Ouyen IGA for their generous sponsorship to Underbool Bowls club.
President Robert Gloster wished all a very happy and safe Christmas and New Year.
It was a pleasurable day on Friday 18th December when Nita Wandel and John Cummings were presented to President of the Bowls Sunraysia Division President Susan Nichols at Mildura Bowls Club to receive their Super Veteran badges.
These badges are given when members of a Bowls Club reach 80 years of age. Many such members from across the Sunraysia Division were presented by a representative of their respective Clubs. In the absence of Underbool President Robert Gloster, his wife Colleen Gloster presented Nita and John to Susan and read a resume of their achievements and service to the Underbool Bowls Club. A very nice afternoon tea was supplied and a catch up with other Super Vets made for a very pleasant afternoon. Thanks to those who came along to support Nita and John who wear their Super Veteran Badges with pride.
On Friday 18th December at the Mildura Bowls Club, Nita Wandel and John Cummings along with the other octogenarians of the Bowls Sunraysia Division will be presented with their 80 year Badges by the Division President. One or two representatives of our local Club will present Nita and John.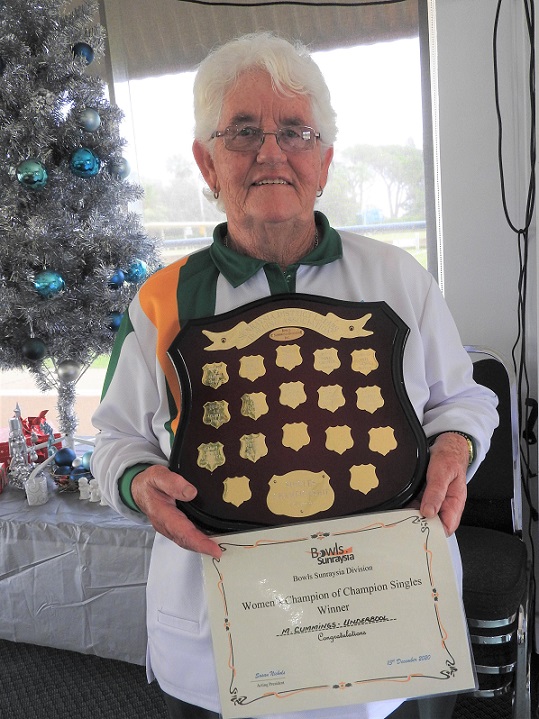 Congratulations MarieUnderbool Bowls Club Members have cause for much celebration at the moment. First hearty congratulations to Marie Cummings who has taken out the Sunraysia Division Ladies Singles Championship in a close game with Daphne Loveday of Workers Bowling Club. A contingent of Underbool bowlers travelled to Mildura Bowls Club on Sunday morning 13th December to support Marie. Marie has been Ladies Singles Champion at Underbool 11 times and is the first Underbool lady to go through to win Sunraysia Division Ladies Singles Champion.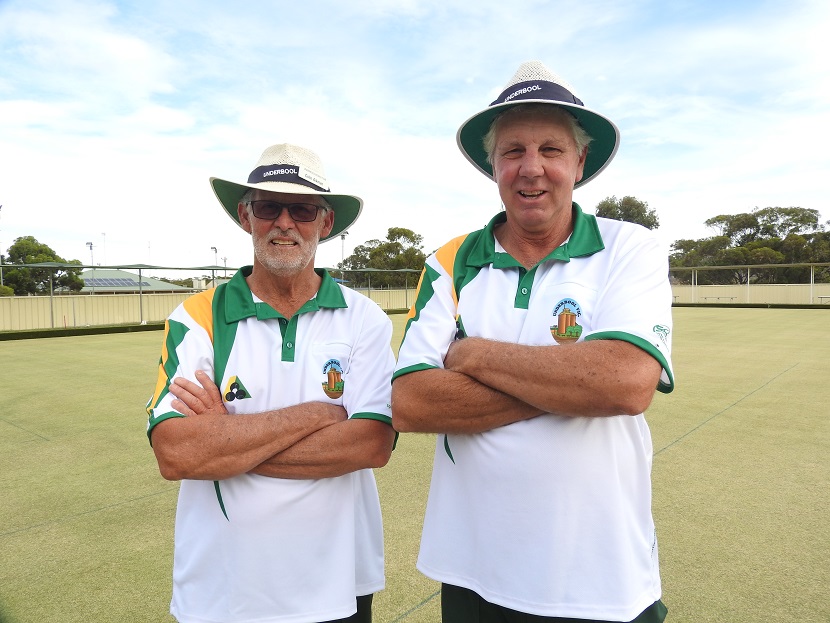 Colin Aikman and Colin LockettLater in the day back at the Underbool Bowls Club the Men's Singles Championship was contested by the "two Cols". Col Lockett and Colin Aikman. Top draw bowling by both players but it was Col Lockett who took out the match. Best wishes for good bowling to Col Lockett who now goes on to play in the Sunraysia Division Men's Singles Championship on January 2nd at Workers Bowls Club.
Social bowls on Saturday 12thDecember, sixteen played. John Cummings and Ray Gloster won the day with a most variable score card of 56 points.
To wind up an enjoyable day we were entertained by a visiting wandering minstrel who played the bagpipes for us and then showed his magician hand with some legal tender.
Good to have John and Veronica Stone join us again on Sunday to watch the play and stay for a chat. President Robert and members wish John all the best with ongoing treatment.
Club members congratulate Marie Cummings on her win in the Sunraysia Ladies Bowls Singles Championship round on Sunday 6th December, which takes her to the final playoff next Sunday 13th at Mildura Bowls Club. An exciting time for Marie and our Club. Great bowling Marie!
November 2020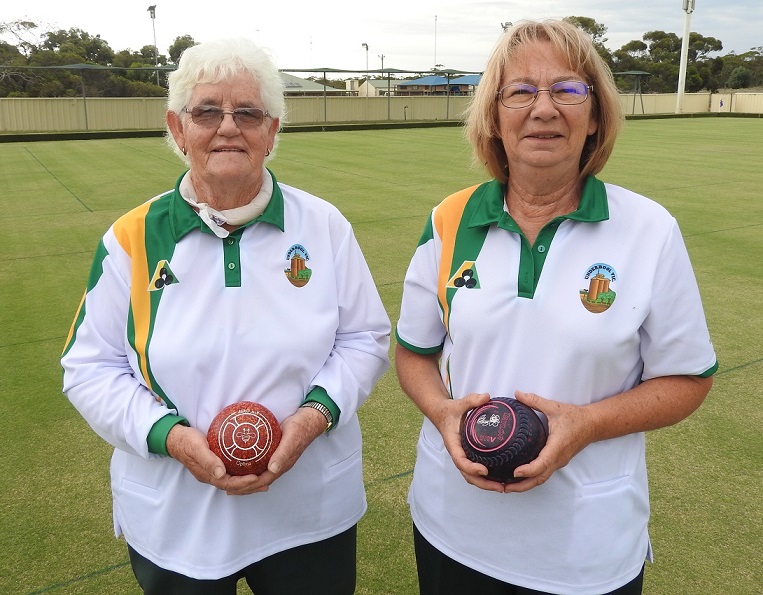 Marie and Jen after their gameSunday 22nd November onlookers were treated to a tight game of bowls when Marie Cummings and Jen Stone played off for Ladies Singles Championship. Six all, seven all, ten all, sixteen all, and then Marie broke away to take the game 25 to 17. Beautiful bowling from both ladies.
Marie now plays on in Bowls Sunraysia Ladies Singles Championships. The club wishes you all the very best of bowling Marie.
Saturday 14th November, winners of the day were Robert Pole and Marie Cummings. Added to the fact of the win was the way Robert managed his new Bowling Arm, a force to be reckoned with.
On Sunday 8th November Alan and Jen Stone and Robert and Colleen Gloster attended a bowling day at Nangiloc.
With harvest well underway, there were still 14 players for an afternoon of bowls on Saturday 7th November. Noelene Crow and Robert Gloster were winners of the day.
October 2020
Local bowlers, while unable to participate in Pennant and Star Day bowls because of Covid 19 restrictions, are still enjoying Social Bowls each Saturday on the home green.
A good field of players again for Saturday 31st October when Steve Simmonds, Les Stone and Ray Gloster brought in the highest score.
Ray, Robert, Cameron, FrankieSaturday 24th October, Alan Stone, Marie Cummings and Ray Gloster were declared winners of the day. On this same day when twelve played, four generations of the Gloster family played together. Ninety three year old veteran bowler Ray Gloster and his son Robert Gloster, grandson Cameron Gloster and great grandson Frankie Gloster. Great effort.
Saturday 17th October, Les Stone and Raelene Winslow took out the honours.
Winners of play on Saturday 10th October were John Cummings and Raelene Winslow.
The Club welcomes new member Ron Elliott. Ron is enjoying his bowls and the fellowship of other bowlers.
Ladies Singles Club Championship will be played off between Jenny Stone and Marie Cummings at a later date. Best of bowling to both ladies.
The men have been getting on with their Championship games with some very good bowls played.
Opening Day 2020-2021 season
It was a very trying day weather wise for Underbool bowlers as they commenced their first official day of bowls for the season 2020/2021. But the fellowship and camaraderie once on the green was beneficial to all. Opening the season, President Robert Gloster welcomed those present and asked previous year's Ladies Singles Championship winner, Marie Cummings to roll the first kitty; and Alan Stone as Runner/Up to Men's Singles Championship to put down the first bowl.
Poole and Jackson had kindly donated Trophies for the day's play.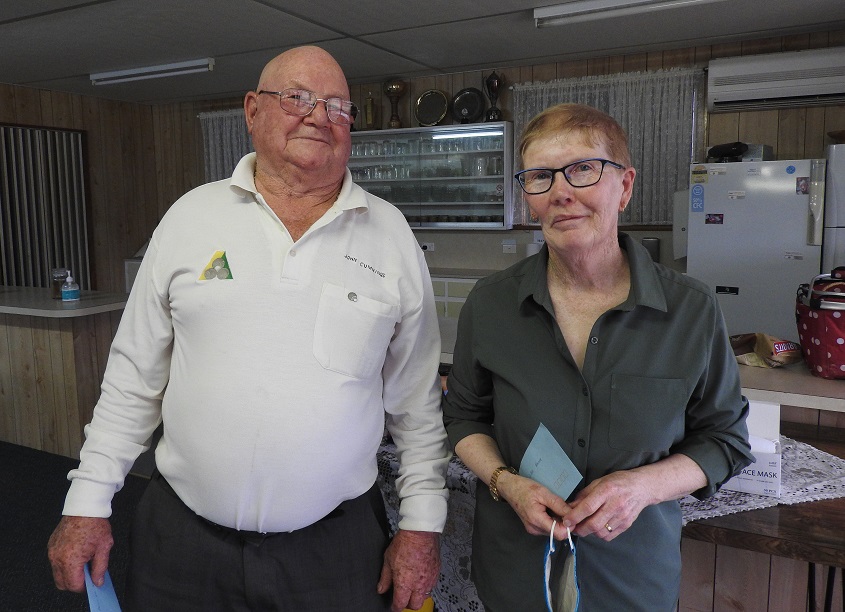 Winners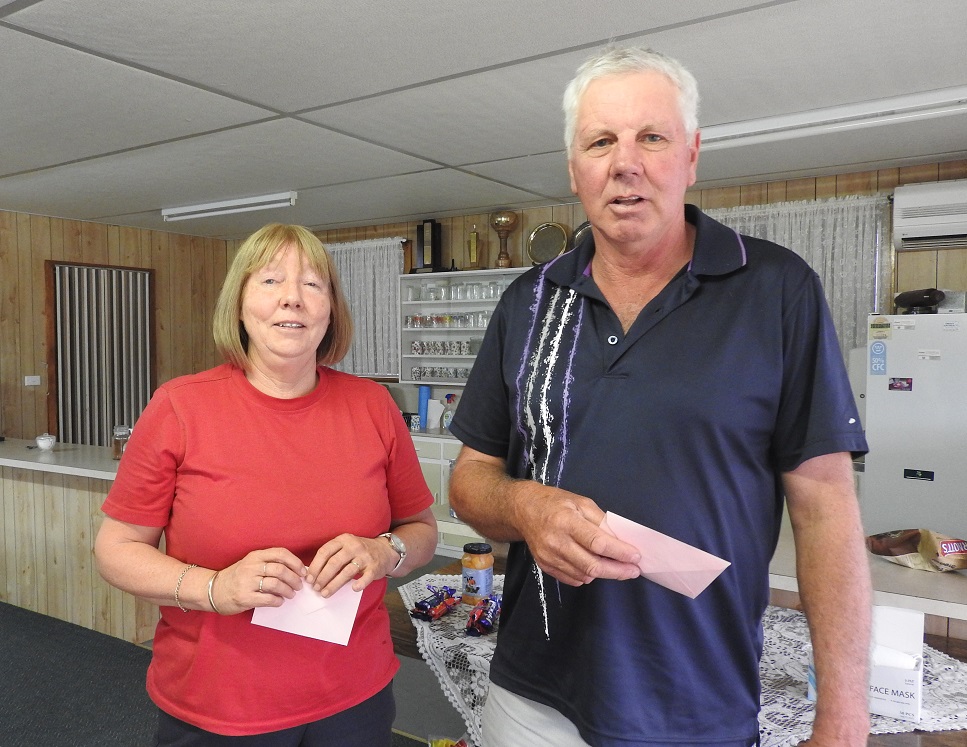 Runners-up Winners of the day were, Roll to the Ditch – Raelene Winslow and Robert Gloster.
Third place getters of play with 49 points were, Howard Crothers and Noelene Crow.
Runners/up, Col Lockett and Raelene Winslow, 72 ½ points.
Winners, John Cummings and Jennifer Wakefield, 73 ½ points.
The Underbool Bowls Club is very appreciative of the continued generous Sponsorship from Poole and Jackson. Many thanks.
Best wishes to the Ladies Midweek Pennant Team playing in second Division again this year, to commence on Monday 12th October, and also to Saturday Pennant to commence on October 31st.
Men's and Ladies Club Championships have been drawn up and members are encouraged to get a start on these games.
February 2020
The Club's Assistant Secretary, Jennifer Wakefield is making steady progress with the new Club Shirt update.
The play off of the Club 100 up Championship will be between Raelene Winslow and Wendy Stone.
Saturday 29th February, saw the play off of the Men's Championship Pairs at Ouyen Bowls Club. Robert Gloster and Alan Stone played the Mildura Club Champions, and while Robert and Alan played extremely well, the Mildura Pairs Champions played exceptionally to win their first round. Series to be finalised at a later date.
Saturday 29th February there were only six bowlers available for play. But a friendly afternoon resulted in Robert Pole, Raelene Winslow and Ray Gloster having the winning card.
Bowls Sunraysia are having a series of Championship Play offs, with the Ladies Pairs played at Euston on Thursday 27th and Friday 28th February. Unfortunately Marie Cummings and Colleen Gloster lost their game to Red Cliffs on a very slick green. Congratulations to Merbein who were the ultimate winners of the series.
Social bowls on Saturday 22nd February; there were eighteen players, with Alan Stone, Jennifer Wakefield and Anne Stone declared winners. Followed by a very enjoyable BBQ meal and social catch up
On Monday 17th February, Marie Cummings, Bernadette Stone and Jen Stone made the trip to play in the Coomealla 2 bowl Triples Star Day.
Sunday 16th February, the team of Steve Simmonds, Alan Stone, John Cummings and Stan Stone attended Ouyen Invitation Fours.
Winners of play on Saturday 15th February were the ladies team of Marie Cummings, Jennifer Wakefield, Nita Wandel and Raelene Winslow, over the men's team of John Cummings, Ray Gloster and Murray Lockett.
Colleen Gloster and Jen Stone represented Underbool at the Heasyman Pairs on Friday 14th February at Mildura.
The final of the Underbool Men's Championship Pairs was played out on Thursday 13th February. Robert Gloster and Alan Stone defeated John Cummings and Stan Stone. Best wishes from the Club to Robert and Alan as they now go on to play in the Sunraysia Championship Men's Pairs on 29th February and 1st March at Ouyen.
Sunday February 9th, two teams travelled to Hopetoun Bowls Club to participate in that club's Triples Tournament. John Cummings, Stan Stone and Steve Simmonds won three games out of four and picked up a small prize for highest points scored in the last game. Believe Steve Simmonds was a star leader for the team!
Robert Gloster, Ray Gloster and Howard Crothers also won three out of four games. All enjoyed playing on the good synthetic green.
Social Bowls on Saturday 8th February, 10 played and winners were Robert Pole (S), Jennifer Wakefield and Howard Crothers.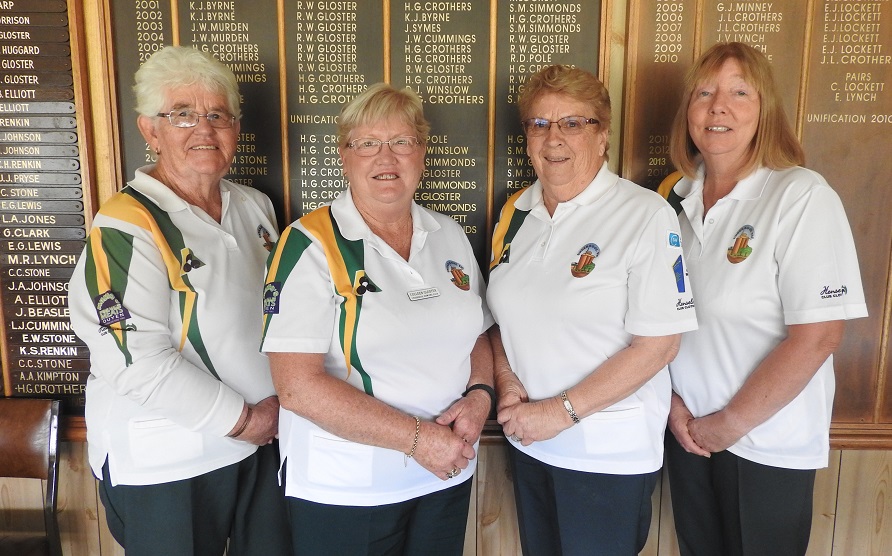 Underbool Bowls Club Ladies Championship Fours was played on Sunday February 2nd. Marie Cummings (S), Colleen Gloster, Nita Wandel and Raelene Winslow, played Jen Stone (S), Bernadette Stone, Jennifer Wakefield and Noelene Crow. Marie's team led all game to win 21/13. Best of bowling to the winners who now play at Ouyen in the Sunraysia Ladies Championship Fours on the 5th and 6th March.
Also on Sunday 2nd February the team of Robert Gloster, Alan Stone, Robert Pole and John Cummings travelled to Donald to participate in the Donald Golf Bowls Club Star Day. On this visit although not bringing home a win, they were made very welcome and had a most enjoyable day.
Social bowls on Saturday 1st February, 11 members played with Robert Gloster, Marie Cummings and Jen Stone, winners of the day.
January 2020
Robert and Colleen Gloster and John and Marie Cummings represented the Club at the Merbein Australia Invitation Star Day event on Sunday 26th January and had an enjoyable day.
On the men's side of play, Steve Simmonds, Robert Gloster, Alan Stone and John Stone travelled to Nangiloc to play off in the Men's Championship Fours on Saturday 25th January. With a bye in the first round, Underbool played Red Cliffs in the second round losing by just one on the last end - 14/15.
Underbool Ladies Championship Pairs Final was played off on Friday 24th January. Marie Cummings and Colleen Gloster were the victors of play against Bernadette Stone and Raelene Winslow. Best of bowling to Marie and Colleen when they play in the Sunraysia Ladies Championship Pairs at Euston on February 27th.
As the result of a grant obtained, Underbool Bowls Club now have four sets of Henselite XG Dreamline Bowls on hand for any prospective bowlers, adult or student to use and practice with.
Saturday 18th January, Robert Gloster and Jennifer Wakefield were winners of the three games played by the fifteen members.
Saturday 11th January, fourteen played, with a win to Robert Lester and Murray Lockett.
At the Men's Champion of Champions play off at Euston on Sunday 5th January, Underbool's Steve Simmonds was defeated in the first round by Harry Munro of Ouyen Bowls Club, 18/25.
Social Bowls on Saturday 4th January, six members played with Colin Lockett, Jen Stone and John Stone being the winners.
December 2019
On a very warm summer's evening, Wednesday 18th December, Underbool Bowls Club held their annual Ouyen IGA Twilight Bowls event.
Always a popular occasion and despite the heat, 36 bowlers, including 15 visitors from Ouyen Bowling Club enjoyed a great night of bowls together playing for trophies donated by Ouyen IGA.
Winners at the end of play were – Alan Stone (S), Lorraine Hickmott and John Turnbull. Runners/up – Alan Crook (S), Colin Aikman and John Stone.
Prior to bowling, a most festive meal was enjoyed. The usual tasty salads, accompanied by cold meats of Pork and Turkey. Many thanks to Rhonda and Colin Lockett and Wendy and Les Stone for the meats and the salads and sweets given by other members. Several non-players also joined in for the meal.
President Robert Gloster and members of Underbool Bowl's Club sincerely thank Ouyen IGA for the very generous sponsorship of the evening. It was also pleasing to have so many bowling friends from Ouyen attend.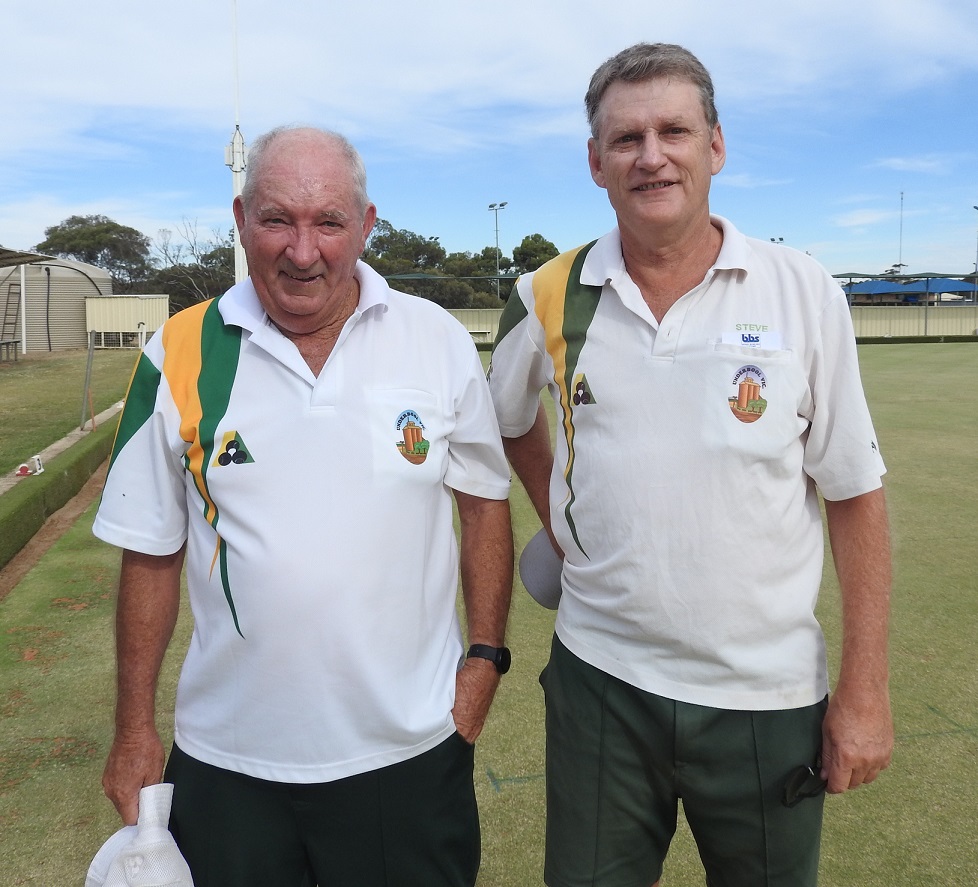 Alan & Steve after their gameThe Men's Singles Club Championship between Steve Simmonds and Alan Stone was played on Sunday 15th December at 4pm. There was a great show of support from Club members who by the end of the game were sitting on the edge of their seats in excitement.
What a game! Steve won the toss and quickly progressed to take a good lead. But that Stone determination emerged and Alan settled in to make the score 13 all after 17 ends. After 30 ends the pair were 23 all, then Alan scored 1 on the next end to take the score to 24/23. The last end Alan was holding 2 shots in the head, when Steve drew in two beautiful bowls to take the game 25/24. Thank you Steve and Alan for a most entertaining game and best wishes to Steve when he plays in the Champion of Champions at Euston 4th and 5th January 2020.
Good to see Secretary Howard Crothers arrive back home in time to watch the match after knee replacement surgery.
Social Bowls on Saturday 14th December, 12 bowlers played Pairs with Steve Simmonds and Anne Stone 3 game winners of the day. A BBQ tea was enjoyed by all in attendance. Special welcome to Murray Lockett who played and acquitted himself very well. We hope to see you continue playing Murray.
November 2019
Midweek Pennant players lost their 1st Semi Final game against Mildura on November 25th, but have a second chance when they play Irymple next Monday in the Preliminary Final. Go underbool !
The Season has sadly finished for Underbool Division 2 Saturday Pennant with their loss against Euston on November 23rd. 74/76. Semi Finals begin next Saturday 30th November.
Six social bowlers played the following week November 23rd but no winners declared.
Social Bowls on Saturday November 16th saw 11 players on the green with John Cummings, Jennifer Wakefield and Wendy Stone declared winners of the day.
Marie Cummings, Jen Stone, Nita Wandel and Wendy Stone are playing in the Margaret Cooke Star Day at Wentworth on Wednesday 13th November.
The last game of Midweek Pennant before the finals commence was a home game against Workers on Monday 11th November. Underbool players had such a good win that they proceed to second position on the ladder. [Underbool will now play Mildura in the first semi final at Mildura on November 25th.] Being Remembrance Day, at precisely 11am, play ceased while President Robert Gloster led a brief time of silence remembering those who fought in World War 1 and subsequent wars. Lest We Forget! The day finished with a beautiful afternoon tea and happy fellowship.
In contrast Saturday 9th November Pennant playing Coomealla was a day Underbool would rather forget!
Marie is also to be congratulated on being selected to play in the Sunraysia team at Murray Downs in the Murray Mallee Bowls Region Round Robin on Sunday November 10th. Congratulations also to Steve Simmonds who has been selected as an emergency in the Sunraysia's Men's team. The Club's best wishes go with you both.
Midweek Pennant played Irymple on Monday 4th November. One rink winning, but for the other rink, a tough day.
On Sunday 3rd November Robert and Colleen Gloster and Alan and Jennifer Stone participated in the Wentworth Murray Darling Fours.
Saturday Pennant at Underbool was cancelled on Saturday 2nd November because of the "big rain". Scores allocated Underbool 0/6 points, Irymple 0/6 points. (Washout)
Instead Club members still met for a Social evening and BBQ tea.
October 2019
Underbool Bowls Club Ladies Singles Champion Marie Cummings competed in the Sunraysia Champion of Champions on Thursday October 31st. Marie won her first game against Gloria Stephenson of Coomealla Club. In her second round Marie continued playing well but was defeated by Thelma Hicks of Workers Club. Thelma went on to be the ultimate winner of the series with AnneMaree Clarke of Irymple Club runner/up. Congratulations all.
Midweek Pennant played Euston on Monday 28th October. Colleen Gloster's side won by 3, but Marie Cummings' side went down by 5. Overall result Underbool 42, Euston 44.
Best wishes to Bernadette Stone who has the misfortune of a foot injury and not able to bowl for a few weeks.
Saturday Pennant 26th October playing at home to Irymple 2, Underbool team had an overall loss 58/64. The team will looking for a win this Saturday against Irymple 3. Once again a home game and there will be a BBQ tea to follow.
Jennifer Wakefield, Jen Stone and Nita Wandel enjoyed their day at the Ouyen Star Day last Tuesday 22nd October.
Midweek Pennant 21st October: Mildura forfeited to Underbool because of illness.
A highly successful Triples Star Day Tournament was held at Underbool on Sunday 20th October, attracting representative bowlers from Sunraysia, Hopetoun and Murrayville.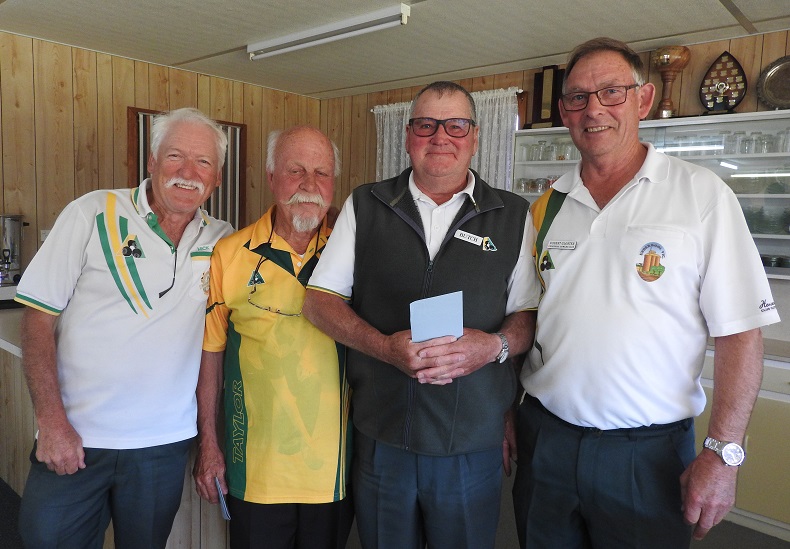 WinnersThe 66 bowlers enjoyed playing on the well prepared green in magnificent Mallee weather.
The ladies were kept busy throughout the day providing meals for the two fills of bowlers. The visitors were most appreciative of the superb country cuisine.
The team of Ian "butch' Pollock (s), Brian Horton and Mick Legin from Workers were the winners on 85 points. Coming in runners/up were the Nangiloc team of Ben Mansell (s), Alan Erskine and Shane Moore with 82 ½ points. Third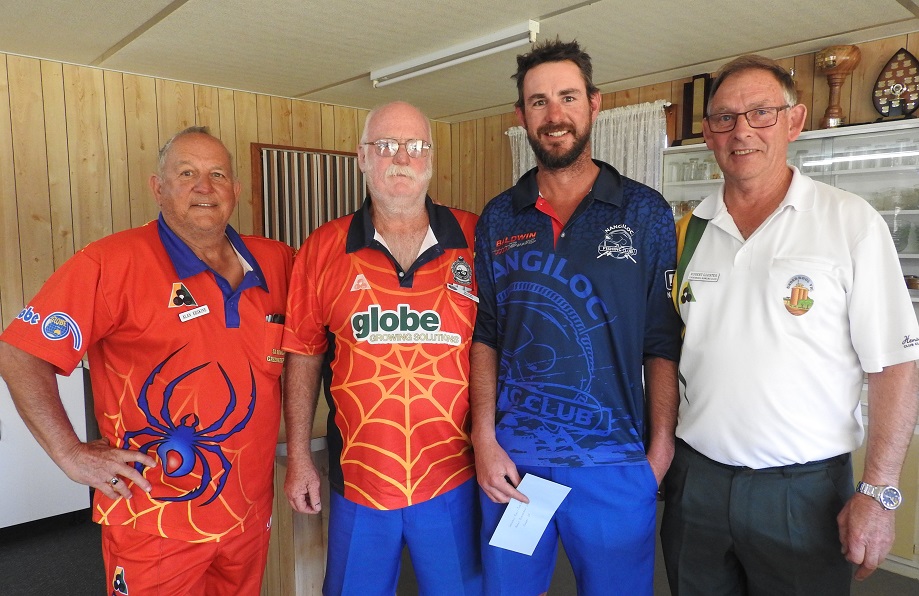 Runners upwinners were Gordon Gray (s), Trevor Flack and George Milward from Irymple on 81 points.
A day such as this is made more successful by wonderful Sponsors. Major sponsorship of the day was provided by Findex, with supporting sponsors Westrac Caterpillar, Good Deal Tyres, Bunnings, Bursons, Repco, First Choice Liquor and Dan Murphy.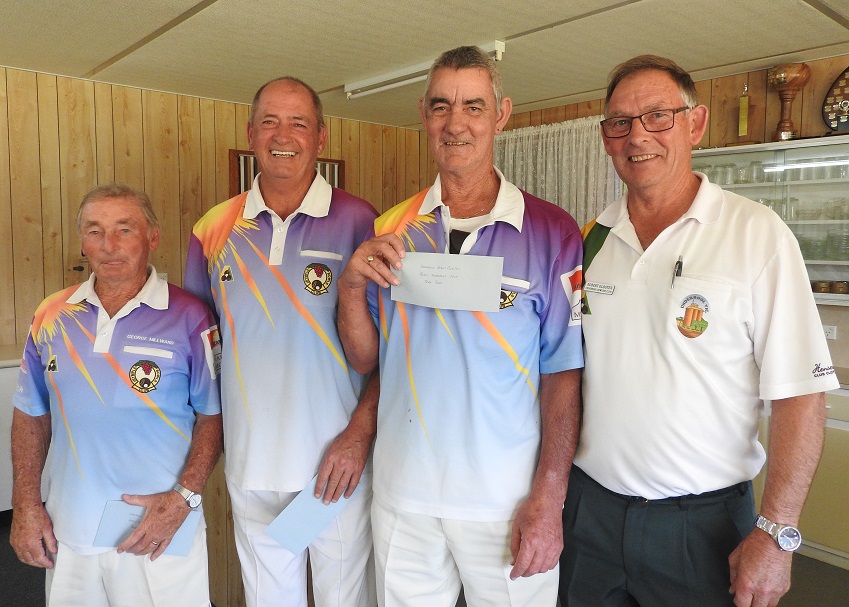 3rd placePresident of Underbool Bowling Club, Robert Gloster is most appreciative of the generous sponsorship given and also the attendance of the visiting bowlers and the way the Star Day was supported.
Robert also appreciated the work done by the local Underbool members in having the green and grounds in such immaculate condition and the excellent catering. Many thanks to all.
Saturday Pennant 19th October at Red Cliffs was a tough day "on the green" under trying conditions.
Marie Cummings, Bernadette Stone, Jen Stone and Noelene Crow attended Workers Star Day on 16th October and won 2 of their 4 games.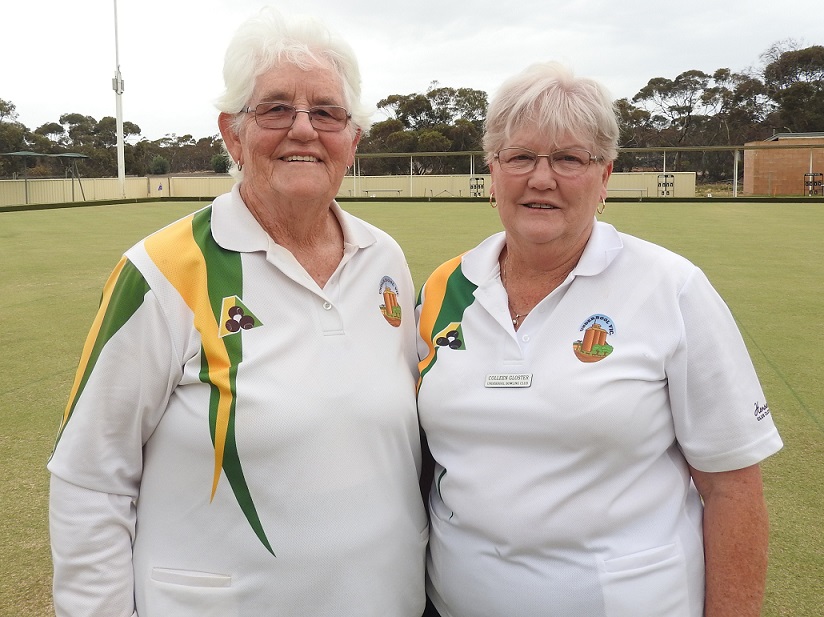 Underbool Ladies Singles Club Championship has been won by Marie Cummings after a tight game with Colleen Gloster on October 13. There was some superb bowling from both ladies and after 29 ends Marie was the victor, 25 to 21. Congratulations Marie. Marie will now go on to play in the Champion of Champions Singles at Irymple on the 31st October and 1st of November. The Club wish her good bowling.
Saturday Pennant October 12th. Underbool played host to Euston and at lunch the score was rather positive for Underbool. However Euston came through to win 2 of the 3 rinks. Underbool 55/2 to Euston 64/10.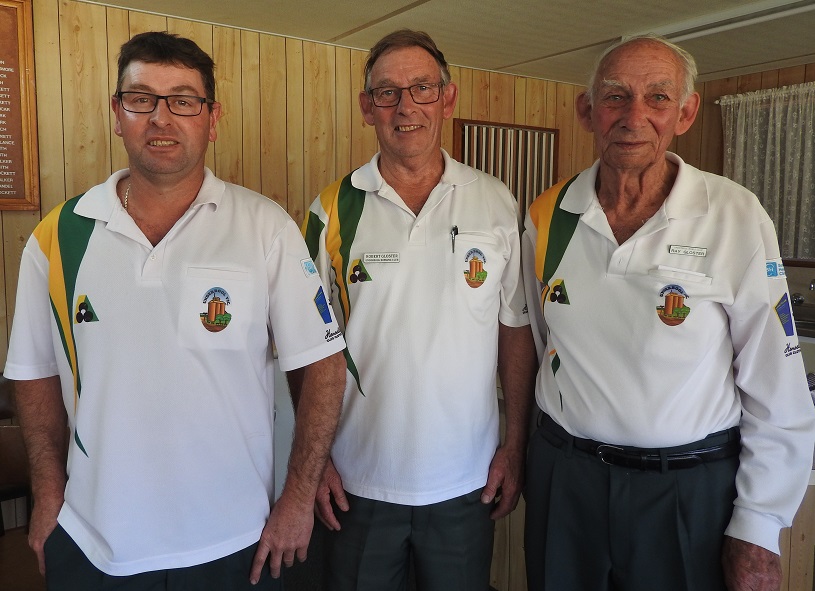 3 bowling generationsA special point of interest: It just so happened that three generations of the one family played on the same rink together on Saturday at Pennant. Ray Gloster, Robert Gloster and Cameron Gloster. A great effort.
Jen Stone, Bernadette Stone, Jennifer Wakefield, Noelene Crow, Colleen Gloster and Marie Cummings are all playing in the Dot Jenkinson Ladies Pairs to be played throughout the Sunraysia Clubs this coming week, on Thursday 10th, and Friday 11th October.
Playing host at home the Midweek Pennant game on Monday 7th October against Workers was also a day of joy when Underbool was able to win 46 points to 35.
Playing Coomealla at home on Saturday 5th October, was a day of joy when Underbool Pennant 2 team had their first overall win in 2nd Division! Underbool 68 shots to Coomealla 60 shots.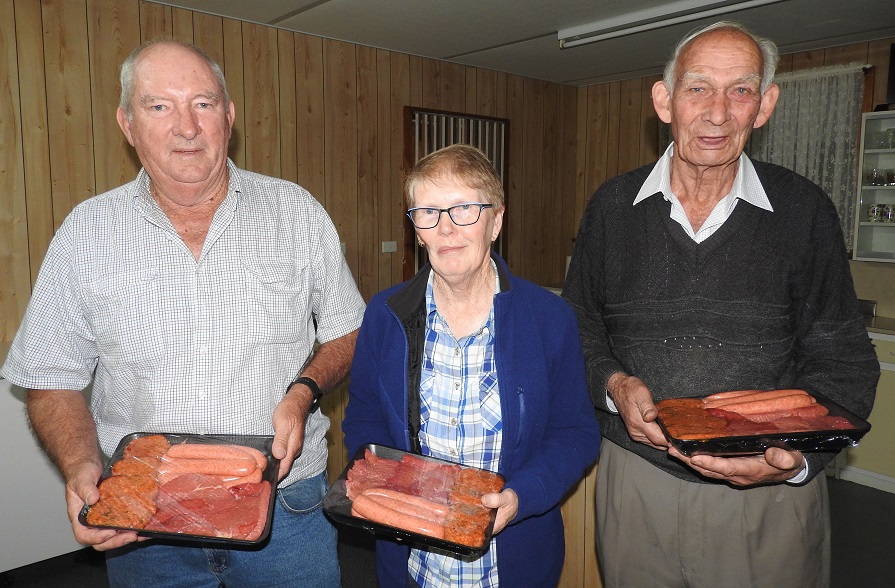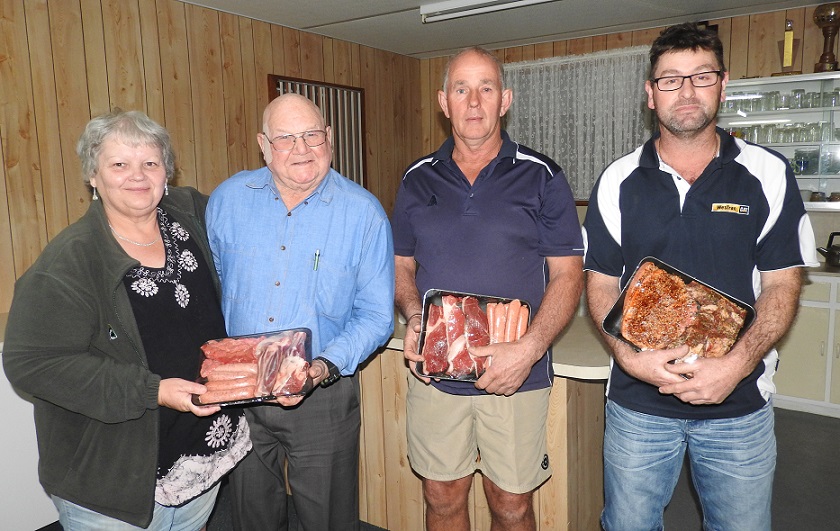 It was a perfect evening on Wednesday 2nd October for the first Twilight of the Season when 18 bowlers vied for the trophies donated from North West Butchers, Ouyen. A delicious meal was also enjoyed. President Robert thanked the donors of the trophies most sincerely and also welcomed a new bowler to the Club, Adam Kelly.
Winners of the 3 games of Triples were Alan Stone (S) Jennifer Wakefield and Ray Gloster.
Runners/up, Cameron Gloster (s) Stephen Lynch and Veronica Stone/John Cummings.
September 2019

Underbool 2 Pennant played Irymple 3 Pennant on Friday 27th September (because of AFL Grand Final).
Midweek Pennant on Monday 30th September, Underbool played Irymple resulting in a 2 point win for Marie Cummings side but a loss overall. Underbool 39, Irymple 56. A bit of a rough game on a rough day weather-wise. However, Howard Crothers side had a good win which did give the team 2 points.
Red Cliffs Triples Star Day was attended by Jennifer Wakefield, Wendy Stone and Anne Stone on Thursday 26th September.
It was the perfect day for bowls on Wednesday 18th September, when President Robert Gloster welcomed teams from Wentworth, Coomealla, Mildura, Irymple, Red Cliffs, Workers, Ouyen and Bowls Sunraysia to the Underbool Star day. To make such a day possible Robert thanked North West Ag. Services and Mc Glynn Hunt Funerals for their very generous Sponsorship.
First up was roll to the Spider which was won by Susan Nichols of Wentworth Club.
All enjoyed the Medley Day format.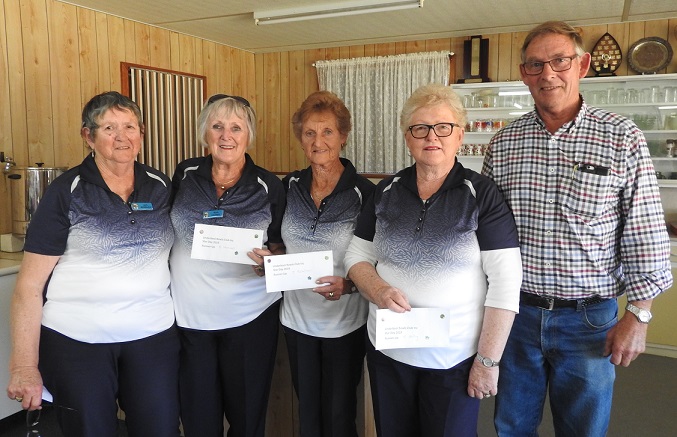 runners-upWinners: The Ouyen team of Janet Vallance, Deb Vallance, Karen Crook and Judy Pengelly on 105.5 points.
Runners/up: Another Ouyen team of Jeni Boseley, Barb Hahnel, Joan Pohlner and Sue Kelly on 105 points.
Joan Pohlner also won the lucky door ticket.
Ron Mc Adam of Coomealla and Glenda Minney of Irymple were also very lucky recipients.
A very nice afternoon tea was supplied at the end of the day. Good Mallee cooking.
President Robert thanked Wendy and her team for the delicious spread. He also thanked the competent Match Committee Jen Stone and Jennifer Wakefield for the smooth running of the day; the Green Keeper Cameron Gloster and all who attended to the Green.John Cummings was kept busy throughout the day as Umpire.

Underbool played host to Midweek 2 Pennant on Monday 2nd. September. The 32 players had a most enjoyable day together. Workers team won the day against Underbool.
2019/2020 Opening Day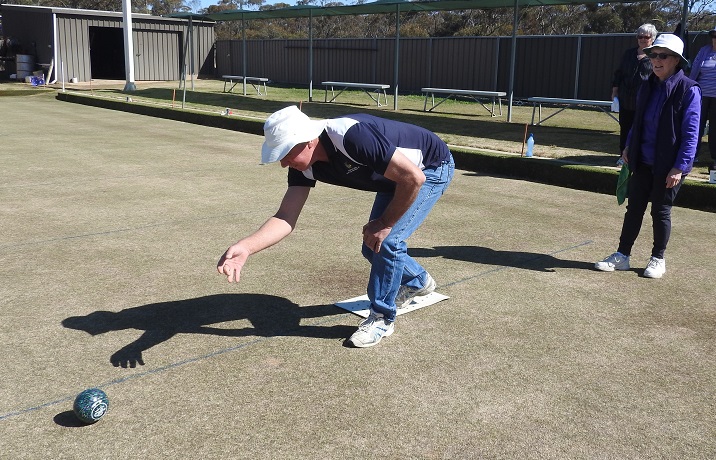 Colin rolls the first bowl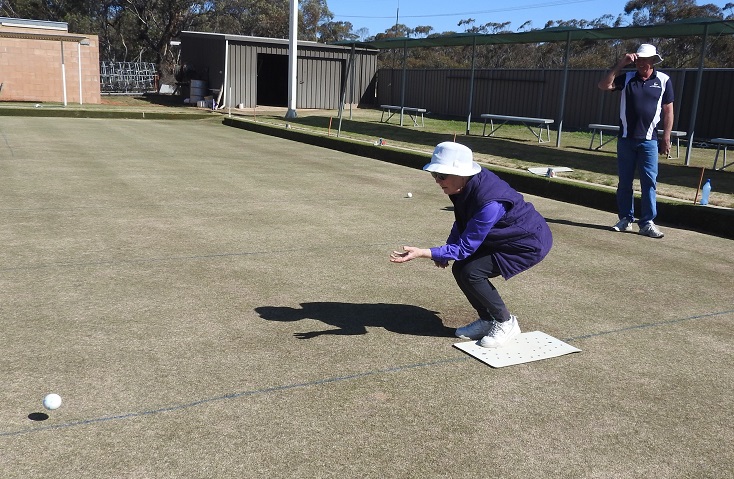 Jennifer rolls the first kitty Bowls Opening season for 2019/2020 got underway at Underbool on Saturday 31st August when President Robert Gloster welcomed 18 players to the well prepared green and invited last years Club Champions Jennifer Wakefield and Colin Lockett to roll the first kitty and bowl.
Ken Taylor from Walpeup was welcomed as a new member and player.
The great array of Trophies for the day were kindly donated by Raelene Winslow and Robert and Merle Pole. The Club is most appreciative.
Results of the day's play were - Winners - Col Lockett, Colleen Gloster and Veronica Stone.
Runners/up Robert Gloster, Ken Taylor and John Stone.
To wind