February 2019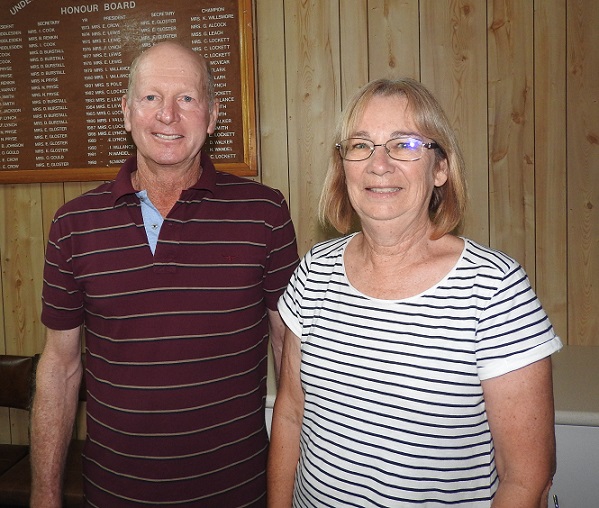 Underbool Bowls Club had an early Windup/ Presentation evening, Thursday 28th February due to work commencing on the Green. There was an attendance of 28 with players and visitors. All enjoyed the lovely cold meats and salads for the evening meal prior to play. Les Stone and Jen Stone were winners of the bowls play, with Steve Simmonds and John Stone close runners/up.
President Robert Gloster thanked all Office Bearers and the Green Keeper for carrying out their duties so proficiently throughout the season.
Trophy presentations of the various winners of Club Championships then took place. Singles, Pairs, and Fours, Ladies and Men.
A cuppa (or a drink) and some very nice slices wound up an excellent season of bowling at Underbool.
Throughout the season the members have enjoyed many BBQ meals. Thanks must go to Stephen and Gayle Lynch and Col and Rhonda Lockett for their generous donation of meat towards these occasions. Very much appreciated!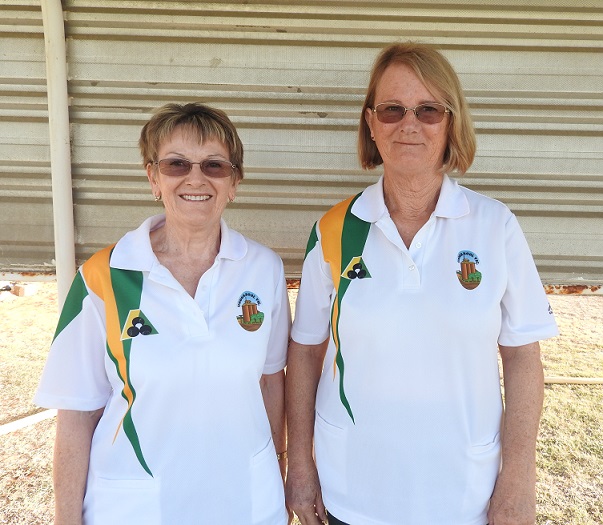 On Saturday morning Wendy Stone and Merle Pole played off for the 100 up Championship. Great draw bowling by both ladies, a close match, but it was Wendy who reached the 100 first. Congratulations Wendy, both these ladies will be very handy for the next Season's Pennant!
Those who have won Club Championship Pairs and Fours still have "play offs" within Sunraysia Division yet and the best wishes of the Club go with them.
Good bowling and good health to all.
Ladies Championship Fours were played out on Friday 8th February, with the result that the team of Bernadette Stone (s), Jennifer Wakefield, Noelene Crow and Jen Stone were the better players on the day against Marie Cummings (s), Nita Wandel, Raelene Winslow and Wendy Stone. Well done and good bowling at Euston in March.
Social bowls Saturday 9th February, 12 played with Robert Gloster and Alan Willsmore declared winners. Sixteen enjoyed a BBQ meal to finish the day.
Eight of the Club's men bowlers travelled to Hopetoun on Sunday 10th February to play in that Clubs Men's Pairs Tournament.
The bowls season at Underbool is going to be a short one because of intended work on the green so please avail yourselves of these last few opportunities to enjoy a game of bowls and support the Club.
Social Bowls Saturday 2nd February, an evening of bowling after a BBQ tea. With chocolates for the Winners, Robert Gloster and Marie Cummings and Runners/up Cameron and Ray Gloster. Lucky ticket winners were Cameron Gloster, Jennifer Wakefield and Les Stone.
January 2019
Not many Social Bowls have been played in past few weeks due to heat and Championship games.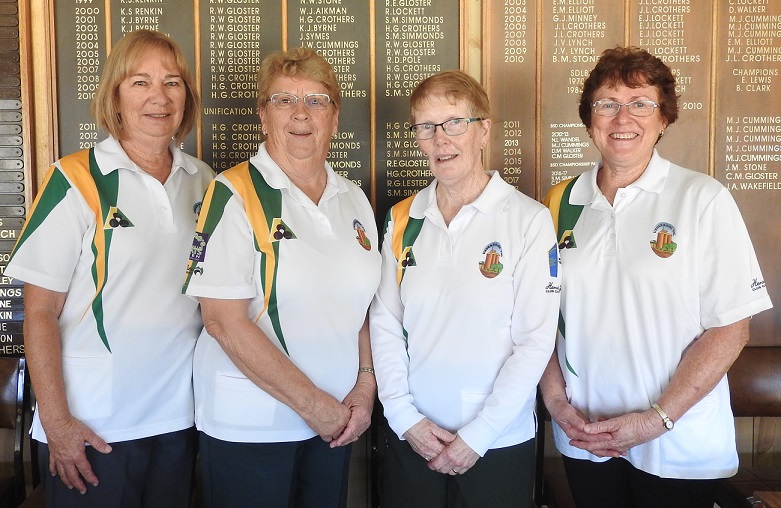 The ladies have been able to get their Championship Pairs played on mornings of reduced temperature. Nita Wandel and Jen Stone had won their previous two rounds but in the Final on Thursday 31st January, Jennifer Wakefield and Anne Stone overcame Nita and Jen in a very tight game. 16 all on the third last end, saw Jennifer and Anne win the next 2 ends to take the score to 20/16. Well done and good bowling at the next level.
The Men's Championship Fours team of Robert Gloster, Howard Crothers, Stan Stone and John Cummings, playing off at Euston on January 19th were able to win their first round against Ouyen but were defeated in next round by Coomealla.
The Jason's Ouyen IGA Christmas Twilight was held in perfect weather conditions on Wednesday 19th December. 19 played and 5 extra joined in for the evening meal.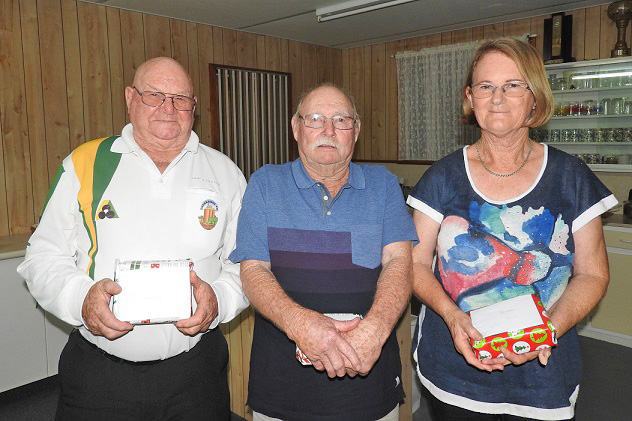 winnersWinners were John Cummings, Stan Stone and Merle Pole. Runners/up, Bernadette Stone, Jennifer Wakefield and Cameron Gloster. And as is often the case, winners were grinners with Stan Stone winning the door prize and Jennifer Wakefield and Robert Pole winning the Spider.
A great night and many thanks to the Sponsors, Jason's Ouyen IGA.
Men's Singles Club Championship
Men's singles club championship contestantsThis was played out on Sunday 23rd December between Steve Simmonds and Col Lockett. Now we all know there is great friendly rivalry between these two players on and off the green, but it was all seriousness this game. The two were 4 all and then 8 all, but then Col broke away to take the game, 25 to 19. Some spectacular draw bowling from both players. Col played at Euston in the Bowls Sunraysia Men's Champion of Champions on 5th January winning his first round against the Nangiloc Champion. Playing the following morning in the Semi Final, Col was narrowly defeated by the eventual winner of the series Wayne Gardener, 23 to 25. Congratulations Col Lockett!
Men's Club Championship Fours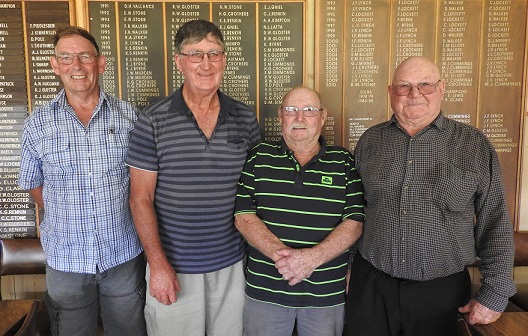 winnersPlayed on Sunday 30th December, when the team of Robert Gloster (s), Howard Crothers, Stan Stone and John Cummings prevailed over opposition Steve Simmonds (s), Alan Stone, Colin Aikman and Robert Pole. Robert's team now play in Sunraysia Championship Fours on January 19th and 20th at Nangiloc.
Social Bowls Saturday January 12th was an enjoyable gathering again for a BBQ meal, followed by an evening of bowling when Colleen Gloster (s) and Jennifer Wakefield won with 63 points, whilst Howard Crothers(s) and Wendy Stone were Runners/Up on 60 points.
December 2018
Saturday Dec 15 Pennant Well what a triumph, what a finish to the Saturday Pennant season! Underbool Division 3 playing Workers 3 along with the other 3 Pennant Division Teams of Sunraysia Bowls.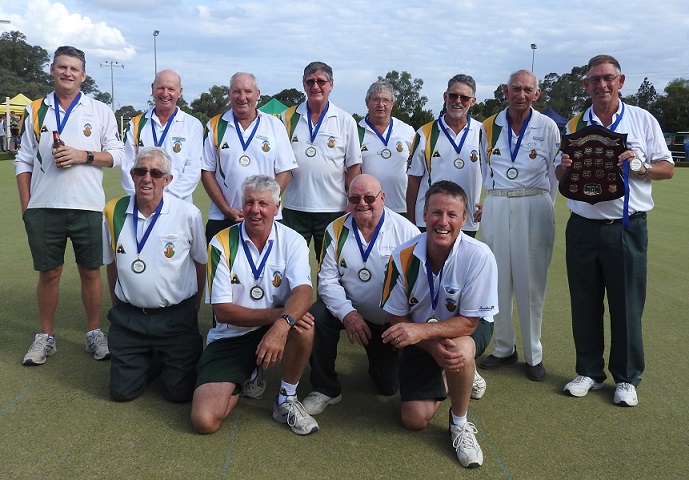 Division 3 Pennant winnersWorkers had the edge right up to afternoon tea break with Underbool 13 down overall. But to quote President Robert Gloster "Steve Simmonds' rink were all square on 19 shots with 3 ends to play and proceeded to put the foot down picking up 10 shots which changed the overall outlook somewhat.
Robert (Glosters) rink was in all sorts of trouble at the 15th being 17 shots down. However following afternoon tea they picked up 18 shots to 4 to only go down by 3 shots.
Howard Crothers rink had a close tussle all day, but the pressure was on being the last rink to finish and protecting an overall Team margin of 4 with one end to play. They survived a dead end and proceeded to pick up a shot, the rink going down by 2 but the Underbool Team winning overall by 5.
Underbool 71 shots to Workers 66. A great crowd of supporters added to the excitement of the day and along with the two teams from Ouyen Division 4 and 2 winning their games, it is congratulations to the southern bowlers of the Sunraysia District Bowls and to Irymple on winning Division 1.
Photos, Presentation of Medals and Shields brought a close to Pennant for 2018, but the excitement and celebrations will no doubt continue on for many days.
Ladies Singles Championship Finals. These commenced on Monday 17th December at Mildura Bowls Club, Underbool's Champion Jennifer Wakefield played Mildura's Champion Val Munro. Jennifer played very well but Val was the winner of the game.
Plenty more bowls to be played yet but with the Christmas break coming up it is Season's Greetings to all and good bowling fellowship.
At the Semi Final of Saturday Pennant December 1st, Underbool played Wentworth and had a win of all 3 rinks. Underbool now go straight to the Grand Final to play the winner out of Workers and Wentworth. Best of bowling to all players.
Bernadette Stone, Jen Stone and Noelene Crow travelled to Euston Bowling Club to play in the Star Day and won 2 out of their 3 games. Another great effort.
November 2018
What an exciting weekend it was for Underbool Bowling Club members!
Firstly there was the Sunraysia District Bowls Pennant Best and Fairest Dinner, held at Mildu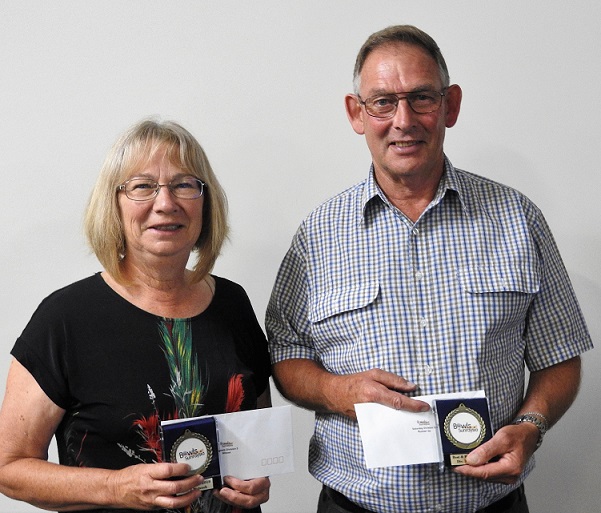 Jennifer and Robert - congratulations to these winners ra on Friday evening 30th November. A meal, a grand performance by the Mildura Irish Dance Company and the all-important counting of the points system allocated to players throughout the various Divisions of the Pennant Season.
Underbool Bowls Club fared extremely well with Robert Gloster topping votes for Saturday Pennant Division 3. Howard Crothers was in the Runners Up count.
Whilst in Midweek Pennant Division 2, Jennifer Stone topped the point's allocation. Congratulations especially to Robert and Jennifer, and to all Pennant players of the season.
Marie Cummings, Nita Wandel, Bernadette Stone and Jen Stone travelled to Wentworth Wednesday 14th November to take part in the Margaret Cooke Star Day. They won 2 of their 3 games.
Social Bowls No Pennant this week because of State Bowls. This allowed more to play at home on Saturday. A good social day was held followed by a BBQ tea. Winners of the day were Marie Cummings, Raelene Winslow and Ray Gloster, from Robert Lester and Cameron Gloster.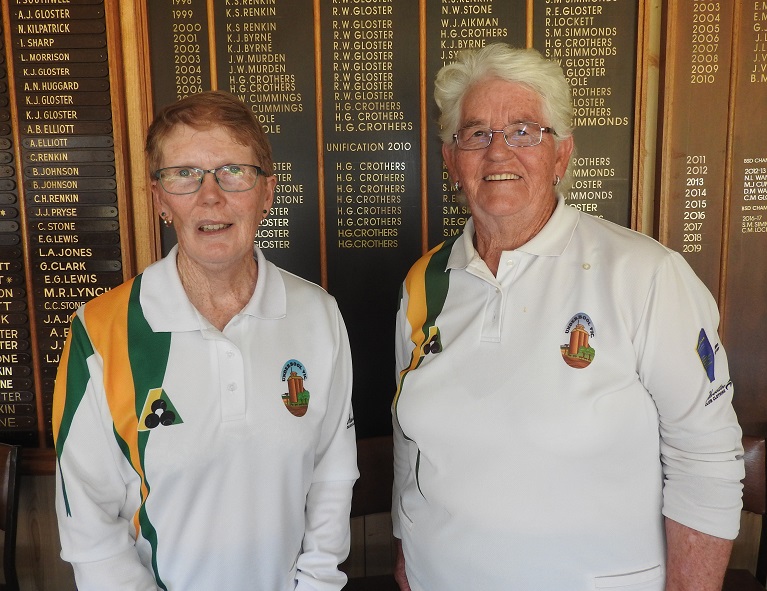 The big event of the weekend was the Finals playoff of the Ladies Singles Championship between Marie Cummings and Jennifer Wakefield on Sunday afternoon.
And it is Congratulations to Jennifer Wakefield on her thrilling win against Marie in a nail biting game. The good crowd of supporters were treated to a magnificent game. A close tussle throughout saw both players 24 all with the deciding end to play. And it went to Jennifer, 27 to 24. Jennifer was B grade Champion last year and has remarkably topped it with the Club Championship this year. Your persistence and dedication has paid off. Commiserations to Marie who came so close and has featured in so many Championships over the years.
Jennifer will now play off in the Bowls Sunraysia Women's Championship Singles in December and the very best wishes of the Club go with her.
October 2018
Underbool Star Day
It was a perfect day for bowls on Sunday October 21st when President of Underbool Bowls Club Robert Gloster welcomed 60 to the green. Two fills of 30 playing Triples. Representative Clubs were Euston, Ouyen, Merbein, Nangiloc, Irymple, Hopetoun, Donald, Murrayville, Mildura Workers and Underbool.
There were many compliments of how the tournament was conducted and for the beautiful food provided.
There were four 3 game winners.
Winners of the da were Darren Cass (s), Phil Connell and George Milward from Irymple Bowls Club.
Runners/up: Col Slingo (s), Matty Andrew and Heath Slingo from Nangiloc Bowls Club.
Third Place from Euston Bowls Club were Lyn Parker (s), Noel Johnson and Doug Ancrum.
Many thanks to the Major Sponsor of the successful day, Crowe Horwath.
Other Activities
Social bowlers played Scroungers at home on October 13th with Raelene Winslow the winner. And similarly on October 20th when Marie Cummings won.
Congratulations to Steve Simmonds and Alan Stone who won the 60 and Over Pairs Tournament at Hopetoun on 10th October.
Marie Cummings, Jennifer Wakefield, Bernadette Stone and Jen Stone played in the Dot Jenkinson Ladies Pairs Tournament in Sunraysia recently.
Workers Bowling Club held their Star Day on 17th October, Underbool was represented by Marie Cummings, Colleen Gloster and Jen Stone, who won 2 out of their 3 games. Well done ladies.
Twilight First Twilight bowls event for the season was held on Wednesday 3rd October. A very chilly evening but the camaraderie made up for the cold conditions.
Nineteen bowlers enjoyed playing for the magnificent Meat Trays kindly donated by North West Butchers of Ouyen.
A special welcome was made to Sue and Drew Knight, recent newcomers to our town. While Sue was happy to watch the play, Drew acquainted himself with a bowling green again after many years and both thoroughly enjoyed the company. A very nice meat and salad meal was much appreciated.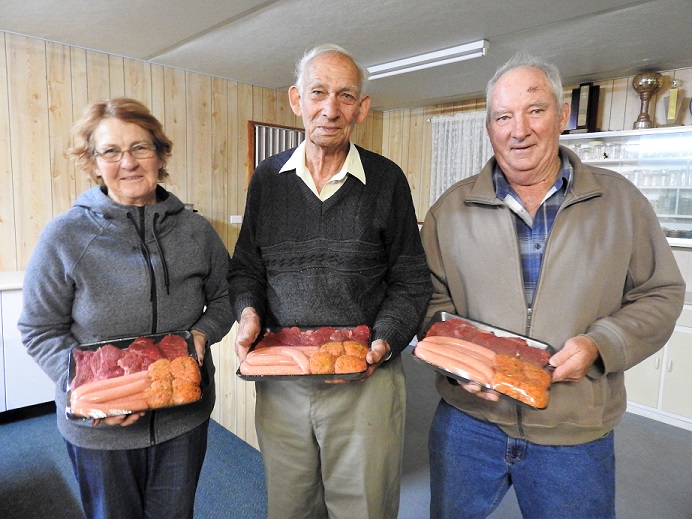 runners upWinners of the evening on 74 points were Col Lockett, Jennifer Wakefield and Stephen Lynch.
Runners up on 54 points were Alan Stone, Ray Gloster and Dot Brown.
Robert Pole and Nita Wandel were also lucky recipients of Meat Trays.
Many thanks again to North West Butchers for your generous Sponsorship.
The Stone girls were on a roll at Red Cliffs Star Day 27th September, when Jen Stone, Bernadette Stone and Wendy Stone came Runners/up. Well done ladies.
Good bowling to all.
September 2018
Underbool Ladies Star Day 19th Sept.
President of Underbool Bowling Club, Robert Gloster, welcomed 48 Sunraysia bowlers to the Underbool Star day on Wednesday 19th. September. All Sunraysia District clubs were represented – Wentworth, Coomealla, Merbein, Euston, Mildura, Workers, Irymple, Red Cliffs and Ouyen. It was also pleasing to have the President of Bowls Sunraysia, John Bond join play for the day.
All enjoyed the Medley Format of play.
Special thanks go to the very generous Sponsors of the day – A.J. Gloster and Sons, Poole and Jackson and Sunrise AG.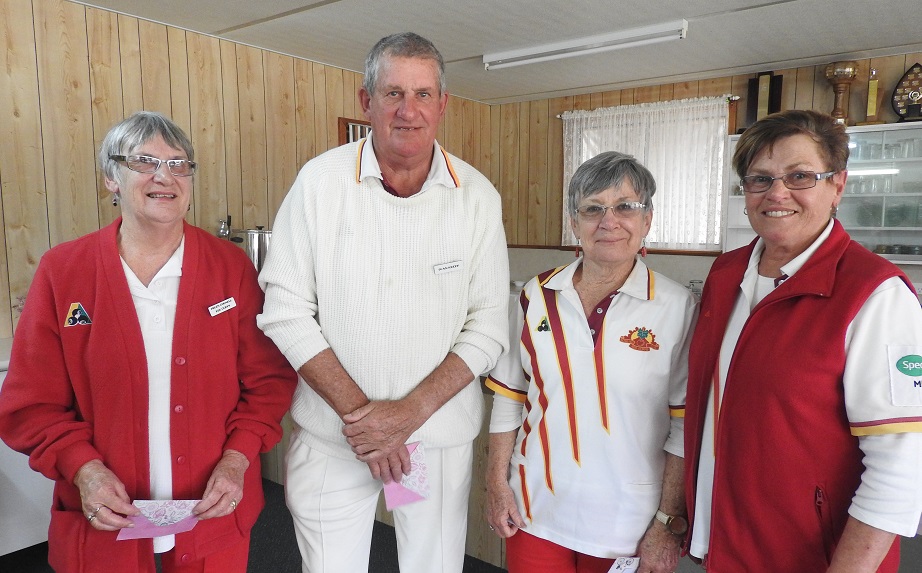 runners upIrymple team comprising of Jackie Franklin (s) Christine Doherty, Judy Lynch and Eileen Dunn (Workers) were the lucky winners of the day on 95 points.
Runners/up were the Red Cliffs team of Brenda Lindsay (s) Vivian Menner, Ivan Krepp and Helen Cornell on 84 points.
Roll to the ditch was won by Vivian Menner and Lucky Door Prize went to Val Latta.
Delwyn Milner and Glenda Minney were also lucky recipients.
Bernadette Stone in making the Presentations, also thanked everyone for attending. Underbool ladies for the very capable catering, the local Greens committee and Match committee for preparation and work on the day. All helped to make a very successful Star Day.
Underbool Bowls Club Opening Day was held in rather cool conditions on Saturday 1st September. Underbool Club President Robert Gloster in declaring the season for 2018/2019 open, welcomed 34 bowlers to the green, including a large contingent of visitors from the Ouyen Bowling Club.
A great afternoon of camaraderie and good bowling was enjoyed by all as was the BBQ meal that followed. Thanks must go to Raelene Winslow, Robert and Merle Pole for the donation of trophies for the day and meat for the BBQ.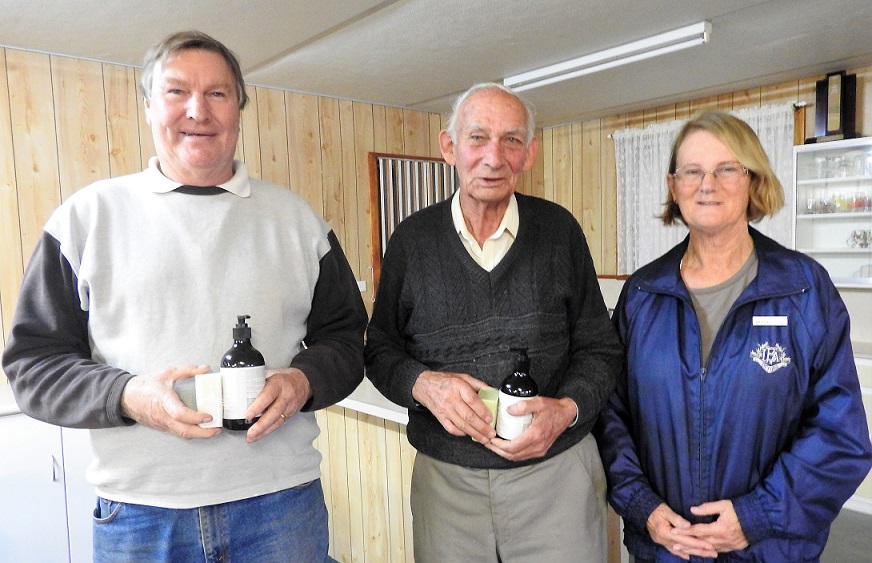 winners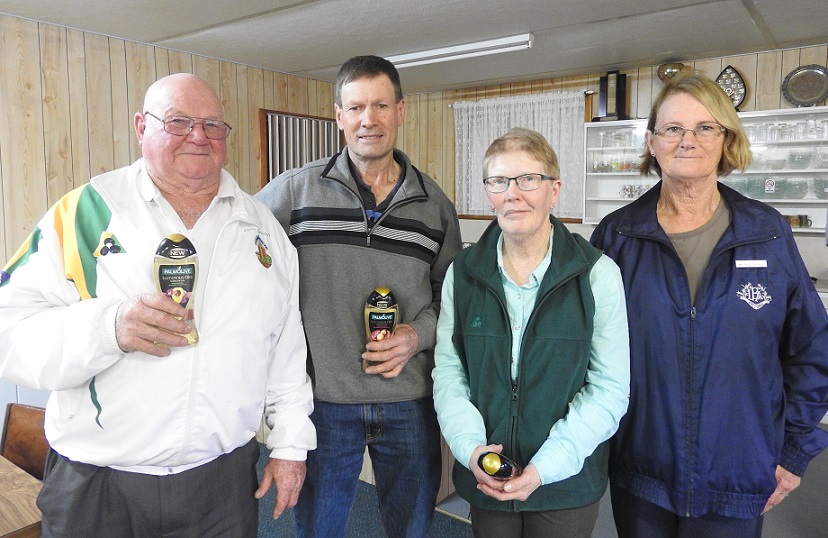 runners-upWinners of the day were Terry Pitcher and Ray Gloster (91 years young and still winning at bowls) on 62 points.
Runners/up, John Cummings, Colin Willox and Jennifer Wakefield with 60 points.
Thanks to Ouyen bowlers for helping to make the day a special one.
April 2018
All good things must come to a close and Underbool Bowls Club certainly had a very good day for their wind up to the 2017/18 Season on Saturday 7th April. The Club has had a very successful year with many highlights and great play from some fine bowlers.
The wind-up was coupled with sponsorship from Greggs, Wethers and Wilson of Ouyen, represented by Ron, Barry and Donna Gregg. President of Underbool Bowls Club Robert Gloster thanked the sponsors for their ongoing generosity.
Adding greatly to the day were 20 visitors from Ouyen Bowls Club, past local bowlers and friends.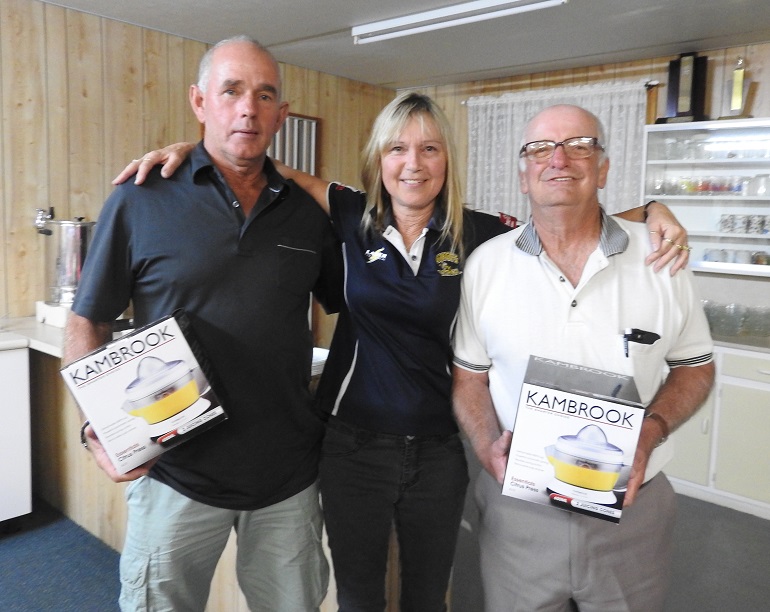 Winners of play on a full green, were Reg Dean and Steve Lynch on 79 points, closely followed by runners/up John Cummings, Brian Heenan and Donna Gregg on 78 points. Judy Pengelly and Alan Willsmore got their bowls closest to the big black spider.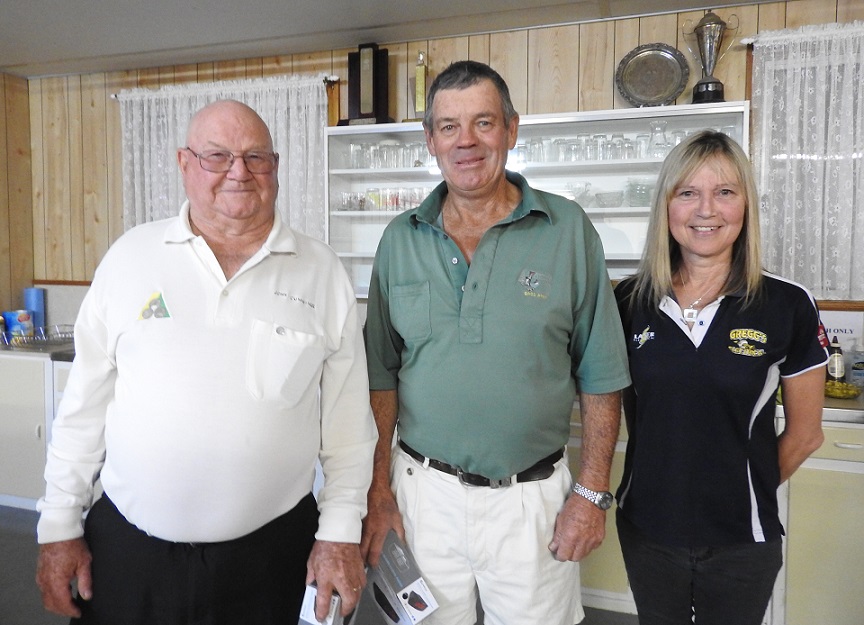 Runners-up
Presentations were made to all Championship winners throughout the season. President Robert thanked all office bearers and members for their support and input throughout the year.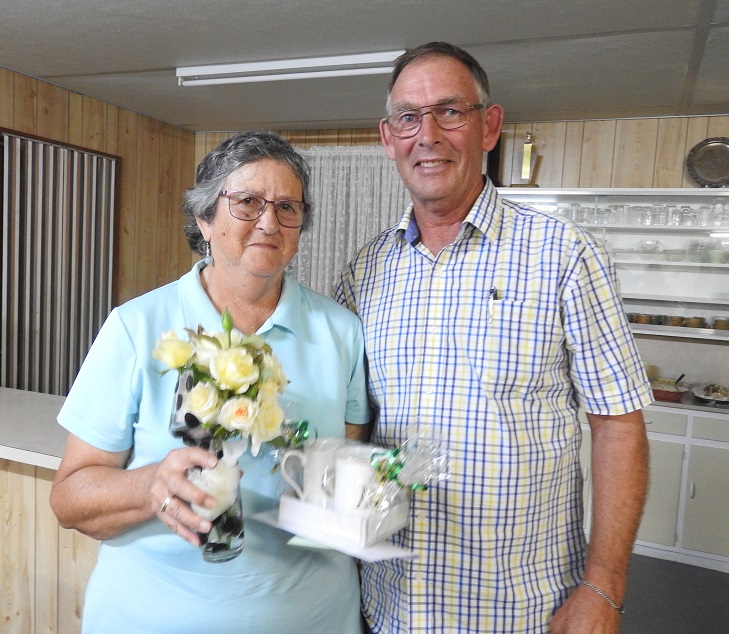 Jeni with President RobertA farewell presentation was made to Jeni Boseley who has transferred to Ouyen Bowls Club. Ouyen being her place of abode now. Jeni has made a significant contribution to our Club, not just as a very handy bowler but in her culinary efforts as well. We will miss her, but she has said she will be back to play from time to time. Thank you Jeni.
And thank you also to the Ouyen Bowlers who travelled out to the Underbool Club and helped make the day so special. "There should be more of this more often with neighbouring Clubs !" was overheard more than once.
Fifty five people sat down to a BBQ and a variety of salads, followed by fruit salad and ice-cream.
The season has closed for Underbool but there are still upcoming Carnivals and special days at other clubs, where some bowling will be enjoyed.
March 2018
Members are enjoying participating in other Club's special bowling days, travelling to Wentworth Powder Puff Day, Murrayville Fours and Terry Wright Steel Pairs at Ouyen.
Thursday March 8th was the playoff final of the Ladies Club B Grade and 100 up Championships. Jennifer Wakefield is B Grade Champion for 2017/2018, with Runner/up Wendy Stone.