Underbool Press
The Press has resumed using a roster system to type and print each week.
Thank you to those who have volunteered to be on the roster and type. More volunteers are always welcome.
Printed copies of the Press are available from the Underbool Post Office and Pink Lakes Pantry when Covid restrictions allow.
Underbool CFA Fire Truck Roster
In the current circumstances and to protect our volunteers we are only permitting one person to take the fire truck out for its weekly run.
Please remember to sign the attendance sheet at the station and to take your mobile phone with you.
The truck can be taken out any day during your rostered week.
Please remember to check the fuel level and organise to fill it if required. We cannot turn out to fires if there is no fuel in the truck.
If you are unable to take the truck out, please contact the Committee Member responsible for your month.
March 2021 - 2nd Lieut Kevin Brown
7/3 Kieran Hayter
14/3 Jack Winslow
21/3 Tim Gloster
28/3 Stephen Lynch
April 2021 - 3rd Lieut Allan Lynch
4/4 Callum Winslow
11/4 Terry Kilpatrick
18/4 David Boseley
25/4 Jason Elliott
Mallee Border Health Centre
Di Thornton, Nurse Practitioner, is available by appointment on her usual day – Tuesday in
Underbool .
Appointments can be made by calling 08 8577 8065 or mobile 0448522703 or at www.malleeborderhealth.com.au
Underbool Progress Group Inc.
The Underbool Progress Group Inc. would like to remind the community that the fee for the group for 2020-2021 are now due. The cost for membership to the Underbool Progress Group Inc. is $2.00 and this allows your voice to be counted on votes at meetings. This payment can be given to Lynda Winslow. Thank you.
Underbool Progress Group Inc. are selling
Centenary book 'EMBRACING OUR MALLEE HERITAGE' and poster for $10.00.
CONTACT Joan Willsmore on 0427 926 285 if you are interested.
SPECIAL TIME OFFER
ONLY 30 BUY WHILE STOCK LASTS for $10.00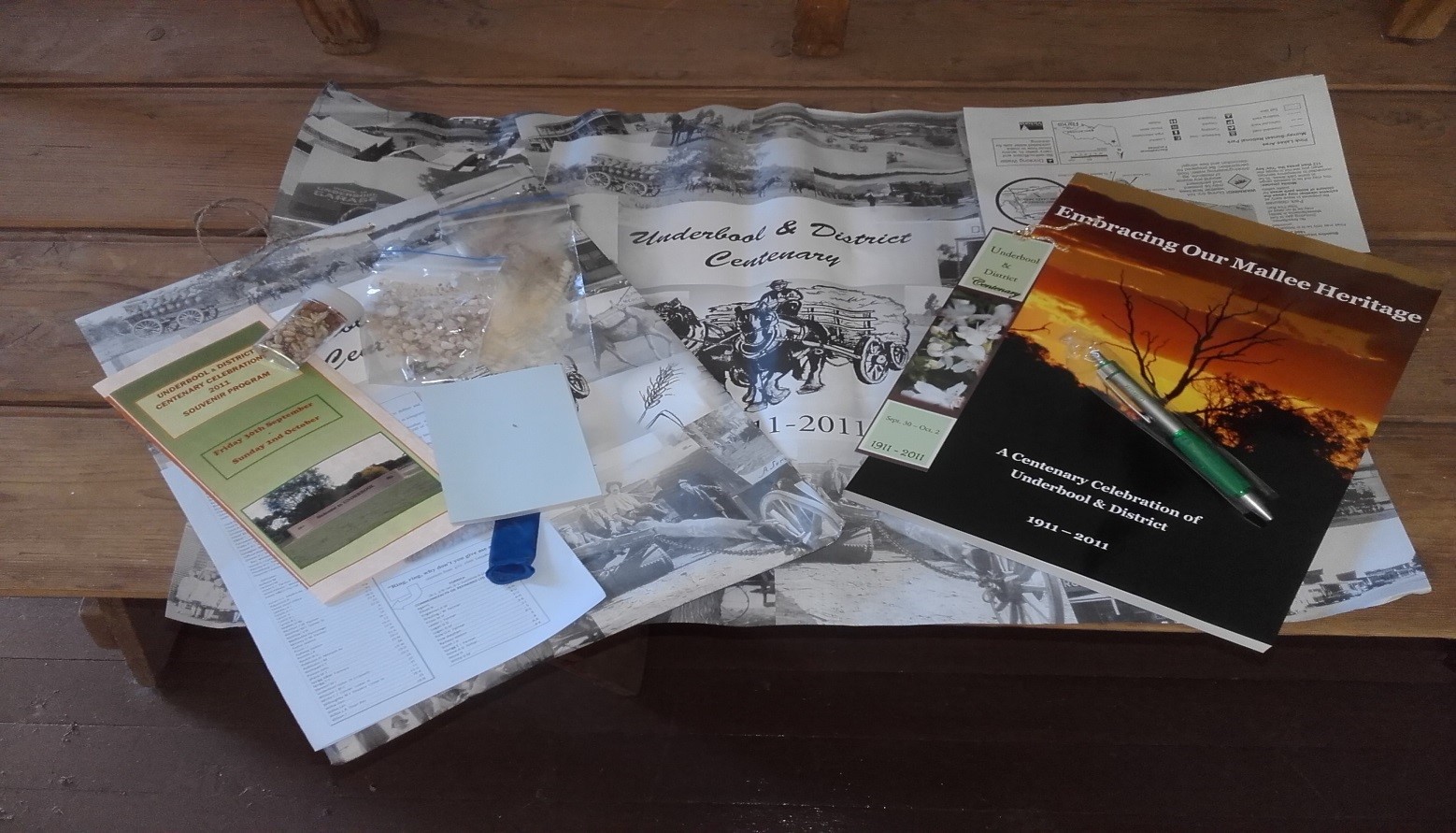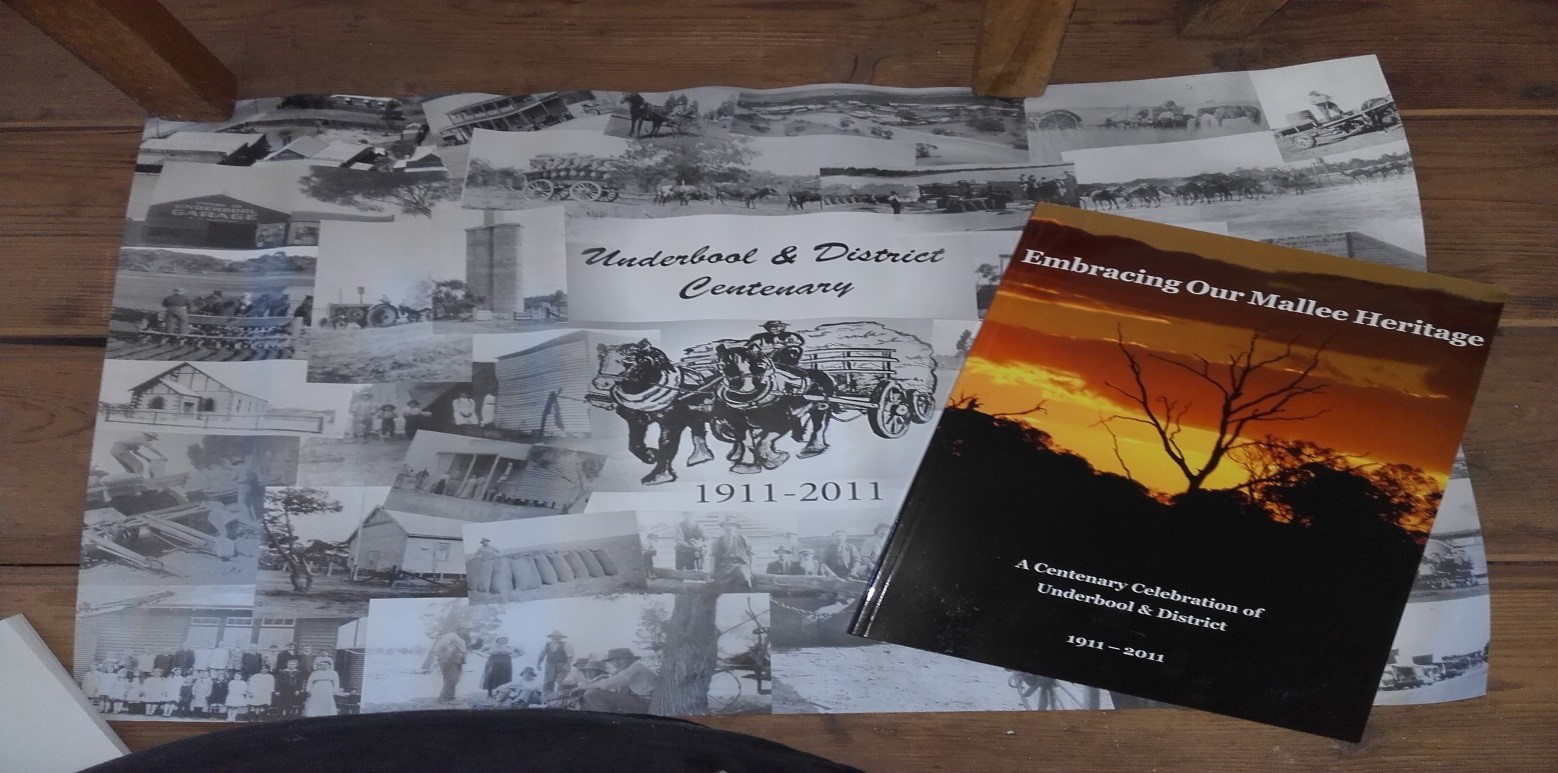 Underbool Bowls News
Social Bowls Saturday 6th March, seventeen played, with three wins going to Colin Aikman (s) Jen Stone and Scott Brammer. Runners/up were Howard Crothers(s) Raelene Winslow and Ray Gloster.
Ladies Club Championship Pairs was played on the morning of Monday 8th March with Bernadette Stone and Raelene Winslow playing Marie Cummings and Colleen Gloster. Bernadette and Raelene had a good win and now go on to play at Euston on Saturday and Sunday 27th and 28th March in the Sunraysia Ladies Championship pairs. Good bowling ladies.
Best wishes to those ladies playing in the Sunraysia Ladies Championship Fours this weekend 13th/14th March at Ouyen.
Local bowlers taking part in Bendigo Country Week Bowls this week 15th to 18th March are, Ray Gloster, Robert Gloster, Howard Crothers, Steve Simmonds, Colin Lockett, Alan Stone, Robert Lester and they will also be joined by ex Underbool bowler Ken Byrne.
Good bowling all.
Mallee Track Health & Community Services News
Ready for some exercise?
If you're interested in getting involved in a Mallee Track H&CS exercise program please register your name with Lara Wakefield (0402 045 984 or visit me at the Underbool Bush Nurse Centre on a Tuesday) so that we can organise for an assessment and then program development with Kate (Physio) and Tsharni (Allied Health Assistant). The exercise programs will be personalised and people of all ages and abilities are encouraged to be involved. Please also contact Lara for more information.
Lara Wakefield
Outreach Worker
Mallee Track Health and Community Service
Ph 0402045984
COVIDSafe Settings restrictions now apply
Victoria returns to COVIDSafe from 11:59pm on Friday 26 February 2021.
These restrictions are designed to balance getting Victorians back to doing the things they love while also putting in place measures to protect all that Victorians have worked so hard for.
For detailed information about the current restrictions including when face masks are required, please visit the Victorian Government's dedicated COVID website: https://www.coronavirus.vic.gov.au/how-we-live
March is Endometriosis Awareness Month!
What is Endometriosis?
Endometriosis is a common disease in which the tissue that is similar to the lining of the womb grows outside it in other parts of the body. More than 830,000 (more than 11%) of Australian women suffer from endometriosis at some point in their life with the disease often starting in teenagers. Symptoms are variable and this may contribute to the 7 to 12-year delay in diagnosis. Common symptoms include pelvic pain that puts life on hold around or during a woman's period. It can damage fertility. Whilst endometriosis most often affects the reproductive organs it is frequently found in the bowel and bladder and has been found in muscle, joints, the lungs and the brain. In an Australian government report, endometriosis is reported to cost Australian society $9.7 billion annually with two-thirds of these costs attributed to a loss in productivity with the remainder, approximately $2.5 billion being direct healthcare costs.
For more information https://www.endometriosisaustralia.org/
Lara Wakefield
Outreach Worker
Mallee Track Health and Community Service
Ph 0402045984
Underbool Primary School Bakery Fundraiser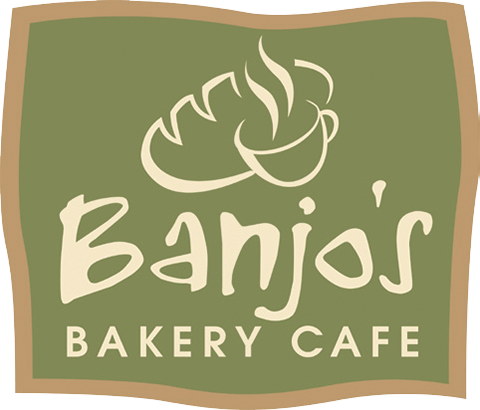 The Underbool Primary School is holding its annual bakery fundraiser. This year we are teaming up with Banjo's Bakery Café to bring you Hot Cross Buns and Mini Favourites (sausage rolls, pasties, party pies, mini quiches and pizza squares). Stock up your freezers now before the school holidays and cropping start.
Orders and payments need to be in by
Thursday the 18th March.
Payment is via cash (sent into the school in a sealed envelope with your order forms) or via direct deposit to the school account.
Order forms are attached or contact a school parent or the school to have some emailed or dropped off.
Orders will be available for pickup on Thursday 25th March. Further delivery information will be distributed closer to the date.
If you have any questions, please contact the school on
5094 6342 or mobile 0478 662 394.
Your support is greatly appreciated.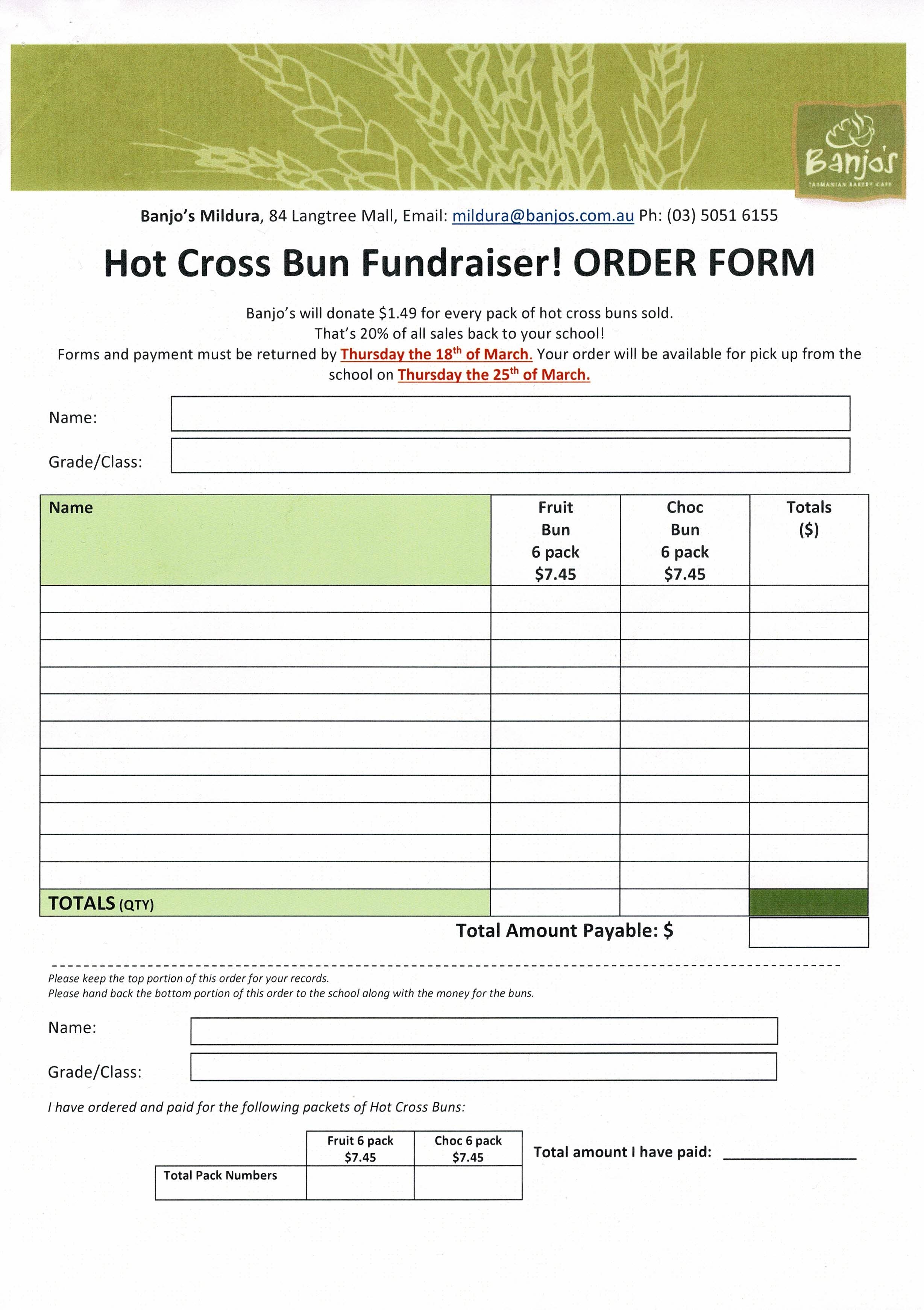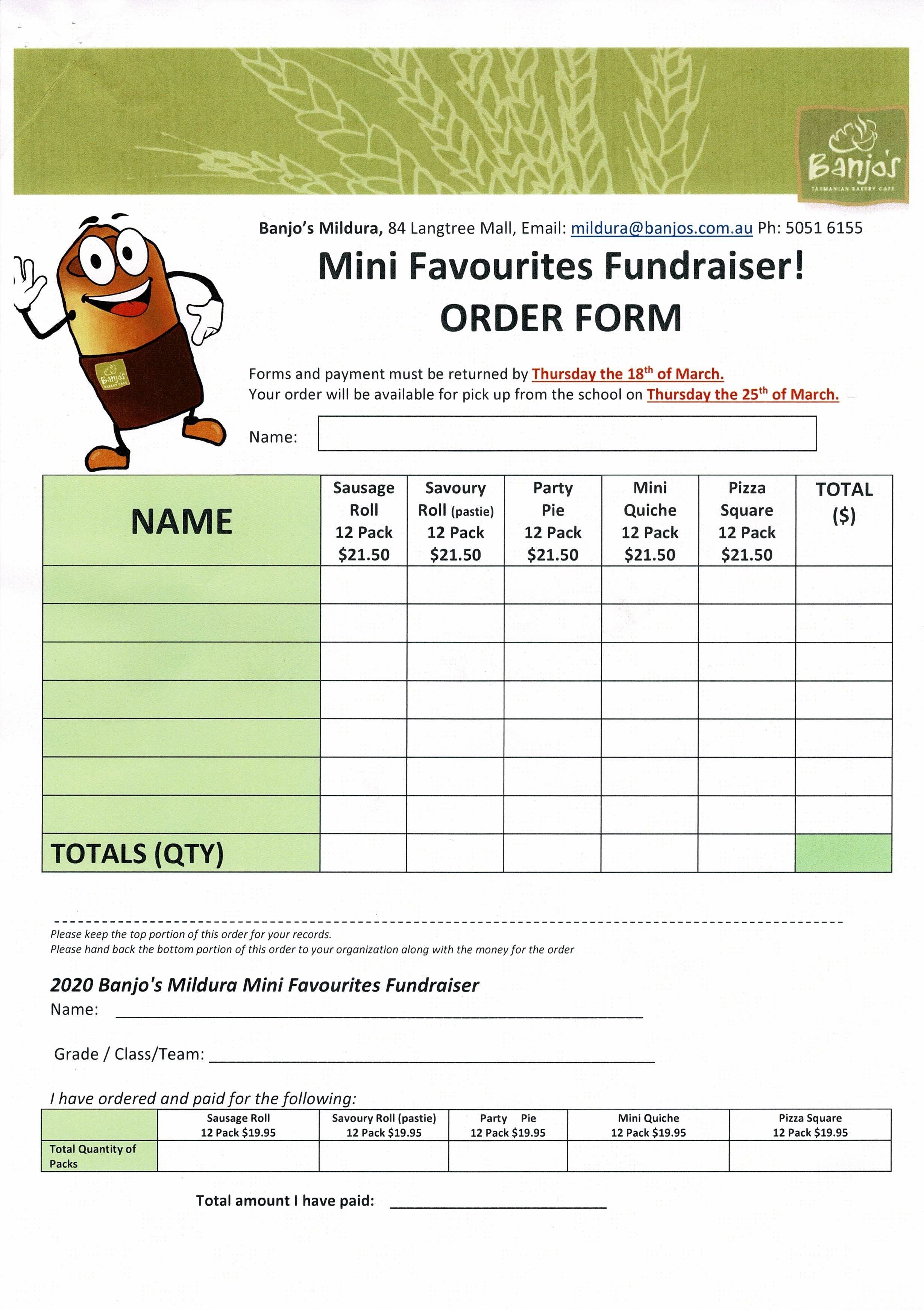 Next Typist- 17th March- Colleen Aikman