MTHCS
Di Thornton, Nurse Practitioner, is available by appointment on her usual days – Tuesday in
Underbool and Wednesday in Murrayville.
Appointments can be made by calling 08 8577 8065 or mobile 0448522703 or go to www.malleeborderhealth.com.au
Di will not be in Underbool or Murrayville on Tuesday 24th Dec, Wednesday 25th Dec or Wednesday 1st January.
Di will be available on Tuesday 31st December in Underbool depending on booking numbers.
Pathology – Please contact Glennis Barnes on 5092 1111 to discuss your needs should you have difficulties arranging a visit to a pathology collection outlet in Ouyen or Pinnaroo.
Underbool Fire Truck Roster
Dec 2019 1st Lieut Ron Jackson
15/12 Terry Kilpatrick & Mick Brown
22/12 Callum Winslow & Tom Sprigg
29/12 Ross Burstall & Garth Aikman
January 2020 2nd Lieut Kevin Brown
5/1 Sam Crow & Matt Brown
12/1 Simon Brown & Simon Morrison
19/1 Jim Elliot & Andrew Willsmore
26/1 Garry Crow & Daryl Beasley
February 2020 3rd Lieut Allan Lynch
2/2 Geoff Lockett & Piers Farnsworth
9/2 Col Aikman & John Stone
16/2 Chris Lynch & Adam Kelly
23/2 Steve Donnellan & Steve Lynch
Underbool Primary School Concert.
Friday the 13th December 2019
The school concert is being held on Friday 13th of December, doors opening at 6pm for a 6.30pm start. Come and watch the primary school children perform, buy a ticket in the Christmas Hamper Raffle and enjoy a visit from Santa. The Parents & Friends will be providing a light supper after the concert.
Any 'special instructions' for Santa can be left at Corbett Rural Supplies by Wednesday the 11th of December ($20 limit). 'Special instructions' cannot be accepted on the night sorry. For further information please contact Kylie 0408393817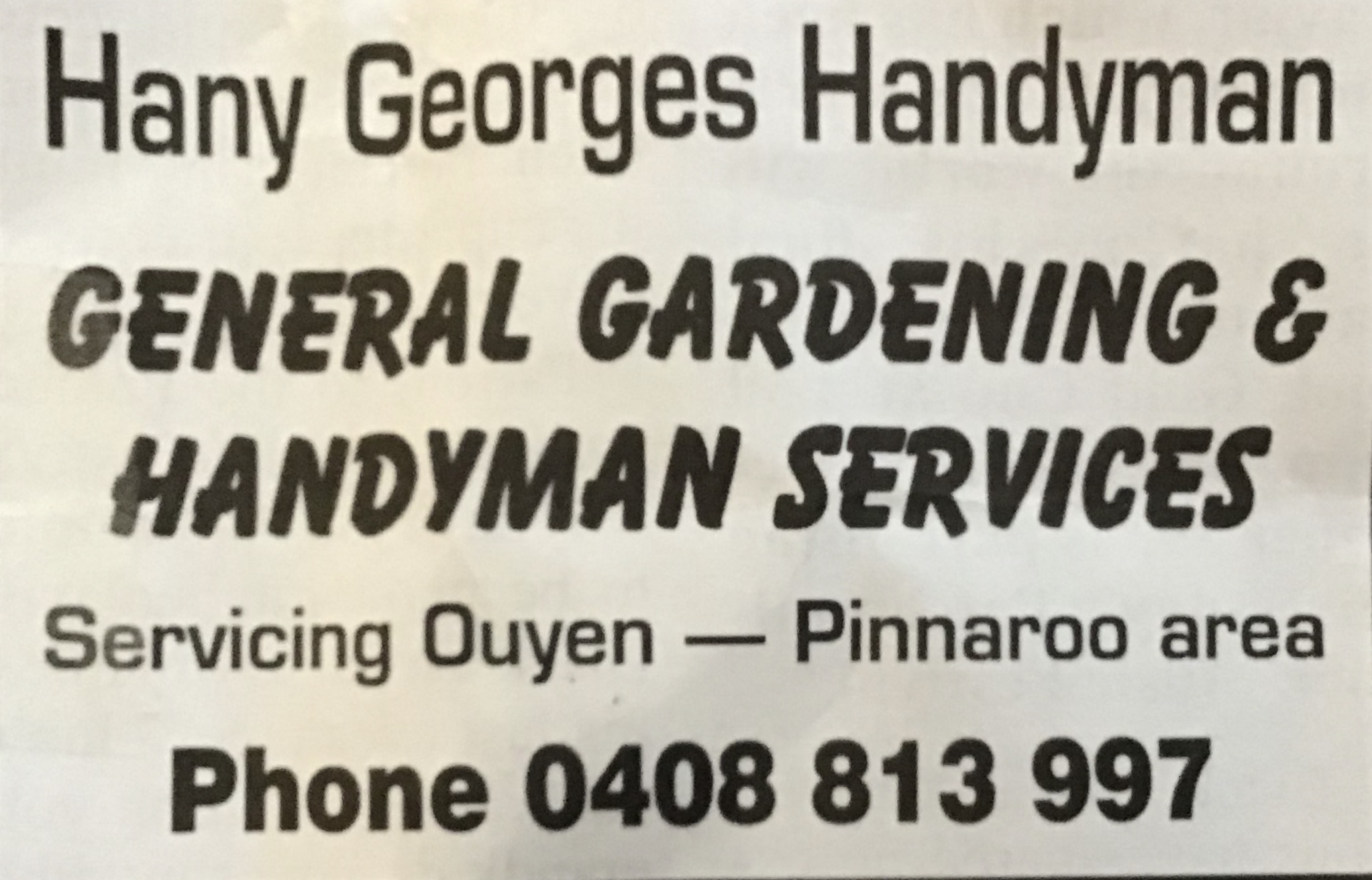 Don:$2.00
Underbool Press
The committee would like to take this opportunity to thank all of our typists, delivery people and the staff at the Underbool Post Office, Pink Lakes Pantry and School for their help during 2019.
If anyone would like to take a turn at typing and printing the press in 2020 (approx. four times a year) please contact Sonia McVicar (50946456) or Helen Gloster (50946305). If any of our current typists are no longer able to help in 2020 please let us know before the roster is drawn up.
The first edition of the Underbool Press for 2020 will come out on Wednesday the 29th January and the typist will be Helen Gloster (dhgloster@bigpond.com).
We would like to wish all of our readers a Merry Christmas and a safe and enjoyable festive season.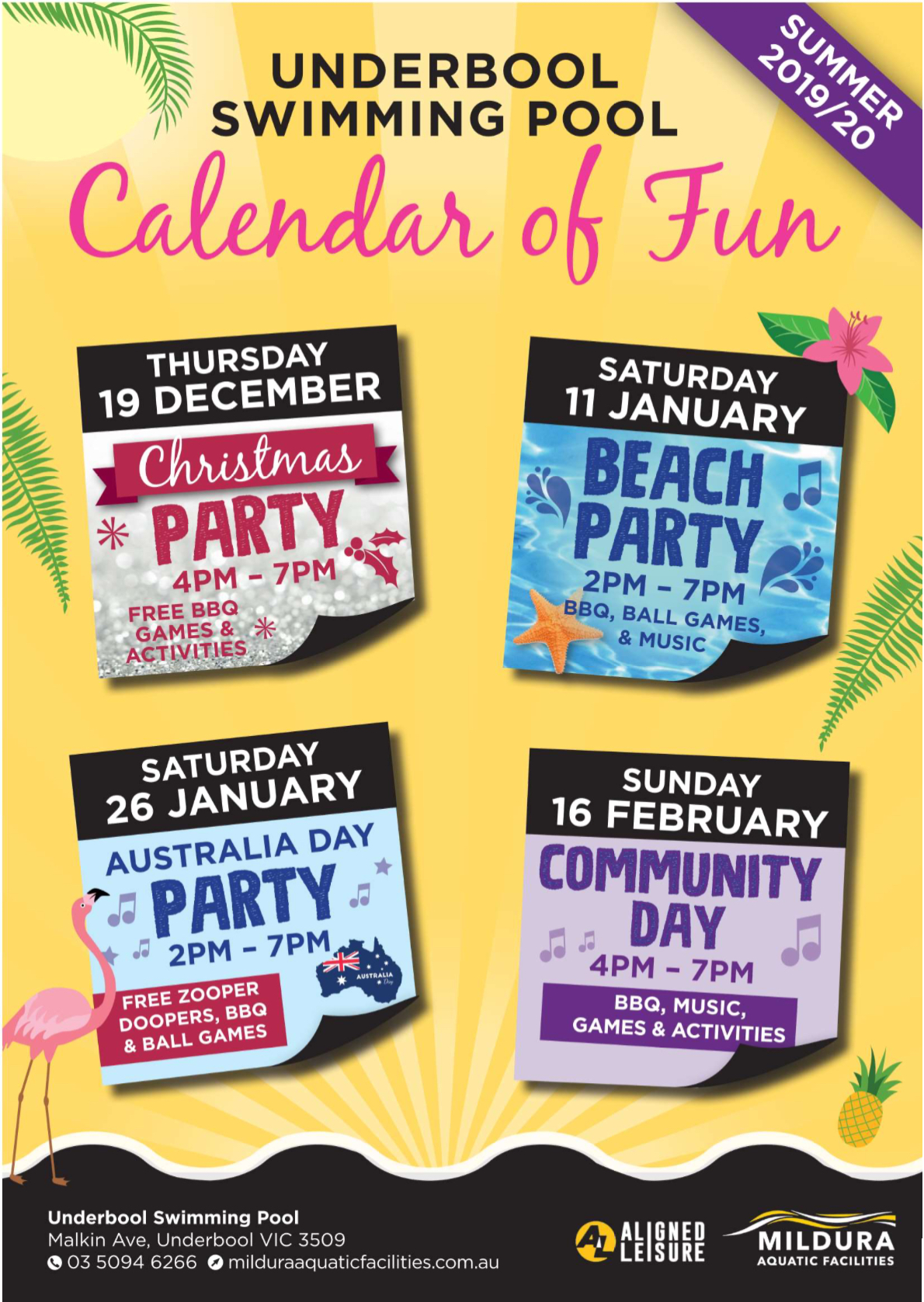 Next typist 18th December
Helen Gloster dhgloster@bigpond.com