Mallee Border Health Centre
Di Thornton, Nurse Practitioner, is available by appointment on Tuesday in Underbool.
Appointments can be made by calling 08 8577 8065 or mobile 0448522703 or at www.malleeborderhealth.com.au
Underbool Bowls News
Underbool Bowls Club Members have cause for much celebration at the moment. First hearty congratulations to Marie Cummings who has taken out the Sunraysia Division Ladies Singles Championship in a close game with Daphne Loveday of Workers Bowling Club. A contingent of Underbool bowlers travelled to Mildura Bowls Club on Sunday morning 13th December to support Marie. Marie has been Ladies Singles Champion at Underbool 11 times and is the first Underbool lady to go through to win Sunraysia Division Ladies Singles Champion.
Later in the day back at the Underbool Bowls Club the Men's Singles Championship was contested by the "two Cols". Col Lockett and Colin Aikman. Top draw bowling by both players but it was Col Lockett who took out the match. Best wishes for good bowling to Col Lockett who now goes on to play in the Sunraysia Division Men's Singles Championship on January 2ndat Workers Bowls Club.
Social bowls on Saturday 12thDecember, sixteen played. John Cummings and Ray Gloster won the day with a most variable score card of 56 points.
To wind up an enjoyable day we were entertained by a visiting wandering minstrel who played the bagpipes for us and then showed his magician hand with some legal tender.
Good to have John and Veronica Stone join us again on Sunday to watch the play and stay for a chat. President Robert and members wish John all the best with ongoing treatment.
Next Saturday 19th.December will be the Club Christmas Bowls Day with Trophies donated by Ouyen IGA. Bowls will be played in the afternoon followed by a festive meal. As there could be visitors from Ouyen Bowls Club, a larger salad please for the evening meal.
Good bowling all.
Underbool Golf Club.
The Underbool Golf Club AGM will be postponed to a later date in February 2021.
Apologies to anyone who turned up on Monday night.
Bev Cummings
Underbool Golf Club Inc Secretary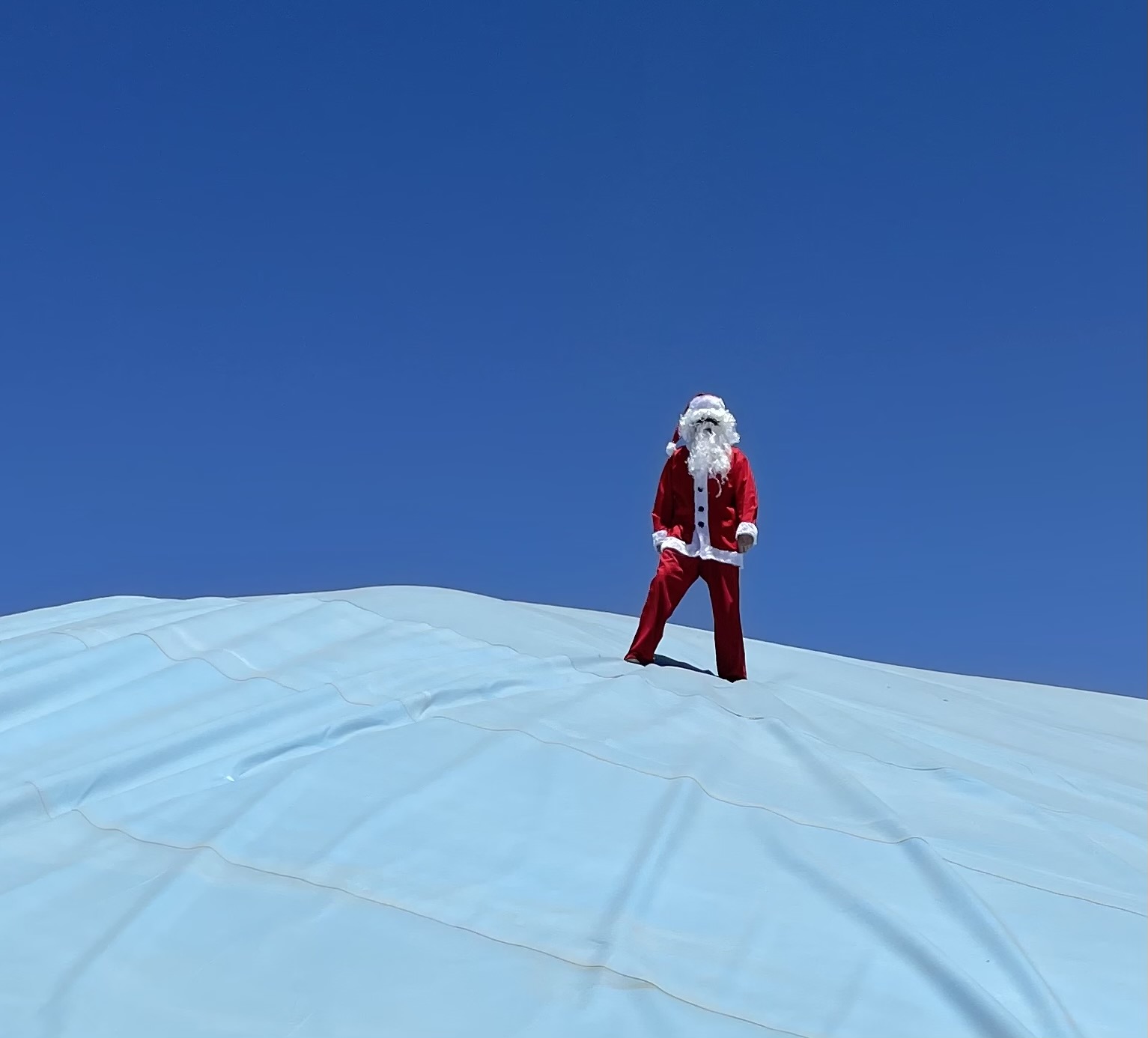 Santa spotted in Underbool Friday afternoon before the Underbool Primary School A Night On the Green, possibly looking for a suitable location to land his sleigh. Thank you to a local truck driver for sending us this photo.
UNDERBOOL SANTA RUN
Christmas Eve 7.45pm, 24 December 2020
Santa will be conducting a Santa Run throughout the streets of Underbool commencing 7.30/7.45pm, 24 December 2020. Listen for the lights and sirens and stand out the front of your house if you would like to see Santa and his elves. If you live outside of town we would love to see you, so find a spot around town or at a friends house.
Listen for the lights and sirens as Santa will be approaching your place
Don't forget to stand out the front of your house so you don't miss Santa
Santa will try do his best to not miss you, so be ready, look and listen
Santa has received a delivery of prepackaged lollies
We welcome all families and visitors
Remember to social distance (1.5m), wash your hands and use hand sanitiser. Stay home if you are unwell.
Subject to the Victorian Government public health advice. We will inform you of any changes.
Underbool CFA Fire Truck Roster
*In the current circumstances and to protect our volunteers we are only permitting one person to take the fire truck out for its weekly run.
*Please remember to sign the attendance sheet at the station and to take your mobile phone with you.
*The truck can be taken out any day during your rostered week.
*Please remember to check the fuel level and organise to fill it if required. We cannot turn out to fires if there is no fuel in the truck.
If you are unable to take the truck out, please contact the Committee Member responsible for your month.
Dec 2020 - Comm's Officer Rob Gloster
20/12 Doug Gloster
27/12 Scott Brown
Jan 2021 - Captain Col Lockett
3/1/21 Buzz Wisneske
10/1 Ricky Lynch
17/1 Sam Crow
24/1 Matt Brown
31/1 Andrew Willsmore
Feb 2021 - 1st Lieut Ron Jackson
7/2 Simon Brown
14/2 Simon Morrison
21/2 Malcolm Crothers
28/2 Geoff Lockett
Mallee Track Health and Community Services
Opening Hours over Christmas and New Year 2020
A number of services will be closed over the Christmas and New Year period please see below for more details.
Ouyen Health Services Reception: Closed 5 pm Thursday 24December 2020. Reopens 8.30am Monday 4 January 2021
Medical Clinic: Closed 5 pm Wednesday 23December 2020. Reopens 8.30am Monday 4 January 2021. Please organise prescriptions prior to closure.
GP roster for January is available in the local paper or on the local notice board
Urgent Care Ouyen: Open 24 hours a day, 7 days a week
District Nursing: Services will continue in line with client's needs, except on public holidays. If you have questions, please call 5092 1111
Community Transport: Closed from Tuesday 22 December 2020. Resumes Monday 4 January 2021
Mallee Minors Childcare:
Ouyen: Closed from Monday 21 December 2020. Reopens Monday 4 January 2021 (Mon-Wed only), then 5 days a week from Thursday 28 January 2021
Underbool: Closed from Thursday 17 December 2020. Reopens Thursday 28 January 2021.
Murrayville: Closed from Friday 18 December 2020. Reopens Thursday 28 January 2021.
Neighborhood House Ouyen and Murrayville: Closed from Thursday 24 December 2020. Reopens Monday 4 January 2021.
Meals on Wheels: No interruption to services. Please contact 5092 1111 if you need to cancel meals.
Physiotherapy and Podiatry: Closed from Thursday 24 December 2020. Reopens Monday 4 January 2021.
For further information please contact MTHCS on 5092 1111
Or see the local newspaper or MTHCS Facebook page
Mallee Track Health and Community Service wishes everyone a safe and happy festive season and a prosperous new year!
Lara Wakefield
Outreach Worker
Mallee Track Health and Community Service
28 Britt St Ouyen
Ph 0402045984
Underbool Press
The committee would like to take this opportunity to thank all of our typists (term 1) and the staff at the Underbool Post Office, Pink Lakes Pantry and Underbool Primary School for their help during 2020.
It has been a difficult year and due to Covid 19 restrictions we did not print the Press in term 2. An emailed edition continued to go out each week during the school term. The school allowed us to resume printing in term 3, but asked that the same person print each week to limit the number of people coming into the school. Hopefully we can return to our roster system (which has worked so well in the past) at some stage in 2021.
The first edition of the Underbool Press for 2021 will come out on Wednesday the 27th January and the typist will be Helen Gloster (dhgloster@bigpond.com).
**This is the last Press for 2020. We would like to wish all of our readers a Merry Christmas and a safe and enjoyable festive season.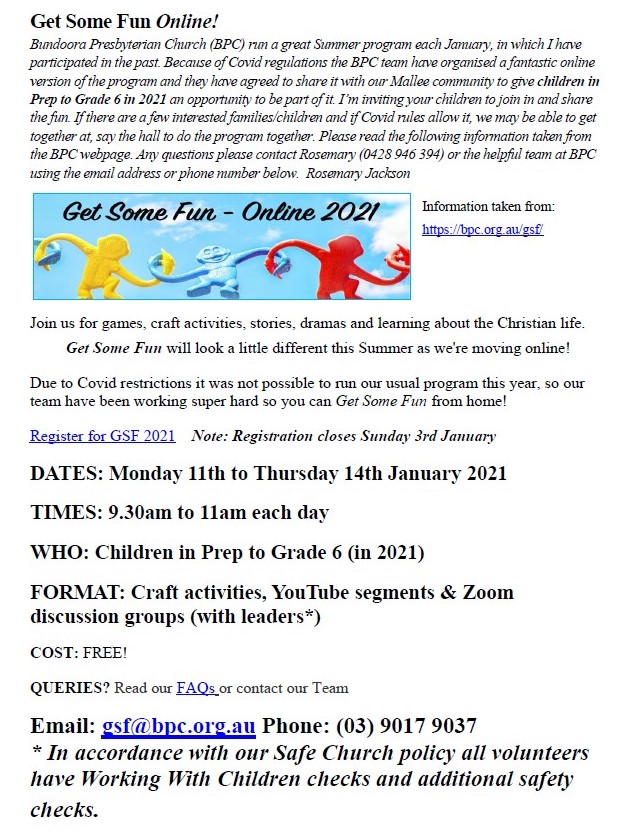 Next typist - January 27th 2021 - Helen Gloster dhgloster@bigpond.com