Mallee Border Health Centre
Di Thornton, Nurse Practitioner, is available by appointment on her usual day – Tuesday in
Underbool .
Appointments can be made by calling 08 8577 8065 or mobile 0448522703 or at www.malleeborderhealth.com.au
Underbool CFA Fire Truck Roster
In the current circumstances and to protect our volunteers we are only permitting one person to take the fire truck out for its weekly run.
Please remember to sign the attendance sheet at the station and to take your mobile phone with you.
The truck can be taken out any day during your rostered week.
Please remember to check the fuel level and organise to fill it if required. We can not turn out to fires if there is no fuel in the truck.
If you are unable to take the truck out, please contact the Committee Member responsible for your month.
Nov 2020 – 4th Lieut Cam Gloster
22/11 Neil Jackson
29/11 Theo Magnisalis
Dec 2020 - Comm's Officer Rob Gloster
6/12 Ian Beasley
13/12 Robert Gloster
20/12 Doug Gloster
27/12 Scott Brown
Jan 2021 - Captain Col Lockett
3/1/21 Buzz Wisneske
10/1 Ricky Lynch
17/1 Sam Crow
24/1 Matt Brown
Underbool Bowls Notes
Eleven members enjoyed their afternoon of bowls. There were three 2 game winners. But the winners of the day were Robert Pole and Marie Cummings. Added to the fact of the win was the way Stick managed his new Bowling Arm. A force to be reckoned with.
We are looking forward to the play off for the Ladies Singles Championship between Marie Cummings and Jen. Stone next Sunday 22nd November at 4pm. Best wishes to both ladies, whatever the outcome.
A preliminary date for your Calendar is Saturday December 19th for the Christmas Twilight. Always a great evening.
Good bowling all.
Underbool Golfers and Community
The Underbool Golf Committee are proposing to have
the Golf AGM on Monday the 14th of December, 7 pm at the club house.
We are asking for confirmed participation to hold this meeting. This meetings main discussion will be the viability of the Club, and/or the dissolution of it.
Please give an indication if you will be attending
this meeting via a text to Bev C, 0401155637. Email to Bev C at Beeey@bigpond.com or via a comment on facebook.
Thank you and hope to see you on the 14th.
Bev Cummings Secretary Underbool Golf Club Inc.
Underbool Primary School
ONLINE GOODS & SERVICES AUCTION
***MAJOR FUNRAISER ***
The school is running an online goods and services auction to fundraise money to replace the tired worn out tennis court surface. We are accepting goods and services donated to the auction from now until the 23rd of November. Join the Facebook group to post your items, bidding will open for 1 week only starting on Monday 23rd and will close at 7pm on the 29th Nov. The highest bidder wins!
Contact Kylie if you have any questions 0408 393 817.
MRCC - Ouyen Library has reopened
We are super excited to welcome library users back to Ouyen Library. Ouyen Library is open Monday to Friday 9am - 3pm.
Here's what you need to know if you are planning a visit.
* Please wear a face mask (unless you have a valid exemption), make use of hand sanitizer provided, practice safe social distancing and follow staff directions.
* Register your visit via the QR code provided or with staff as you enter the library - This information will be used in the event we are required to do contact tracing.
* We are limited to how many people are allowed into library spaces. This means that you may be asked to wait for another person to leave before you can enter.
MTHCS - Underbool Centre
From Monday 16 November Courtney Brammer, Leisure and Lifestyle worker, will be working from the Underbool Centre. Transport will once again be available for trips to Ouyen with strict COVID safe conditions. Please call Transport on 0419 371 445 to discuss your needs.

Movember: a spotlight on men's health
Movember takes place each November to raise awareness of men's health issues such as prostate cancer, testicular cancer and men's suicide. The rate of male suicide is alarmingly high, with three out of four suicides in Australia are by men.
Looking at mental health through a male lens, Movember focuses on prevention, early intervention and health promotion. Visit their website here to find lots of useful information and support on men's health https://au.movember.com/
If you need to speak with someone immediately, you can contact Lifeline on 13 11 14 or the Suicide Call Back Service on 1300 659 467.
Alternatively, free mental health support is available to people in the Murray PHN region who are struggling with the impact of the pandemic by calling HeadtoHelp between 8.30am and 5pm, Monday to Friday on 1800 595 212.
Health warning to gardeners using potting mix
The department of Health and Human Services has been notified of a number of cases of Legionella Disease (a form of pneumonia) since 1 January 2020. Although this bacteria is usually present in small amounts, it is commonly found in potting mix which is an ideal breeding ground for the bacteria.
Early symptoms resemble the flu and begin to appear six days after exposure. The risk of disease is increased with age, smoking, and in people with weakened immune systems.
To minimise the risk of exposure, gardeners should always follow the manufacturer's safety instructions, wear a mask and gloves when handling soil, compost or potting mix and wash hands with soap and water after handling soil and before eating, drinking, smoking or placing hands near the face or mouth.

Victorian Coronavirus Restrictions update
If you need to check up on the current restrictions remember to go to the Department of Health and Human Services directly. The website and phone are below if you would like more information:
https://www.dhhs.vic.gov.au/coronavirus
or
Phone the Coronavirus hotline on: 1800 675 398
Mallee Track Health and Community Service
Lara Wakefield
Outreach Worker
P: 0402 045 984
E: lwakefield@mthcs.vic.gov.au
Mildura Rural City Council's Madden Avenue and Ouyen Customer Service Centres have reopened for residents unable to access Council services from home.
Both Customer Service Centres are open from 9am to 3pm Monday to Friday subject to ongoing COVID-19 restrictions, only for services that can't be accessed over the phone, via the internet or where other arrangements have been put in place. Residents were encouraged to keep accessing Council's services online or by phone where possible. Residents can still access the bulk of Council's services via these methods, including paying rates and applying for permits.
To ensure the safety of the community and Council staff the following conditions have been put in place:
*only four people at any one time can be inside the Madden Avenue Customer Service Centre
*contactless payments are encouraged wherever possible
*use of hand sanitiser, physical distancing and face masks apply, in line with Victorian Government public health directions
*Ouyen residents intending to attend the Ouyen Customer Service Centre for VicRoads services are asked to make an appointment
*all customers will be asked to enter their personal details on an attendance sheet to help with contact tracing if required.
Despite the opening of two Customer Service Centres, the bulk of Council staff continue working from home where possible in keeping with the Victorian Government's public health advice. Staff who are working from Council buildings are adhering to Council's internal COVID-safe plan.
MRCC
The Mildura and Ouyen Service Centres can be contacted during business hours
8am - 5pm, Monday to Friday by:
Phone: (03) 5018 8100
Email: mrcc@mildura.vic.gov.au
After Hours Emergencies: 1800 241 540
For details about changes to our services and facilities
go to www.mildura.vic.gov.au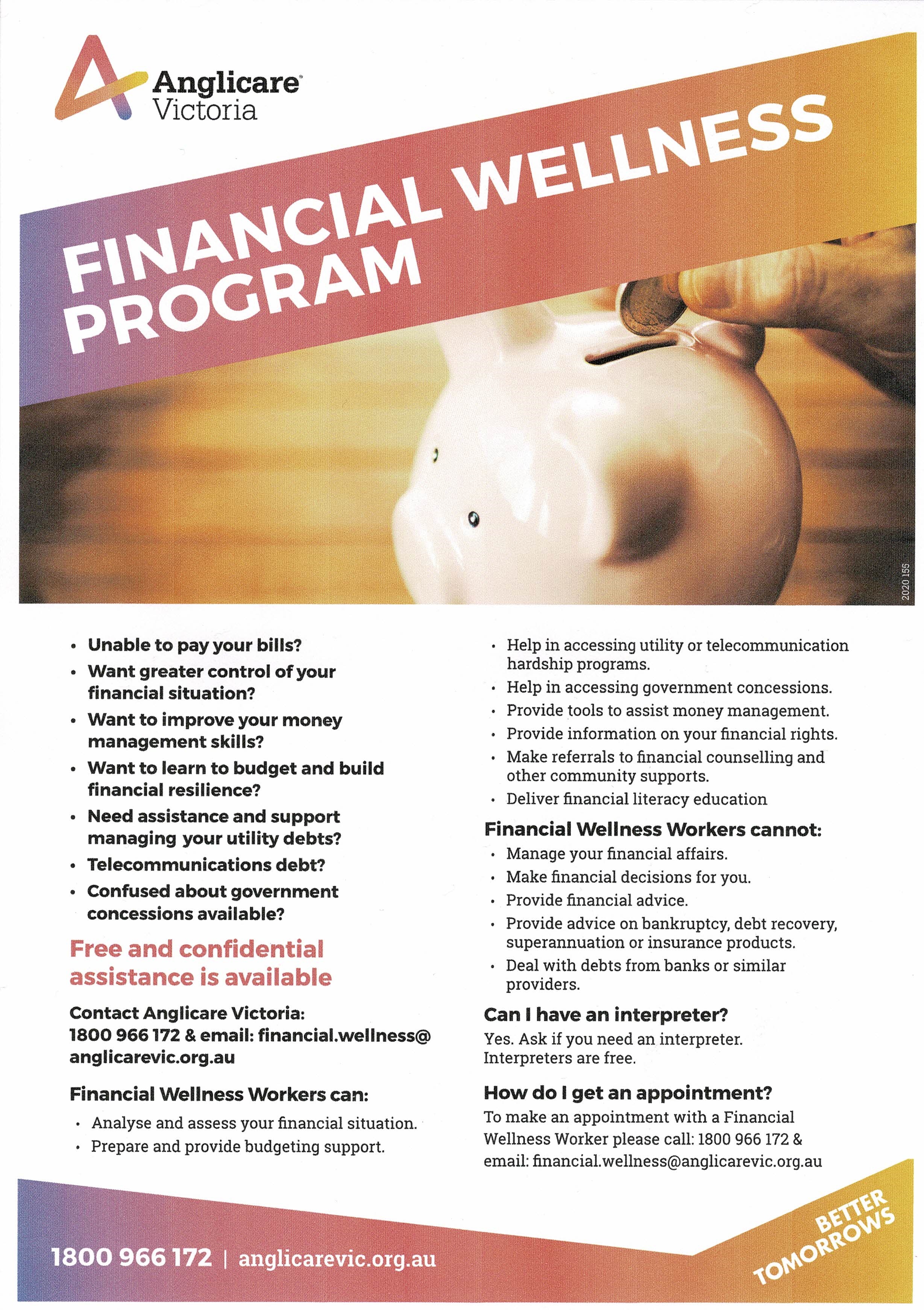 Next typist - November 25th - Helen Gloster dhgloster@bigpond.com