MTHCS
Di Thornton, Nurse Practitioner, is available by appointment on her usual days – Tuesday in Underbool and Wednesday in Murrayville. Appointments can be made by calling 08 8577 8065 or mobile 0448522703 or go to www.malleeborderhealth.com.au
Pathology – Please contact Glennis Barnes on 5092 1111 to discuss your needs should you have difficulties arranging a visit to a pathology collection outlet in Ouyen or Pinnaroo.
Underbool Fire Truck Roster
February 2020 3rd Lieut Allan Lynch
23/2 Steve Donnellan & Steve Lynch
March 2020 4th Lieut Cam Gloster
1/3 Brett Evans & Theo Magnisalis
8/3 Richard Prentice & Jason Elliott
15/3 Kieran Hayter & Jack Winslow
FITNESS FEB IS HAPPENING!!!
Lap swimming is available at the Underbool Pool
Tues and Friday mornings 6-9am
Fast, medium, slow, walking and water exercise lanes available. ALL WELCOME
Underbool Tennis
Ten men and seven ladies arrived to play tennis on Saturday 15th February. As there were uneven numbers a men's and ladies round robin was played with each player playing four doubles sets. It was good to see Paul Lockett, Amanda and Kieran Hayter back on the courts.
The only four set winner for the day was Kristen Urquhart (nee Pryse) who won the ladies section with 24 games for and 12 games against. Jocelyn Crothers was runner up with 20 games for and 18 games against.
Five men each won three sets, they were Terry Gibson, Simon Brown, Simon Morrison, Buzz Wisneske and Scott Brammer. Terry was the winner with 23 games for and 14 games against. Runner up was Simon Brown with 23 games for and 20 games against.
Tennis will be played on Saturday 22nd Feb. Names to be in by 12:30 pm.
Underbool Men's Championship Pairs
The final of the Underbool Men's Championship Pairs was played out on Thursday 13th February. Robert Gloster and Alan Stone defeated John Cummings and Stan Stone. Best wishes from the Club to Robert and Alan as they now go on to play in the Sunraysia Championship Men's Pairs on 29th February and 1st March at Ouyen.
Sunday February 9th, two teams travelled to Hopetoun Bowls Club to participate in that club's Triples Tournament. John Cummings, Stan Stone and Steve Simmonds won three games out of four and picked up a small prize for highest points scored in the last game. Believe Steve Simmonds was a star leader for the team!
Robert Gloster, Ray Gloster and Howard Crothers also won three out of four games. All enjoyed playing on the good synthetic green.
Colleen Gloster and Jen Stone represented Underbool at the Heasyman Pairs on Friday 14th February at Mildura.
Sunday 16th February, the team of Steve Simmonds, Alan stone, John Cummings and Stan Stone attended Ouyen Invitation Fours.
And on Monday 17th February Marie Cummings, Bernadette Stone and Jen Stone made the trip to play in the Coomealla 2 bowl Triples Star Day.
Social Bowls on Saturday 8th February, 10 played and winners were Robert Pole (S), Jennifer Wakefield and Howard Crothers.
Winners of play on Saturday 15th February were the ladies team of Marie Cummings, Jennifer Wakefield, Nita Wandel and Raelene Winslow, over the men's team of John Cummings, Ray Gloster and Murray Lockett.
Good bowling all.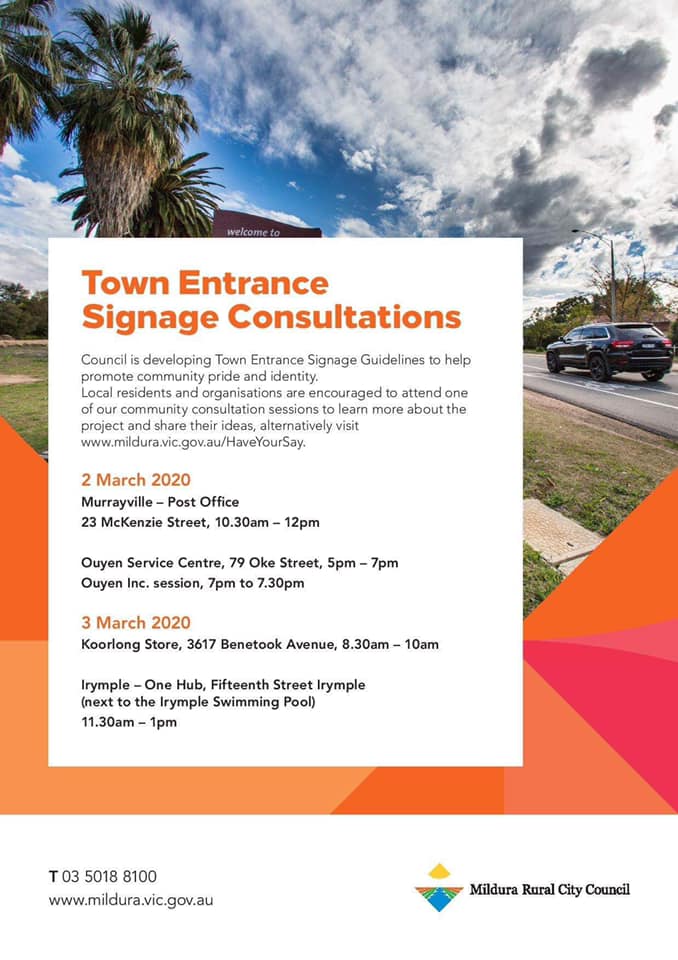 https://www.mildura.vic.gov.au/Latest-News/Town-Entrance-Signage-Guidelines
Next typist: 26th February 2020 Tracie Corbett – tracielcorbett@gmail.com