Mallee Border Health Centre
Di Thornton, Nurse Practitioner, is available by appointment on her usual day – Tuesday in
Underbool .
Appointments can be made by calling 08 8577 8065 or mobile 0448522703 or at www.malleeborderhealth.com.au
Just letting our Underbool clients know that we have had official confirmation that Di is able to continue her Tuesday clinics under the current SA border restrictions. Some good news!!
NAB Ouyen is changing its opening hours.
From Monday 17 August, changes to our opening hours mean you can do your in branch banking from 9.30am – 12.30pm, Monday to Friday.
Outside of these hours, your local bankers will continue to serve customers online and over the phone.
While branches will always be important, our customers have been coming into the branch less, and using digital and phone banking more. That's why we're making our bankers more available through these channels.
Underbool Fire Truck Roster
In the current circumstances and to protect our volunteers we are only permitting one person to take the fire truck out for its weekly run. If you are available and would like to volunteer to do this, please contact Sonia McVicar on 0403698377. We greatly appreciate the following members who have agreed to do this.
Sept 2020
6/9 Matt Brown
13/9 Andrew Willsmore
20/9 Simon Brown
29/9 Doug Gloster
Oct 2020
4/10 Simon Morrison
Please remember to sign the attendance sheet at the station and to take your mobile phone with you.
CFA District 18
Change to operational radio call sign.
From Tuesday 1st Sept 2020 FIRECOM will replace VICFIRE for all operational radio call sign communications with ESTA, for all volunteers.
Australia Post
Please make sure any "outgoing" mail is posted by 11 am.
Thank you.
Underbool Swimming Pool - Have Your Say!
With the start of Summer just around the corner, we're busily working with the local Advisory Group to plan for another exciting season of fun for the community.
As part of this planning, we're building a Summer Calendar of Fun for events throughout the season that are designed for you, your family and friends to enjoy!
Feedback from this survey will help shape what this year's Calendar looks like and we would appreciate any ideas or suggestions you may have.
Thank you for helping us create another season of fun for everyone to enjoy.
Complete the survey now -
https://alignedleisure.formstack.com/forms/underbool_pool__summer_calendar_of_fun_survey
MRCC
Our Mildura and Ouyen Service Centres continue to be closed until further notice. You can contact them during business hours
8am - 5pm, Monday to Friday by:
Phone: (03) 5018 8100
Email: mrcc@mildura.vic.gov.au
After Hours Emergencies: 1800 241 540
For details about changes to our other services and facilities go to www.mildura.vic.gov.au
Our Ouyen Service Centre remains closed to the public however we will be open by appointment for a limited number of VicRoads services on a Wednesday. If you need to re-register a vehicle, transfer a privately owned registration, or purchase a Work Diary please call us on 5018 8600 to book an appointment.
ATTENTION OUYEN & MALLEE TRACK RESIDENTS!
You can now drop library resources at the Ouyen Service Centre on Wednesdays from 9am to 4pm. If you have books or other materials to return, please place them in the crate near the front door.
Mallee Track Health and Community Service RUOK? Day
Next week Mallee Track Health and Community Service will be talking about RUOK? Day. We're taking the opportunity to check in with staff and community to find out if anyone needs some help or someone to talk to. We're also encouraging you to check in with friends and neighbours and find out how they are going. This can be a difficult conversation but there are a few things that can help.
Make sure you're prepared, be ready to listen, know that you won't have all the answers, and that they might be upset or emotional.
Be ready, are you in a good head space and have time to really listen?
Here's a few suggestions of how you could start a conversation:
"I've know there's been some big life changes for you recently. How are you going with that?"
"you don't seem yourself lately – want to talk about it?"
"You've got a lot going on right now. How are you going with that?"
Silence in the conversation can be uncomfortable but sometimes it is necessary, to give the person space to think, just sit patiently.
It's important to remember they might need encouragement and support to seek help from a professional. You can help them with contact numbers, some are listed below.
For more ideas there is a conversation guide on the website https://www.ruok.org.au/how-to-ask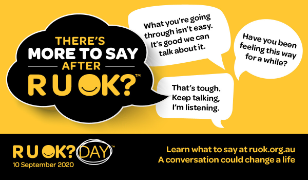 New Help for Victorians with Their Energy Bills
The Victorian Government is rolling out a team of financial counsellors and community workers in partnership with community organisations to give targeted advice and support to Victorians who need help with their energy bills.
The support is available online and over-the-phone, so Victorians can access this support from home. For support call 1800 830 029, and live webinars to help households manage their energy costs can be accessed at https://energyinfohub.org.au/
Outreach worker
Remember I am here to help and hopefully I will be able to start visiting Underbool and Murrayville Centres soon, this is all dependent on State Government restrictions. In the mean time I can be contacted on:
Ph. 0402 045 984
E. lwakefield@mthcs.vic.gov.au
Next typist - September 9th: Helen Gloster - dhgloster@bigpond.com