Underbool Press Committee
The Underbool Press will continue operating for this term and people are able to place notices in the press folder at the post office or email the listed typist. We will be emailing out copies and uploading it to the Underbool Website. No printed copies will be distributed. If you have any questions, please contact Helen Gloster or Sonia McVicar.
MTHCS
Di Thornton, Nurse Practitioner, is available by appointment on her usual days – Tuesday in
Underbool and Wednesday in Murrayville.
IMPORTANT UPDATE FOR ALL MALLEE BORDER HEALTH CUSTOMERS
Telehealth (video) and telephone appointments are available for all your health care practitioners. You are now able to book these appointments online as well as ringing the clinic.
Please make the most of looking after yourselves and others in these extraordinary times!
Appointments can be made by calling 08 8577 8065 or mobile 0448522703 or go to www.malleeborderhealth.com.au
Pathology – Please contact Glennis Barnes on
5092 1111 to discuss your needs should you have difficulties arranging a visit to a pathology collection outlet in Ouyen or Pinnaroo.
Underbool Fire Truck Roster
In the current circumstances and to protect our volunteers we are only permitting one person to take the fire truck out for its weekly run. If you are available and would like to volunteer to do this please contact Sonia McVicar on 0403698377.
May 2020
24/5 Steven McVicar
Please remember to take your mobile phone with you and sign the attendance sheet.
What are you doing?
If anyone, children or adults, would like to share some of the interesting things they have been doing in isolation please send 2 - 4 sentences to me and I will try to include it in the next Press. I am also able to include a photo if you would like to share one.
Could all emails come from adults so that I know children have the permission of their parents.
There will be no charge for this.
Helen Gloster.
This week Millie & Georgie would like to share an activity that they have done at home. They have learnt you can grow celery from celery. Cut the end off a bunch of celery, place it in water using toothpicks, place on a window sill until roots grow from the bottom. Plant in the ground or in a large pot. Keep it watered and in a sunny position protected from frost.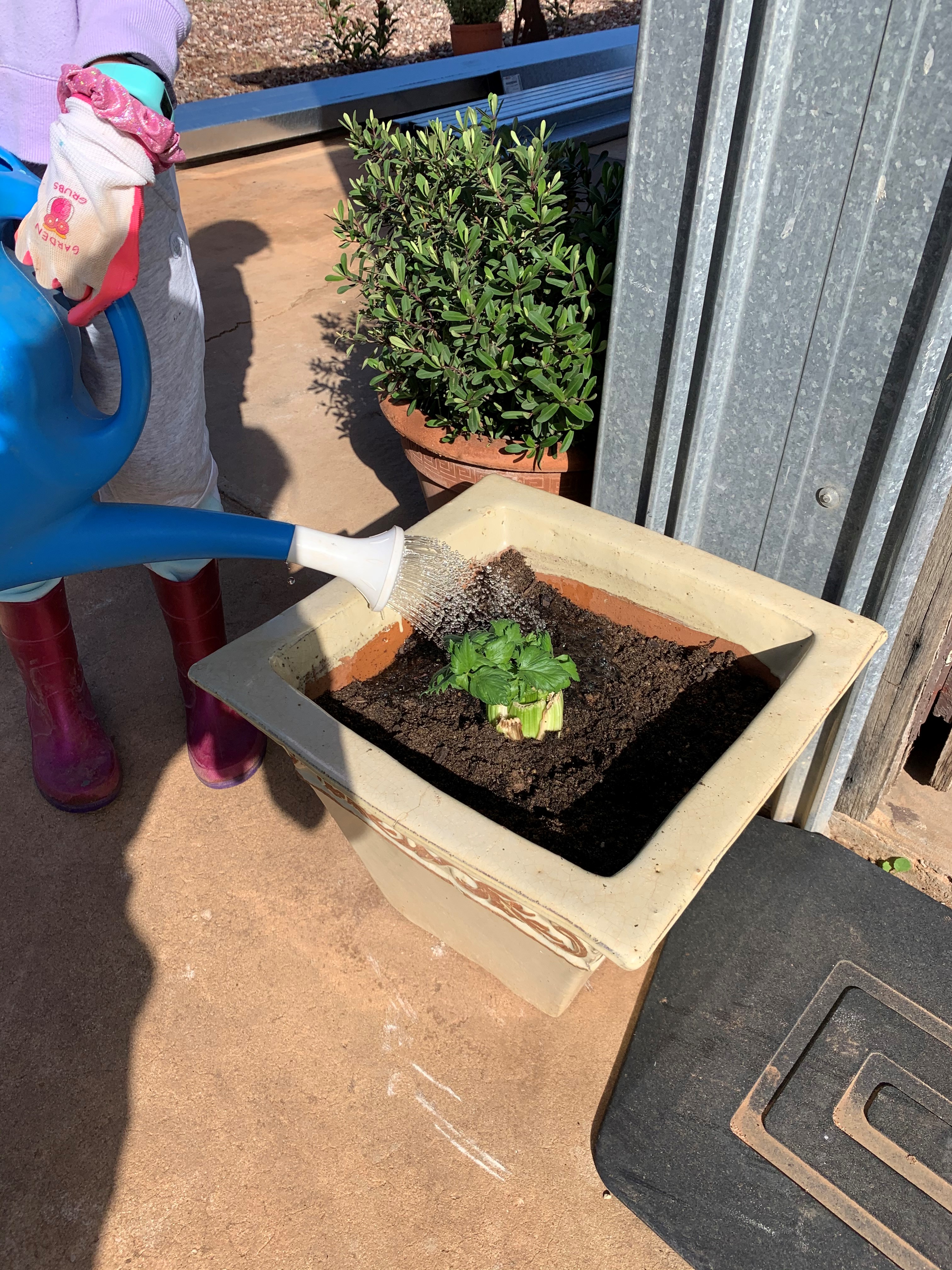 Thank you Millie and Georgie.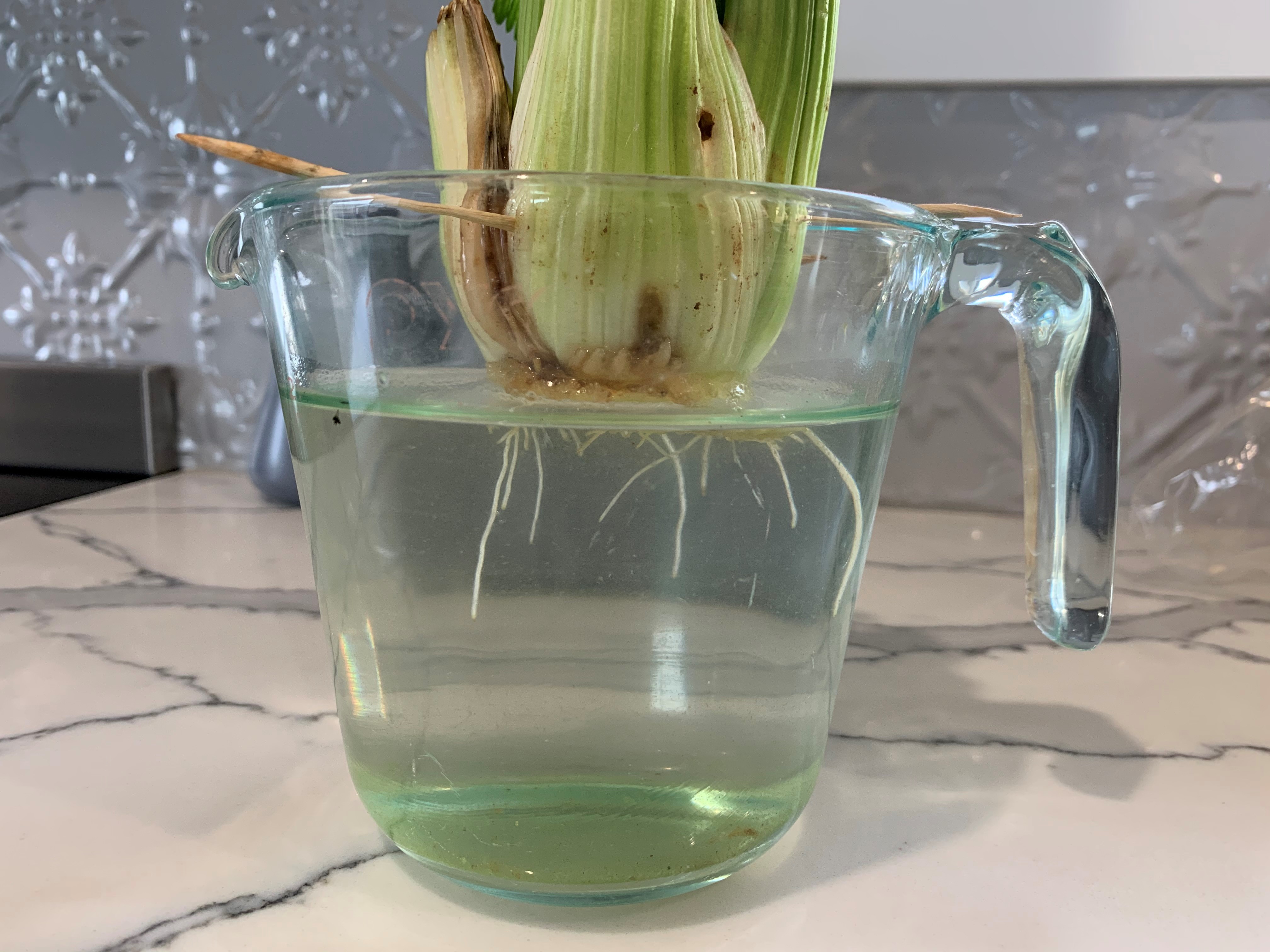 MTHCS
Please think carefully before you visit any of our MTHCS facilities. In the interests of protecting our community and staff, we have changed some of the access arrangements.
Please don't be surprised if you can't get in the usual door, or we need to "buzz" you in. And if you're not feeling well, call 1800 675 398 for advice (000 if it's an emergency,).
The best place for info is the DHHS Coronavirus website at https://www.dhhs.vic.gov.au/coronavirus
Local residents are being urged to register their names at medical clinics to receive the flu vaccination this year.
Look out for each other!
Some people in our community may be feeling the loneliness and isolation more than others, especially those who live alone or are elderly. Try to keep in touch by making phone calls or having a quick chat as you come across people while walking (exercise).
Pink Lakes Pantry
This week is National Volunteers Week and we all know that without our amazing volunteers Pink Lakes Pantry could not open its doors. When you pop in to collect your goods please remember to thank our wonderful volunteers.
National Volunteers Week
Thank you to everyone who volunteers in our community in so many different ways:
*Pink Lakes Pantry
*Typing or emailing the Press
*Driving the Community Link car
*Taking on various positions in sporting, community and educational organisations
*Attending working bees
*Helping out at PAG/MTHCS
And too many other ways to mention.
Although many activities are in recess at the moment we are sure that many volunteers are still busy behind the scenes in readiness for the day when we can resume 'normal' activities.
Mildura Rural City Council
Our Mildura and Ouyen Service Centres will be closed until further notice. Council is continuing to operate and provide customer service over the phone and online. You can contact them during business hours
(8am - 5pm, Monday to Friday) by:
Phone: (03) 5018 8100
Email: mrcc@mildura.vic.gov.au
After Hours Emergencies: 1800 241 540
For details about changes to our other services and facilities go to www.mildura.vic.gov.au
Our Ouyen Service Centre remains closed to the public however we will be open by appointment for a limited number of VicRoads services. If you need to re-register a vehicle, transfer a privately owned registration or purchase a Work Diary please call us on 5018 8600 and we will book a private appointment for you.
All libraries are closed to the public until further notice. You can still contact them, and they will do their best to help you with your library needs.
• Phone (03) 5018 8350
• Email library@mildura.vic.gov.au
• Visit mildura.vic.gov.au/Library
For details about other service changes visit www.mildura.vic.gov.au
We understand this remains a challenging time for many people in our community. This is why we are continuing to offer a number of hardship and relief services to those in need.
Visit mildura.vic.gov.au/coronavirus for advice on:
• Financial hardship
• Community relief
• Business support
• Changes to Council services
Or contact us on (03) 5018 8100.
Typist next week: Helen Gloster dhgloster@bigpond.com