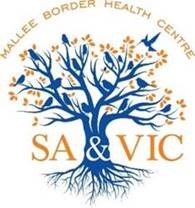 Mallee Border Health Centre
Di Thornton, Nurse Practitioner, is available by appointment on Tuesdays in Underbool. Appointments can be made by calling 0885778065 or mobile 0448522703 or at www.malleeborderhealth.com.au
Underbool CFA Fire Truck Roster
Please remember to take your mobile phone.
The truck can be taken out any day during your rostered week.
Please remember to check the fuel level and organise to fill it if required. We cannot turn out to fires if there is no fuel in the truck.
If you are unable to take the truck out, please contact the Committee Member responsible for your month.
Jun 2022 - 3rd Lieut Steven Donnellan
19/06 David Boseley
26/06 Derrick Wisneske
Jul 2022 – Sonia McVicar Secretary
3/07 Garth Aikman
10/07 Les Dunstan
17/07 Theo Magnisalis
24/07 Adam Kelly
31/7 Brett Evans
Underbool Community Plan 2022-2027
The draft Underbool Community Plan 2022-2027 is now available for public feedback, laying out a shared vision for the future, focusing on community well-being, public facilities, town pride, safety, and key priority projects.
You can view the draft Underbool Community Plan 2022-2027 and provide feedback by clicking here Underbool Community Plan Consultation | Mallee Track Community Plans | Your Say (mildura.vic.gov.au). Scroll down and leave your feedback or tell us what may be missing!
Visit https://yoursay.mildura.vic.gov.au/Mallee-Track-Community... to view the Draft Plans for Underbool, Walpeup, and Murrayville.
Submissions close 5pm on Wednesday 29 June 2022.
Contact Cassey Gloster at 50188100 for further information.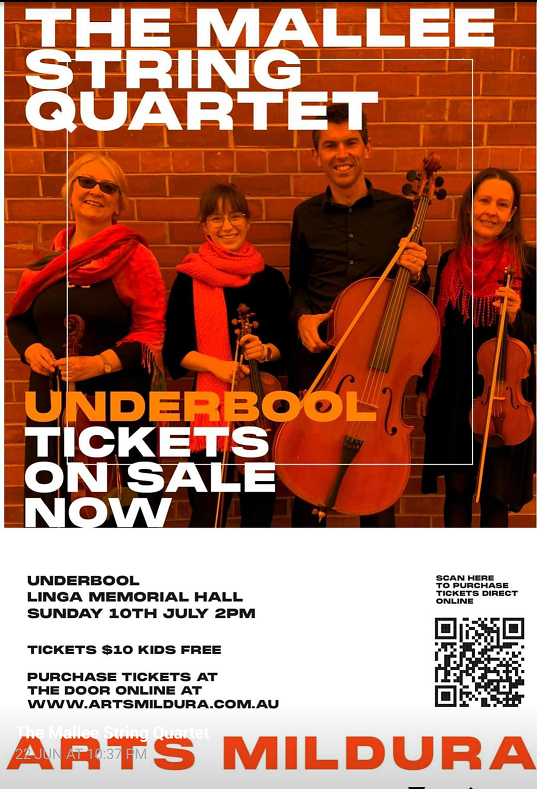 THE MALLEE STRING QUARTET IN UNDERBOOL
2:00pm Sunday 10 July
Underbool Linga Hall
$10 adults
The Mallee String Quartet are performing at the Underbool-Linga Hall 2pm, Sunday, July 10. Program includes tangos, Danish folk tunes, and works by Borodin, Mozart and Beethoven. Take this opportunity to hear a string quartet playing lovely music 'live' in your town. Adults $10, Children free.
We're bringing you a wide range of music, so no matter if you like chamber classics or movie soundtracks, we'd love to see you there. (music program varies for each concert along the Mallee Track ) www.themalleestringquartet.com
Tickets available at the door or online (see poster)

Mallee muscles exercise program. Our new and exciting exercise program combining strength and cardiovascular activities in a circuit format. Perfect for all ages and abilities, no matter your physical activity history. Individual programs are made for all participants who then can work through them in their own time or meet in small groups and complete their activities under the guidance of an instructor.
When: Every Tuesday
Where: Underbool Rec Ground. (If weather is unfavourable the program is moved to the Hall)
Time: 2pm
Cost $5.00 p/p
Free flu shots: Free influenza vaccines will be available during the month of June to people over six months of age. This is part of a State Government move reduce pressure on the health system by vaccinating people against the flu to avoid illness and hospitalisation. There is expected to be a good uptake, so we are asking community members to phone the medical clinics to book ahead. Ph 50921168
While the vaccine program is free, we have to remember we can only vaccinate when we have vaccines. To prepare for this, we are ordering more flu vaccines and working with Ouyen pharmacy.
District Nurse service: What do we offer? Whether you or your loved ones are recovering from a recent operation or illness, have recently left hospital or need specialised treatment, you can engage our highly skilled district nurses for one-off, short term or regular support.
Nurses provide a comprehensive range of nursing support to people, their carer's and other support persons of all ages within a person's home or other agreed location.
District Nurses are able to provide:
Nursing care according to persons needs
Advice and support for carers and families
Referral to other health services when required
Support or education to manage illness
People requiring assistance with medication management
Wound care management
District Nurses are based in Ouyen and Sea Lake but provide a regular service to Underbool on an outreach as needs basis.
How to access this service: MTHCS accepts the following types of referral:
Self-referral from the customer, their carer or relatives
Referral from a health professional (GP, Community Nurse, Case Manager).
If you are 65 years or older and are in need of help at home to continue to live independently you or your carer could enquire and apply for home support services by contacting the My Aged Care on 1800 200 422 or go to www.myagedcare.gov.au to request an assessment to receive services under the Commonwealth Home Support Program (CHSP) from MTHCS.
To discuss how we can meet your needs or to book an appointment with the district nurse, call the Ouyen Service Centre on (03) 5092 1111
Or contact our Rural Outreach Worker who can support you to find the services that you need.
Sharing experiences on care opinion
We are encouraging clients/consumers to share their story about how MTHCS has cared for them on Care Opinion -- a safe and independent way for community members to give us their feedback. Care Opinion is an independent site where anyone can share their stories about their experience of care. The site covers health and aged care, and community services in Australia, giving service users, their families and carers the opportunity to publish their personal experiences, good or bad, of the care system. By encouraging people to share their experience with MTHCS, we will be able to recognise staff who are doing a fabulous job, better understand what people think of the services we provide, and use this information to help improve our services.
To leave your feedback on your experience with MTHCS, please go to: https://www.careopinion.org.au
If you need support in providing feedback, please call MTHCS on 50921111 to receive a paper copy of the care opinion
Next Typist on 13th July Colleen Aikman pc.aikman@bigpond.com