Mallee Border Health Centre
Di Thornton, Nurse Practitioner, is available by appointment on her usual day – Tuesday in
Underbool.
Appointments can be made by calling 0885778065 or mobile 0448522703 or at www.malleeborderhealth.com.au
Underbool CFA Fire Truck Roster
Please remember to sign the attendance sheet at the station and to take your mobile phone with you.
The truck can be taken out any day during your rostered week.
Please remember to check the fuel level and organise to fill it if required. We cannot turn out to fires if there is no fuel in the truck.
If you are unable to take the truck out, please contact the Committee Member responsible for your month.
June 2021 - 4th Lieut Ron Jackson
20/06 Philip Aikman
27/06 Neil Jackson
July 2021 - Comm's Officer Rob Gloster
04/07 Theo Magnisalis
11/07 Ian Beasley
18/07 Robert Gloster
25/07 Doug Gloster
MTHCS Exercise Group
When: Tuesday's at 2:00pm
Where: Netball Courts (Rec Ground)
Please call the Exercise Department on (03) 5092 1111 and come along for an exercise assessment before you join in.
Underbool Linga Memorial Hall
Working bee to tidy / prune / weed the garden area.
Tuesday 29th June @ 3pm.
This will be our last chance to take green waste to the tip without being charged. If anyone can bring a trailer this would be greatly appreciated. BYO gardening tools. All welcome.
Helen Gloster (Sec).
Mallee Track Health & Community Service News
COVID 19 Update
For an update on current Victorian restrictions, please visit https://www.coronavirus.vic.gov.au/coronavirus-covidsafe-settings
For undated information regarding SA Border Restrictions please visit https://www.covid-19.sa.gov.au/restrictions-and-responsibilities/travel-restrictions
World Continence week 14th – 20th June https://www.continence.org.au/
This World Continence Week (21 to 27 June), join the call to support more than one million men around Australia who live with incontinence. The Continence Foundation of Australia is launching BINS4Blokes – and you can get involved.
BINS4Blokes is an Australia-wide awareness and advocacy campaign promoting the installation of incontinence bins in male public toilet facilities.
Incontinence affects 1 in 10 men in Australia, of all ages.
Did you know that many male public toilets do not have a disposal bin for men to place their continence products? This leaves men to carry used products with them or feel stressed about how they'll throw them out. A lack of options stops men with incontinence from going out to exercise, shop and simply enjoy life.
https://www.continence.org.au/world-continence-week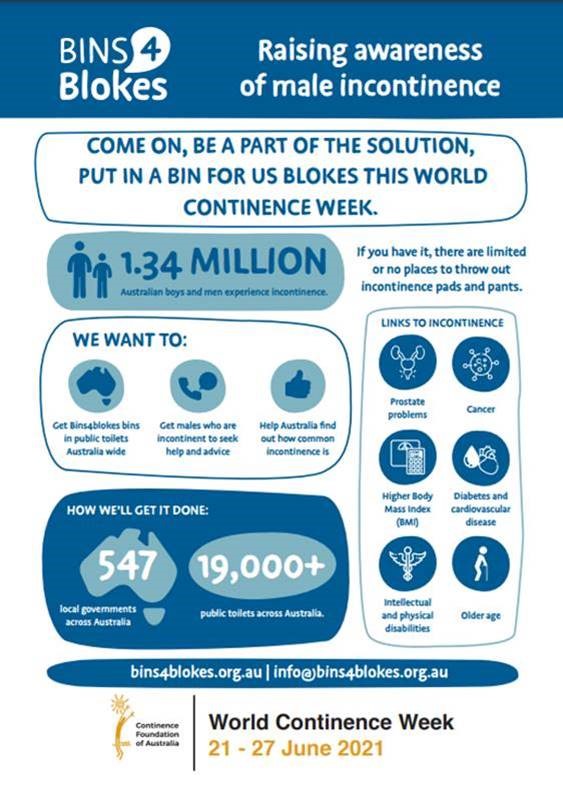 Bowel Cancer Awareness Month
June is Bowel Cancer Awareness Month - Bowel Cancer Australia's signature event to raise awareness of Australia's second deadliest cancer and funds for the leading community-funded charity dedicated to prevention, early diagnosis, research, quality treatment and the best care for everyone affected by bowel cancer. Bowel cancer claims the lives of 101 Australians every week (5,255 people a year) - but it's one of the most treatable types of cancer if found early. While the risk of bowel cancer increases significantly with age, the disease doesn't discriminate, affecting men and women, young and old. 293 Australians will be diagnosed with bowel cancer this week (15,206 people a year).
For more information check out: https://www.bowelcanceraustralia.org/bowel-cancer-awareness-month
Lara Wakefield
Outreach Worker
Mallee Track Health and Community Service
28 Britt St Ouyen
Ph 0402045984
There will be no Underbool Press for the next 2 weeks due to School Holidays
Typist for 14th July Nicole Kelly