Underbool Press Committee
The Underbool Press will resume printing at the start of term 3, 15/7. If any school families no longer want a printed copy of the Press each week could you please let me know so I can compile a list for the school.
Helen Gloster (0428390991)
MTHCS
Di Thornton, Nurse Practitioner, is available by appointment on her usual days – Tuesday in
Underbool and Wednesday in Murrayville.
Telehealth (video) and telephone appointments are available for all your health care practitioners. You are now able to book these appointments online as well as ringing the clinic.
Appointments can be made by calling 08 8577 8065 or mobile 0448522703 or go to www.malleeborderhealth.com.au
Pathology – Please contact Glennis Barnes on
5092 1111 to discuss your needs should you have difficulties arranging a visit to a pathology collection outlet in Ouyen or Pinnaroo.
Post Office
In conjunction with Di Thornton (Nurse Practitioner) and Murrayville Pharmacy, scripts can be left with Di and be filled and returned for collection at the Underbool Post Office the next day (Wednesday), we will see how it goes.
$2 donation
Underbool Fire Truck Roster
In the current circumstances and to protect our volunteers we are only permitting one person to take the fire truck out for its weekly run. If you are available and would like to volunteer to do this please contact Sonia McVicar on 0403698377. We greatly appreciate the following members who have agreed to do this.
June 2020
28/6 Col Lockett
5/7 Scott Brown
12/7 Ricky Lynch
19/7 Garth Aikman
26/7 Philip Aikman
2/8 Neil Jackson
9/8 Chris Lynch
16/8 Buzz Wisneske
Please remember to sign the attendance sheet at the station and to take your mobile phone with you.

Community Satisfaction Survey
Residents and ratepayers are invited to provide feedback on the services, facilities and programs Council provides, and to let us know where we can make improvements by completing Council's annual Community Satisfaction Survey.
The survey is available online at www.mildura.vic.gov.au/haveyoursay
The survey runs until Friday 10 July.
For more information or to request a hard copy survey call Council on (03) 5018 8100.
SARAH PHILPOTT
CHIEF EXECUTIVE OFFICER
The MRCC are currently working on a Playground Strategy to guide how local playgrounds are developed and managed now and into the future. The Strategy will detail playground design, construction, location and amenities, with community input to be vital to its success.
Visit www.mildura.vic.gov.au/haveyoursay
to complete a short survey before Tuesday 30 June.
Underbool Primary School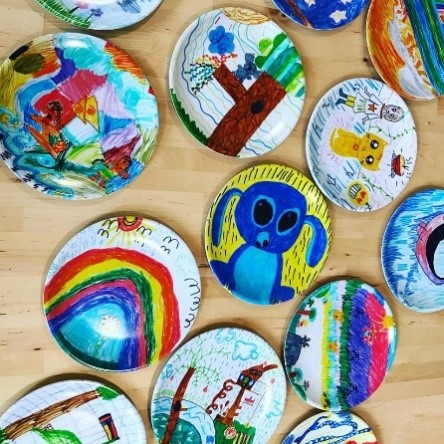 FUNDRAISER
The parents and friends have decided to run the picture plate fundraiser again this year. A pack has been ordered hopefully it will arrive before end of term.
We have decided to try keep it simple with just the Picture plates $28
Ceramic mug $22
(meaning you could get both for $50 if you like)
If there is anything specific that you really wanted in another product, please let me know.
As it is a fundraiser, we would love for you to offer it to friends and family to maximise support. Maybe the grandparents might like a keep sake for their place. Or Dad might like a special mug for Father's Day??
If you can let me know what you need, I can arrange for it to be sent home with your children or alternative pick up arrangements. We thought it might be a lovely school holiday project.
Full payment will be required with return before it can be sent off. Please contact Lee Brown if you have any questions.
MRCC - We've reopened some of our facilities
We're thrilled to welcome you back to some of our most popular facilities. Things will be a little different, but the health and safety of visitors and staff is our number one priority.
Mildura Library
Open Monday 1pm - 5pm
Open Tue - Fri 1pm - 6pm
Closed weekends
• Phone (03) 5018 8350
• Email library@mildura.vic.gov.au
• Visit mildura.vic.gov.au/Library
The library is able to mail out books to library users. Please contact the library if you would like this service.
Mildura Arts Centre
Open daily 10am - 4 pm
Cafe Bar open daily 10am - 2pm
*Phone (03) 5018 8330
*milduraartscentre.com.au
Mildura Visitor Information & Booking Centre
Open weekdays 9am - 5:30pm
Open Weekends 9am - 5pm
*Phone 1800 039 043
*visitmildura.com.au
Our Mildura and Ouyen Service Centres continue to be closed until further notice. Council is continuing to operate and provide customer service over the phone and online. You can contact them during business hours
8am - 5pm, Monday to Friday by:
Phone: (03) 5018 8100
Email: mrcc@mildura.vic.gov.au
After Hours Emergencies: 1800 241 540
For details about changes to our other services and facilities go to www.mildura.vic.gov.au
Our Ouyen Service Centre remains closed to the public however we will be open by appointment for a limited number of VicRoads services. If you need to re-register a vehicle, transfer a privately owned registration or purchase a Work Diary please call us on 5018 8600 and we will book a private appointment for you.
We understand this remains a challenging time for many people in our community. This is why we are continuing to offer a number of hardship and relief services to those in need.
Visit mildura.vic.gov.au/coronavirus for advice on:
• Financial hardship
• Community relief
• Business support
• Changes to Council services
Or contact us on (03) 5018 8100.
MTHCS
Anyone concerned about symptoms (even a minor sniffle or temperature) is being encouraged to get tested for COVID-19. Please be sure to phone ahead to your local medical clinic at Sea Lake, Ouyen and Underbool for advice and make an appointment.
We can't be too careful when it comes to keeping our health and the safety of our communities.
Get tested if you've got any of these symptoms:
Fever
Runny nose
Sore throat
Cough
Chills or sweats
Shortness of breath
Loss of sense of smell or taste
Please think carefully before you visit any of our MTHCS facilities. In the interests of protecting our community and staff, we have changed some of the access arrangements.
Please don't be surprised if you can't get in the usual door, or we need to "buzz" you in. And if you're not feeling well, call 1800 675 398 for advice (000 if it's an emergency,).
The best place for info is the DHHS Coronavirus website at https://www.dhhs.vic.gov.au/coronavirus
Local residents are being urged to register their names at medical clinics to receive the flu vaccination this year.
As winter sets in, please remember that if you or anyone in your family has cold or flu like symptoms, such as a runny nose or cough, they should stay at home until well.
Next typist - July 15th: Helen Gloster