Mallee Border Health Centre
Di Thornton, Nurse Practitioner, is available by appointment on her usual day – Tuesday in
Underbool.
Appointments can be made by calling 0885778065 or mobile 0448522703 or at www.malleeborderhealth.com.au
Underbool CFA Fire Truck Roster
Please remember to sign the attendance sheet at the station and to take your mobile phone with you.
The truck can be taken out any day during your rostered week.
Please remember to check the fuel level and organise to fill it if required. We cannot turn out to fires if there is no fuel in the truck.
If you are unable to take the truck out, please contact the Committee Member responsible for your month.
May 2021 – Sonia McVicar Secretary
30/05 Brett Evans
June 2021 - 4th Lieut Ron Jackson
06/06 Steve Donnellan
13/06 Chris Lynch
20/06 Philip Aikman
27/06 Neil Jackson
July 2021 - Comm's Officer Rob Gloster
04/07 Theo Magnisalis
11/07 Ian Beasley
18/07 Robert Gloster
25/07 Doug Gloster
Cleaning Under Woolsheds/Shearing Sheds
Tony Neill will be in the area at the end of May / early June and is looking for work cleaning under shearing sheds. If you require his services, please contact him on 0429 938 121.
Underbool Transport Service:
MTHCS are thrilled to re-instate the Underbool transport service for eligible community members needing to travel to Ouyen and Mildura. Clients are able to attend appointments and do their shopping. The ability to provide the service remains dependant on volunteer and car availability, in some cases booking requests will be prioritised with medical being offered before shopping. We sincerely thank our wonderful volunteers for taking the time to facilitate this service. Clients must be eligible for this service and have a current Transport Assessment. Please provide at least 3 days' notice for local trips and a week if you need to travel to Mildura.
MTHCS ask that our Volunteers are treated with kindness and respect, no aggressive behaviour will be tolerated. MTHCS has no tolerance for Occupational Violence.
Please contact: 0419 371 445 for further information.
Mental Health First Aid Training - Free Places Available (limited)
Mental Health First Aid (MHFA) courses teach participants how to assist people who are developing a mental health problem, experiencing a worsening of an existing mental health problem or in a mental health crisis, until appropriate professional help is received, or the crisis resolves.
Council are running five FREE Mental Health First Aid Training opportunities to community across towns in our Municipality.
Standard Mental Health First Aid Training
The 12-hour Standard Mental Health First Aid course is for any interested adult.
Ouyen Course dates 8th and 15 June
To register go online at:
Mental Health First Aid Training - 8 & 15 June 2021 (Ouyen - Free) Tickets, Multiple Dates | Eventbrite
Coming to Underbool Monday 7th June 2021. Get in quick - Maximum of 110 tickets for Underbool and they are already selling very fast!!!
Underbool Linga Memorial Hall
Monday 7 June
Monash Avenue
Underbool
Show starts at 6:30pm followed by 7:30pm supper.
Don't miss your opportunity to be part of the audience and book your FREE ticket through
http://www.mildura.vic.gov.au/carpediemplay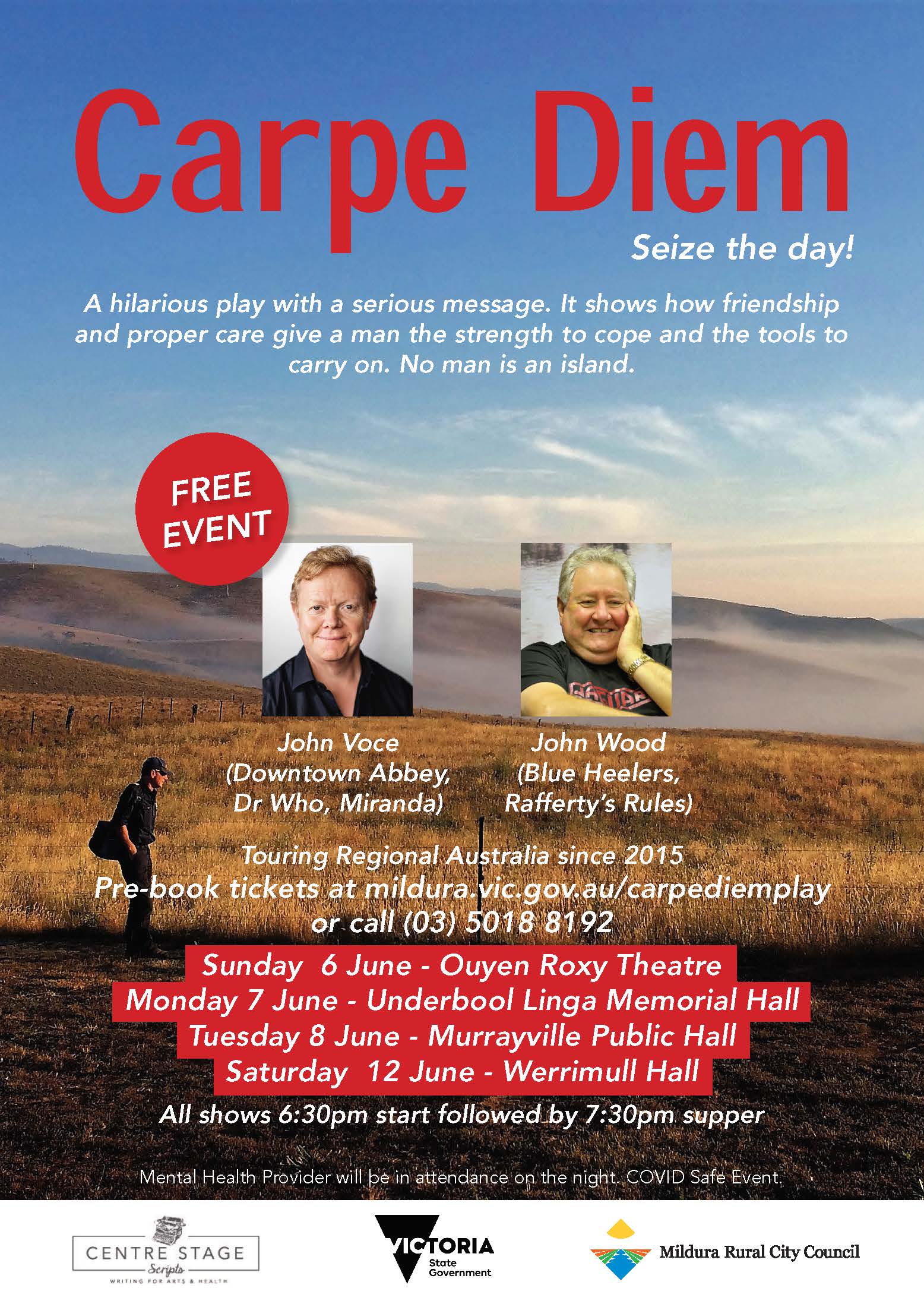 Typist for 2nd June – Rhonda Lockett
Colinlockett@bigpond.com