Underbool Linga Memorial Hall
General Meeting – Wednesday 28th April
@ 7:30pm
@ Underbool Linga Memorial Hall
All interested community members most welcome.
Ron Jackson (Pres) Helen Gloster (Sec)
Mallee Border Health Centre
Di Thornton, Nurse Practitioner, is available by appointment on her usual day – Tuesday in
Underbool.
Appointments can be made by calling 0885778065 or mobile 0448522703 or at www.malleeborderhealth.com.au
Underbool CFA Fire Truck Roster
Please remember to sign the attendance sheet at the station and to take your mobile phone with you.
The truck can be taken out any day during your rostered week.
Please remember to check the fuel level and organise to fill it if required. We cannot turn out to fires if there is no fuel in the truck.
If you are unable to take the truck out, please contact the Committee Member responsible for your month.
May 2021 – Sonia McVicar Secretary
2/05 Garth Aikman
9/05 Les Dunstan
16/05 Steven McVicar
23/05 Adam Kelly
30/05 Brett Evans
Chickens
Isa Brown or Hyline Brown
18 weeks old Vacc & wormed
$22 each, Phone 0400258679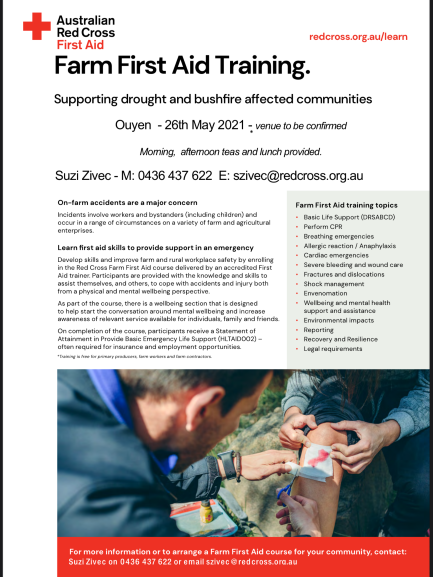 Typist for 5th May
Helen Gloster