Underbool Press
The Press has resumed using a roster system to type and print each week.
Thank you to those who have volunteered to be on the roster and type. More volunteers are always welcome.
Printed copies of the Press are available from the Underbool Post Office and Pink Lakes Pantry when Covid restrictions allow.
Underbool CFA Fire Truck Roster
In the current circumstances and to protect our volunteers we are only permitting one person to take the fire truck out for its weekly run.
Please remember to sign the attendance sheet at the station and to take your mobile phone with you.
The truck can be taken out any day during your rostered week.
Please remember to check the fuel level and organise to fill it if required. We cannot turn out to fires if there is no fuel in the truck.
If you are unable to take the truck out, please contact the Committee Member responsible for your month.
March 2021 - 2nd Lieut Kevin Brown
7/3 Kieran Hayter
14/3 Jack Winslow
21/3 Tim Gloster
28/3 Stephen Lynch
Underbool Bowls News
Social bowls on Saturday 27th February saw sixteenbowlers enjoy an afternoon of bowls in perfect weather. Marie Cummings and Ron Elliott were winners of the Pairs played. An enjoyable BBQ tea was enjoyed by those able to stay on.
The Ladies Club Championship Fours was played out the next morning. February 28th. The team of Bernadette Stone(s), Noelene Crow, Jennifer Wakefield and Jen Stone played Marie Cummings, (s) Colleen Gloster, Wendy Stone and Raelene Winslow with Marie's team winning narrowly in the last two ends.
Sunraysia Ladies Championship Fours will be played in Ouyen on March 13th and 14th.
The Underbool Ladies Club Championship Pairs playoff will now be on Monday 8th march at 9.30am.
Bendigo Country Week Bowls is coming up, 14th to 19th. March.
Good bowling all.
Mallee Border Health Centre
Di Thornton, Nurse Practitioner, is available by appointment on her usual day – Tuesday in
Underbool .
Appointments can be made by calling 08 8577 8065 or mobile 0448522703 or at www.malleeborderhealth.com.au
Mallee Track Health & Community Services News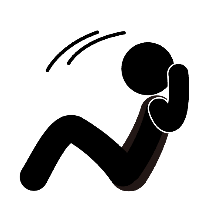 Ready for some exercise?
If you're interested in getting involved in a Mallee Track H&CS exercise program please register your name with Lara Wakefield (0402 045 984 or visit me at the Underbool Bush Nurse Centre on a Tuesday) so that we can organise for an assessment and then program development with Kate (Physio) and Tsharni (Allied Health Assisstant). The exercise programs will be personalised and people of all ages and abilities are encouraged to be involved. Please also contact Lara for more information.
Lara Wakefield
Outreach Worker
Mallee Track Health and Community Service
Ph 0402045984
COVIDSafe Settings restrictions now apply
Victoria returns to COVIDSafe from 11:59pm on Friday 26 February 2021.
These restrictions are designed to balance getting Victorians back to doing the things they love while also putting in place measures to protect all that Victorians have worked so hard for.
Staying COVIDSafe
Everyone wants to get back to normal but we also need to stay safe. We are asking Victorians to stay safe by getting tested and practicing COVIDSafe behaviours. This is especially important as we see friends and family, celebrate together, travel together and move around Victoria, Australia and New Zealand. Coronavirus is still present in Australia and we must all be vigilant and play our part to reduce the spread.
For detailed information about the current restrictions including when face masks are required, please visit the Victorian Government's dedicated COVID website: https://www.coronavirus.vic.gov.au/how-we-live
International Women's Day 8 March 2021
What is International Women's Day?
International Women's Day is celebrated in many countries around the world. It is a day when all women are recognised for their achievements. International Women's Day was first born out of labour movements at the turn of the twentieth century in North America and across Europe.
International Women's Day in Australia
Australia's first International Women's Day was held in 1928 in Sydney. Organised by the Militant Women's Movement, women called for equal pay for equal work, an 8 hour working day for shop girls and paid leave. The next year the event spread to Brisbane. In 1931, annual marches were launched in both Sydney and Melbourne and both marches continue to be held today.
Since these early days, International Women's Day has continued to grow. It is a day to celebrate women's achievements and both highlight and work to address barriers that continue to perpetuate gender inequality.
International Women's Day today
International Women's Day has become a time to reflect on progress, to call for change and to celebrate the courage and determination of the women who changed history, and those who will advance gender equality into the future. International Women's Day is an occasion to review how far women have come in their struggle for equality, peace and development. It is also an opportunity to unite, network and mobilise for meaningful change.
Women's Health
To celebrate International Women's day in March I will be looking at Women's health issues with a display and information available at the Underbool Bush Nursing Centre, as well as some activities later in the month. Also, keep an eye out for information in the Underbool press each week.
Lara Wakefield
Outreach Worker
Mallee Track Health and Community Service
Ph 0402045984
Next Typist- 10th March- Rhonda Lockett