MTHCS
Di Thornton, Nurse Practitioner, is available by appointment on her usual days – Tuesday in
Underbool and Wednesday in Murrayville.
Appointments can be made by calling 08 8577 8065 or go to www.malleeborderhealth.com.au
Pathology – Please contact Glennis Barnes on 5092 1111 to discuss your needs should you have difficulties arranging a visit to a pathology collection outlet in Ouyen or Pinnaroo.
Underbool Fire Truck Roster
Dec 2019 1st Lieut Ron Jackson
8/12 Glen Renkin & Greg Brown
15/12 Terry Kilpatrick & Mick Brown
22/12 Callum Winslow & Tom Sprigg
29/12 Ross Burstall & Garth Aikman
January 2020 2nd Lieut Kevin Brown
5/1 Sam Crow & Matt Brown
12/1 Simon Brown & Simon Morrison
19/1 Jim Elliot & Andrew Willsmore
26/1 Garry Crow & Daryl Beasley
February 2020 3rd Lieut Allan Lynch
2/2 Geoff Lockett & Piers Farnsworth
9/2 Col Aikman & John Stone
16/2 Chris Lynch & Adam Kelly
23/2 Steve Donnellan & Steve Lynch
Underbool Primary School Concert.
Friday the 13th December 2019
The school concert is being held on Friday 13th of December, doors opening at 6pm for a 6.30pm start. Come and watch the primary school children perform, buy a ticket in the Christmas Hamper Raffle and enjoy a visit from Santa. The Parents & Friends with be providing a light supper after the concerts.
Any 'special instructions' for Santa can be left at Corbett Rural Supplies by Wednesday the 11th of December ($20 limit). 'Special instructions' cannot be accepted on the night sorry. For further information please contact Kylie 0408393817
Underbool Post Office
I will open at 8am Wednesday 4th December if any Santa Mail needs to be posted before school.
Tamsin Don:$2.00
Underbool Bowls Notes
It was a tough day for Underbool Midweek Pennant as they played in the Preliminary Final against Irymple on Monday 2nd. December. Cold blustery weather prevailed through the day. Irymple were the victors of the day, but well done to Underbool for doing so well throughout the Pennant Season.
Social bowls on Saturday 30th.November, 16 played 2 4 2, with Colleen Gloster and Wendy Stone declared winners of the day. A BBQ and salad meal was enjoyed after the game.
The Men's Club Singles Championship between Alan Stone and Steve Simmonds will be played on Sunday 15th December at 4pm.
Don't forget the Christmas Twilight on Wednesday 18th. December. Bring a salad to share for the meal. Trophies donated by Ouyen IGA.
Marie Cummings, Bernadette Stone and Jen Stone played in the recent Euston Star Day on Wednesday 27th November.
The Club has been successful in securing a grant towards the purchase of 4 sets of Henselite Dreamline XG small size bowls, so any new prospective bowlers have the opportunity to learn and practice.
Good bowling all.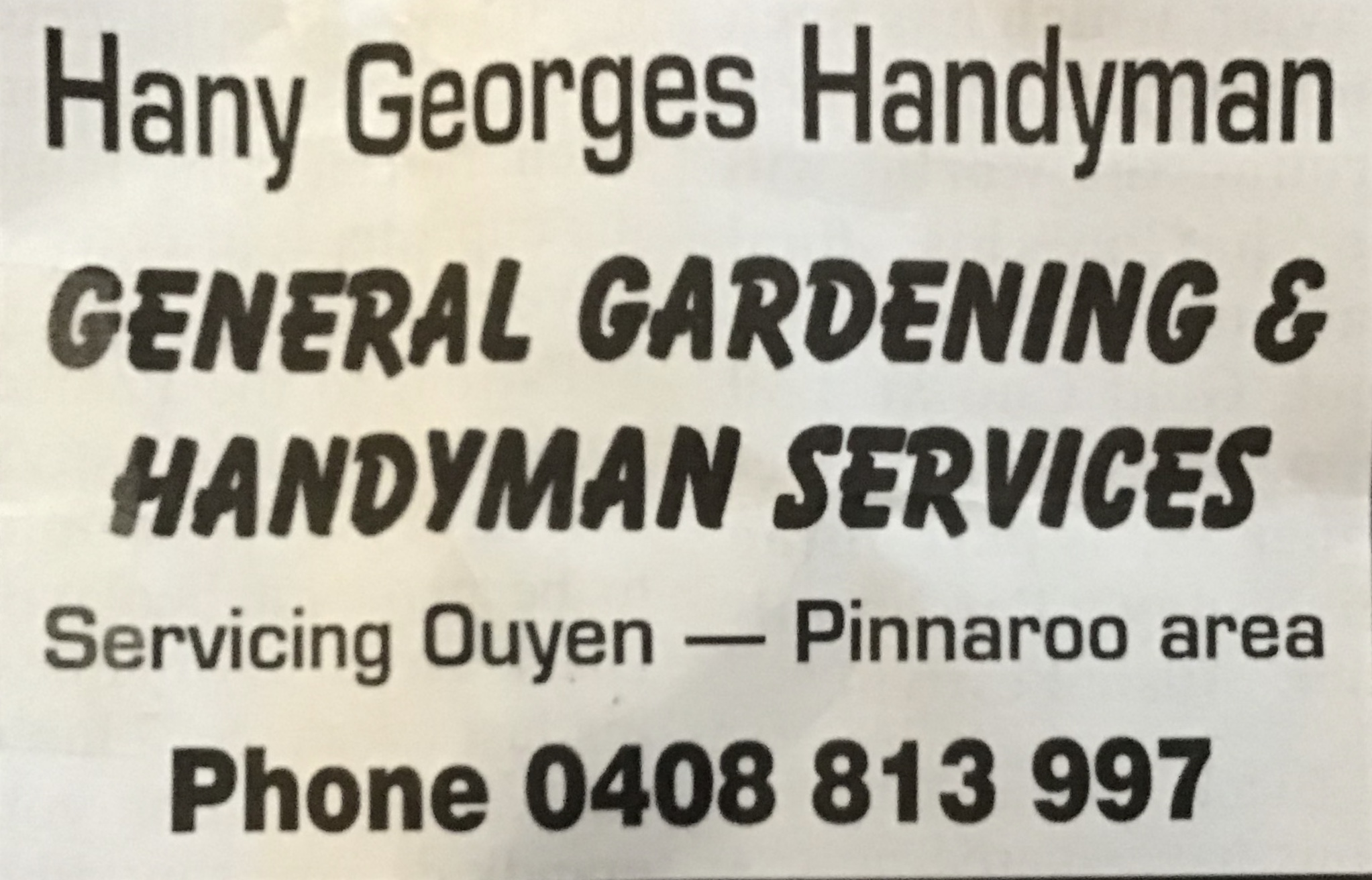 Don:$2.00
Next typist
Sonia McVicar
ssmcvicar@bigpond.com