Mallee Border Health Centre
Di Thornton, Nurse Practitioner, is available by appointment on her usual day – Tuesday in Underbool.
Appointments can be made by calling 08 8577 8065 or mobile 0448522703 or at www.malleeborderhealth.com.au
Underbool Golfers and Community
The Underbool Golf Committee are proposing to have the Golf AGM on Monday the 14th of December, 7 pm at the club house.
We are asking for confirmed participation to hold this meeting. This meeting's main discussion will be the viability of the Club, and/or the dissolution of it.
Please give an indication if you will be attending this meeting via a text to Bev C, 0401155637. Email to Bev C at Beeey@bigpond.com or via a comment on facebook.
Thank you and hope to see you on the 14th. Bev Cummings Secretary Underbool Golf Club Inc.
MTHCS - Underbool Centre
As of Thursday 19th of November 2020, Community Transport for eligible Underbool residents will once again be available for trips to Ouyen, under strict COVID safe conditions, every Thursday. Please call Community Transport on 0419 371 445 to discuss your needs.
Underbool Bowls News
The weather has not been conducive for bowls the past three Saturday's, nevertheless some Club Championship games have been able to be played.
Firstly the Club members congratulate Marie Cummings on her win in the Sunraysia Ladies Bowls Singles Championship round on Sunday 6th December which takes her to the Final playoff next Sunday at Mildura Bowls Club. An exciting time for Marie and our Club. Great bowling Marie!
The Club Men's Singles Championship playoff between Col Lockett and Colin Aikman will be held this Sunday afternoon, 13th December, at 5 pm. All the best to both players.
On Friday 18th December at the Mildura Bowls Club, Nita Wandel and John Cummings along with the other octogenarians of the Bowls Sunraysia Division will be presented with their 80 year Badges by the Division President. One or two representatives of our local Club will present Nita and John.
Don't forget the Club Christmas Twilight on Saturday 19th December.
UNDERBOOL SANTA RUN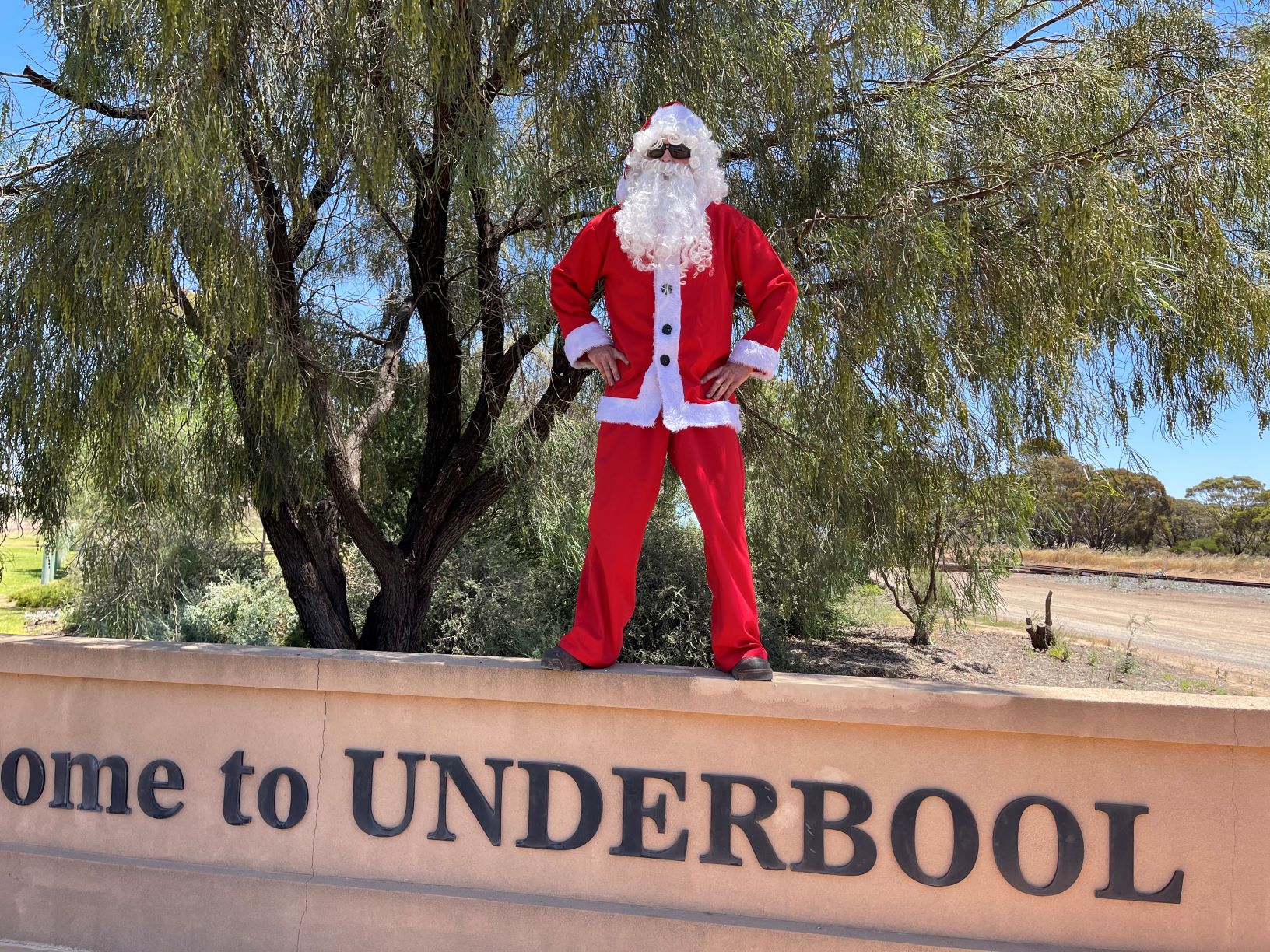 Christmas Eve 7.45pm, 24 December 2020
Santa will be conducting a SANTA RUN throughout the streets of Underbool commencing 7.30/7.45pm, 24 December 2020. Listen for the lights and sirens and stand out the front of your house if you would like to see Santa and his elves. If you live outside of town we would love to see you as well so find a spot around town or at a friends house.
Listen for the lights and sirens as Santa will be approaching your house
Don't forget to stand out the front of your house so you don't miss Santa
Santa will try do his best to not miss you, so be ready, look and listen
Santa has received a delivery of prepackaged lollies
We welcome all families and visitors
Remember to social distance (1.5m), wash your hands and use hand sanitiser. Stay home if you are unwell.
Subject to the Victorian Government public health advice. We will inform you of any changes.
Underbool CFA Fire Truck Roster
In the current circumstances and to protect our volunteers we are only permitting one person to take the fire truck out for its weekly run.
Please remember to sign the attendance sheet at the station and to take your mobile phone with you.
The truck can be taken out any day during your rostered week.
Please remember to check the fuel level and organise to fill it if required. We can not turn out to fires if there is no fuel in the truck.
If you are unable to take the truck out, please contact the Committee Member responsible for your month.
Dec 2020 - Comm's Officer Rob Gloster
13/12 Robert Gloster
20/12 Doug Gloster
27/12 Scott Brown
Jan 2021 - Captain Col Lockett
3/1/21 Buzz Wisneske
Next typist - December 16th - Helen Gloster dhgloster@bigpond.com