Monday Underbool Rural Fire Brigade Truck Roster
Oct 2019 Secretary Sonia McVicar
13/10 Scott Brown & Neil Kinnersley
20/10 Mal Crothers & Ian Brown
27/10 Neil Jackson & Steven McVicar
Underbool CFA
Training Day Monday the 21st October @ 3 pm. At fire station.
Training will consist of,
Hazardous Tree identification, Burn over drill.
Our tanker will be there after an upgrade of tyre inflation/deflation and the permanently connected suction hose & locker.
It would be great to have you there to get familiar with the Tankers new layout.
Col Lockett
MESSY CHURCH - "Colours of Life"
With special guest - Artist Lynton Allan
WHEN: Friday 18th October, 2019 4.00 to ~5.45pm.
WHERE: Underbool CFA Station / Cooperative Church building
WHAT's On: creative arts, Bible story,
A light meal and drink for all attending
Children to be accompanied by an adult*. Gold coin donation per child. Activities begin at the Underbool CFA Station at 4.00pm. RSVP appreciated by Wednesday 16th October
contact Nita Wandel 50946226 or Jo Morrison 0427217111,
*NB. The adult can be a parent, grandparent, aunty, uncle, willing neighbour etc., as arranged by the parent) as parents may be working or have other commitments on that day.
An after school activity event for children, hosted by members of Underbool churches, activities geared for school aged children but younger siblings also welcome to come with their parent.
Underbool Twilight Bowls
It was a perfect evening for the first Twilight of the Season when 18 bowlers vied for the trophies donated from North West Butchers, Ouyen. A delicious meal was also enjoyed. President Robert thanked the donors of the trophies most sincerely and also welcomed a new bowler to the Club, Adam Kelly.
Winners of the 3 games of Triples were Alan Stone (S) Jennifer Wakefield and Ray Gloster.
Runners/up, Cameron Gloster (s) Stephen Lynch and Veronica Stone/John Cummings.
Underbool 2 Pennant played Irymple 3 Pennant on Friday 27th. September (Because of AFL Grand Final)
A bit of a rough game on a rough day weather-wise. However Howard Crothers side had a good win which did give the team 2 points.
Playing Coomealla at home on Saturday 5th. October, was a day of joy when Underbool Pennant 2 team had their first overall win in 2nd Division! Underbool 68 shots to Coomealla 60 shots.
Red Cliffs Triples Star Day was attended by Jennifer Wakefield, Wendy Stone and Anne Stone on Thursday 26th. September.
Midweek Pennant on Monday 30th September, Underbool played Irymple resulting in a 2 point win for Marie Cummings side but a loss overall. Underbool 39, Irymple 56.
Playing host at home the Midweek Pennant game on Monday 7th October against Workers was also a day of joy when Underbool was able to win 46 points to 35.
Jen Stone, Bernadette Stone, Jennifer Wakefield, Noelene Crow, Colleen Gloster and Marie Cummings are all playing in the Dot Jenkinson Ladies Pairs to be played throughout the Sunraysia Clubs this coming week, on Thursday 10th, and Friday 11th October.
The Ladies Singles Club Championship will be played off between Marie Cummings and Colleen Gloster on Sunday October 13th at 4pm at the Underbool Bowling Green. Best wishes ladies.
Underbool/Linga Memorial Hall
Thank you to everyone who attended the working bee last week. We achieved a lot and the area looks much tidier. We plan to hold another working bee in a few weeks but if anyone would like to do some pruning or weeding in the meantime your help would be greatly appreciated.
Ron Jackson (Pres), Helen Gloster (Sec) & Dorothy Brown. $2 donation
Ouyen Community Gym Project
The Ouyen Community Gym Project in collaboration with the Mallee Garden Club are hosting an Open Garden Day in Ouyen on Sunday the 27th October. Six local gardens will be open on the day, featuring various displays, plant and craft stalls. Tickets are $25, with morning tea, lunch and afternoon tea provided. They can be purchased online at www.trybooking.com.au or locally from Lois Manley at May's On Oke, 20 Oke St Ouyen. Any enquirers can be directed to Fiona Latta on 0427141515.
Squad Training / Swimming Lessons Underbool
Maureen and Joy will again be running squad training and swimming lessons this coming season these will be on Monday and Tuesday. Squad will be commencing the first week of November and junior lesson late November, at this stage.
If you are interested, please contact Sonia McVicar on 0403698377 with the name & age of your child/children and available day (Mon/Tue).
MTH&CS
Di Thornton, Nurse Practitioner, is available by appointment on her usual days – Tuesday in Underbool and Wednesday in Murrayville.
Appointments can be made by calling 0885778065 or go to www.malleeborderhealth.com.au
Pathology – Please contact Glennis Barnes on 50921111 to discuss your needs should you have difficulties arranging a visit to a pathology collection outlet in Ouyen or Pinnaroo.
Royal Flying Doctor Dental Clinic
Appointments in Underbool during September and October. Call (03) 84120444.
Children's Week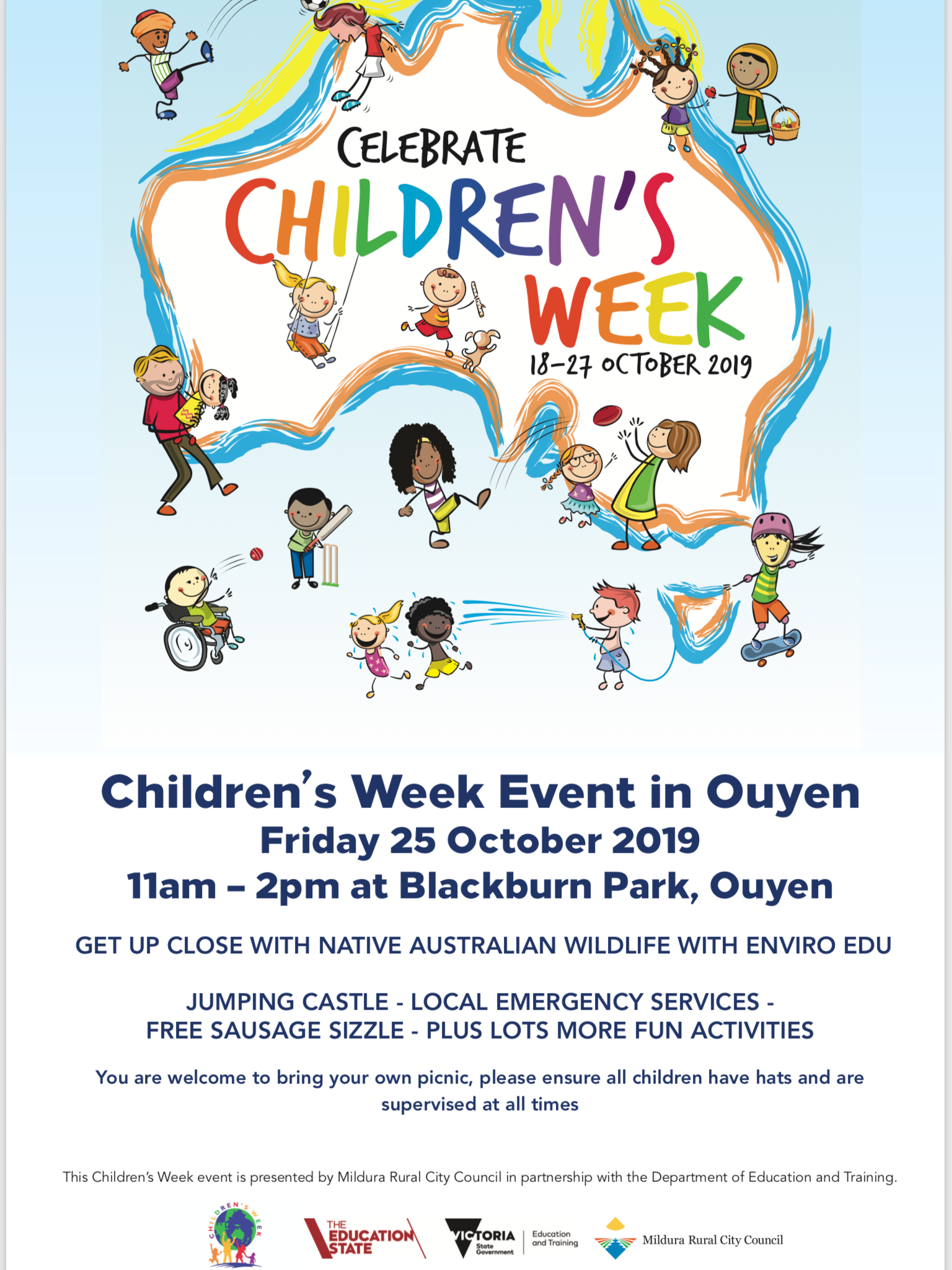 Next Press 16th October – Helen Gloster dhgloster@bigpond.com