January 2022 notices
31st AGM Ouyen United Football & Netball Club Inc. 7pm Blackburn Park Clubrooms Ouyen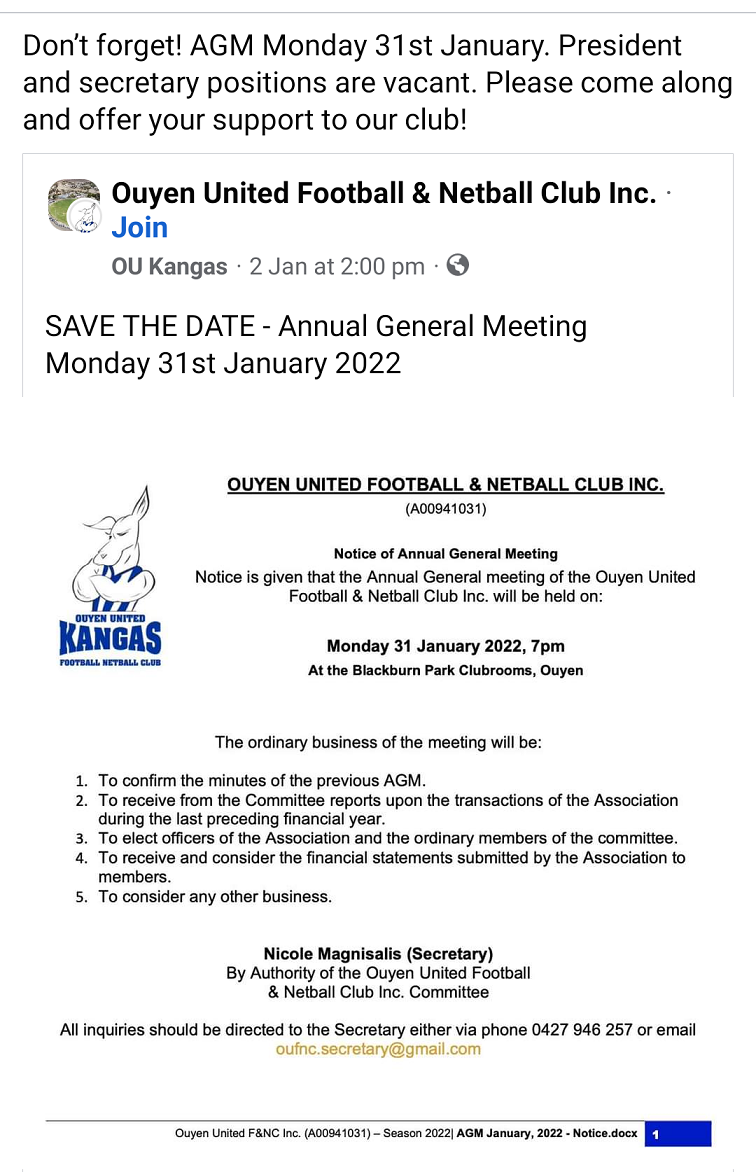 UNDERBOOL-LINGA MEMORIAL HALL RESERVE COMMITTEE INC.
Notice is given of a PUBLIC MEETING to be held at the Underbool-Linga Memorial Hall on Wednesday the 9th February commencing at 7pm.
The purpose of the meeting is to nominate no less than three (3) or more than nine (9) persons as the Committee of Management for the Underbool-Linga Memorial Hall Reserve Committee Inc. for a term of three years. The current committee's term will expire on March 19th 2022. All positions will be declared open and nominations will be accepted prior to or on the night. Nominations from women, Aboriginal people, people with disabilities, young people and people from culturally diverse backgrounds are encouraged.
Further information, nomination forms and nominee declaration forms may be obtained by contacting your local Department of Environment, Land, Water and Planning office or at the meeting. For further enquiries please contact the Secretary, Helen Gloster on 50946305.
Ron Jackson - President Helen Gloster – Secretary
Mallee Track Medical Clinic - Ouyen (28 Britt St, Ouyen) COVID testing

Covid-19 Testing Weekdays 9am-10am.
Immunisation bookings also available
Must ring ahead for BOOKINGS ph. 5092 1168 email reception@mtmc.com.au